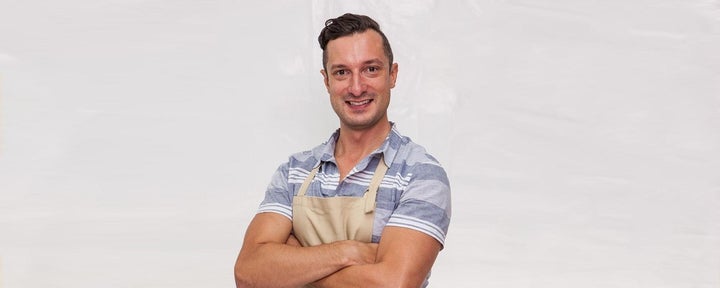 Scroll to the bottom for one of Jeremiah's favorite cake recipes
Jeremiah Bills almost made it to the finals of The Great American Baking Competition, scoring high with the judges thanks to his technical skills and lavish presentation from week to week. Then a bad batch of overbaked pavlovas caused his downfall, but fret not! The gifted baker is back, sharing advice for how to get started as a "star baker" and how to host a great holiday party, plus a great recipe for one of his favorite cakes.
Question: What happened to your meringues in your last challenge? Until that episode, your oven was turning out some gorgeous baked goods!
Jeremiah: I've never been so disappointed to hear the crunch my meringues made when Johnny (Iuzzini, judge) cut into them! But I did overbake them. Pavlova meringues are meant to be crisp on the outside and marshmallowy on the inside. This is much easier to accomplish when making a single large pavlova. As soon as you have an strange oven full of petit pavlovas, it's difficult to judge the right moment to take them out of the oven. Take them out too soon, and they might collapse completely. Who knew meringues could be so thrilling?
How do you use your baking skills to keep the romance alive in your relationship? I remember cooking a dinner for my husband (Jonathan) shortly after we starting dating. Guess what I made for dessert? Ironically, a pavlova! They are great if you're tracking your macros. Protein rich meringue with whipped cream and summer fruit is light and refreshingly romantic. Jonathan is a great judge of taste, and he has a certain reaction that tells me I've nailed a recipe. That is always romantic.
What are the must-haves any beginning baker needs for his/her kitchen? I believe, if you want to have an enjoyable and successful experience as a beginning baker, you need the right equipment and the right recipes. Precision is the key to being a star baker. The most important tool is a scale. Your measurements will always be precise. There are different ways to measure flour, and each can produce different amounts, which in the end can alter your cakes, pies and pastries. Choose recipes that are written in grams.
Do you really need one of those big Kitchen Aid mixers? Kitchen Aid stand mixers are the industry standard, and if you want to get serious about baking, this is the mixer to buy. It will become your faithful sidekick in the kitchen. Other must haves are sturdy, light-colored aluminum sheet pans, light-colored cake pans (9" and 8" pans are a good start), offset and rubber spatulas, various whisks, a variety of bowls, a good digital thermometer and parchment paper. If you want to splurge, buy yourself some nonstick silicone baking mats like Silpats. Your baking game will seriously rise (and not stick).
Why are you so specific about light colored pans? Dark colored pans conduct heat more than light colored ones. It's easier to over bake the edges of a cake or burn the bottoms of cookies with dark colored pans.
That is good advice. Speaking of advice, what is the best advice you've received about how to bake? The best baking advice came from the handsome judge Johnny while filming the show. He encouraged us to use all of our senses when baking. Recipe temperatures and timings are only guidelines, and they can be easily skewed in a different oven or kitchen. He also taught me to focus on each individual moment or movement, and perform it perfectly before moving onto the next. That's kind of my theme for life now.
What's the secret to a great holiday party? The secret to a great holiday party is great people. Wait, actually it's a lot of alcohol. Not-so-great people can seem great with the right amount of alcohol. Coming from a Portuguese family, I have a fear of running out of everything, especially alcohol, so I always have plenty of drinks and food.
Do you prepare a signature drink? I think a signature drink is a great way for guests to connect, and for you as a host to show off the style of your party. In the winter, I love to serve a vodka cocktail with fresh mandarin and pomegranate juice. If I'm feeling festive, I'll top it off with champagne.
What should a beginner baker bake that has low risk of messing up, to bring to a work party and look like a superstar? Cakes are always impressive. Choose a recipe that isn't your typical bakery staple, but something more exotic or interesting, like lemon and lavender or chocolate and chili. Naked cakes are very popular, so skip the challenge of perfect icing and pipe your filling between layers, and make cute balls of icing all around the edge of your cake. You can also use fresh fruit or some of your favorite jam or preserve as a filling, just make sure you pipe a ring of icing along the outer edge to keep the fruit from being squished out. The easiest and most elegant garnishes are natural ones like fresh edible flowers, herbs or nuts. Remember to always garnish in odd numbers. They are the most pleasing to the eye.
Follow Jeremiah on Facebook: @jeremiahbakes, Instagram: @jeremiahduartebills, Twitter: @jeremiahbakes
For a fun and festive New Year, try making Jeremiah's Mandarin and Almond Cake:
375 grams satsuma mandarins (3 to 4)
225 grams white granulated sugar
250 grams ground almonds (they can be blanched or un-blanched)
2 tsp vanilla paste or extract
2 tsp orange flower water (optional)
Place the whole mandarins in a saucepan with enough water to cover. Boil for two hours, adding more water when necessary. Drain and cool. This step can be done the day before.
Preheat oven to 350F and adjust the rack to the middle position. Prepare a 9 inch light colored cake pan or springform pan by spraying it with nonstick spray or greasing it with butter.
Cut the stems off the boiled mandarins and remove any seeds. In a food processor process, the mandarins, skin, flesh and all, until completely smooth. Add the eggs and sugar, and process until smooth and fluffy, at least 2 minutes.
Add ground almonds, baking powder, salt, vanilla paste and orange flower water and process until smooth and homogeneous.
Bake for approximately 40 minutes. You can cover the top with foil if it's becoming too dark. To check for doneness, the cake should spring back when touched and a toothpick should come out clean.
Cool in the pan on a wire rack. Turn out onto a cake plate. To garnish, take a plate of powdered sugar and using a glass upside down dip the rim of the glass into the powdered sugar. Touch the cake to leave a ring of powdered sugar. Repeat create a design of interlocking circles. Alternatively, cut out a snowflake or other stencil out of paper, and dust with powdered sugar.
Serve with unsweetened whipped cream or crème fraîche.
Popular in the Community