Jeremy Joseph Christian may have acted alone, but his violent racism had company online.
On a train in Portland, Oregon, Friday, Christian allegedly targeted two women, one of whom was wearing a hijab, with anti-Muslim slurs. When bystanders tried to intervene, Christian stabbed three people, according to police. Two died, and the third victim is expected to survive.
But long before the incident on the train, Christian said he was ready to kill in the name of white supremacy. A deep dive into his social media shows a man who found comfort in violent and often fake news sites and memes ― including anti-Muslim and other racist rhetoric.
He regularly shared anti-Muslim and anti-Semitic content.
In March 2016, Christian shared a fake news article showing Hillary Clinton in a Hijab claiming she was "in the pocket of Pakistani Muslims."
"I'll knock that Hijab off her faster than you can say Burka in Pig Latin if she steps in Rip City," he wrote.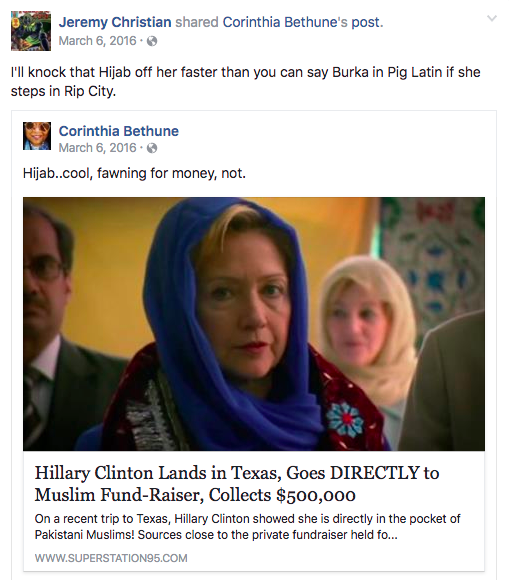 On his profile, Christian stated matter-of-factly that he wanted to kill Clinton and her supporters along with Donald Trump. He also said he wanted to murder Jews and Muslims, and generally cause mayhem.
He shared memes depicting dead Jews in mass graves during the Holocaust, and swore that he'd "defend Nazis" until "victory."
"Fuck Yeah!!! Trump is the Anti-Christ!!! I should have voted for him!!" he wrote at the time. He was also quick to declare allegiance to the president should he become "the next Hitler."
In public, he marched as a neo-Nazi.
Local authorities knew Christian as a white supremacist prior to the train attack. On April 29, police confiscated a baseball bat from him at a "March for Free Speech" rally, but later said they didn't believe him to be a threat.
As Christian marched in a parking lot throwing the Nazi salute and spouting racial epithets during the rally, marchers flanked by men with "Don't Tread On Me" and "Trump" flags screamed, "He's not with us!"
His anti-Muslim sentiments were not his alone.
Neo-Nazi site the Daily Stormer came to Christian's defense, saying that he was "defending himself." Andrew Anglin, who runs the site, worried that he'd be blamed for the attack. Instead, Anglin said, it's Muslims' fault for being in the U.S. in the first place.
"Again, it has to be said: when our people attack their people (if that indeed is what happened), the reason is the same as when the opposite happens: it is because they are in our countries in the first place," Anglin wrote.
Sentiments like these used to be confined to the dark corners of the internet. But they've found more prominent places in the national discourse over the last year, thanks in part to Trump's nativist campaign. He suggested a national Muslim database before his election, and afterward worked hard to try to keep people from several Muslim-majority countries from entering the U.S.
Christian was scheduled to be arraigned Tuesday on murder charges.
America does not do a good job of tracking incidents of hate and bias. We need your help to create a database of such incidents across the country, so we all know what's going on. Tell us your story.
Calling all HuffPost superfans!
Sign up for membership to become a founding member and help shape HuffPost's next chapter