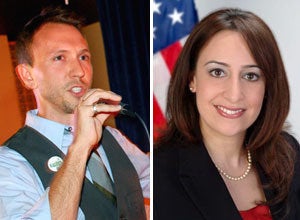 Jeremy Karpen figures if there was ever a year to do the impossible, this is it.
As if those odds weren't long enough, he's running against the incumbent representative from the 39th: Maria Antonia "Toni" Berrios, a fourth-term rep who is also the daughter of Cook County Democratic Party chairman and machine power-broker Joe Berrios.
But talking to the easygoing, charmingly optimistic Karpen, you'd never know he was facing such momentous obstacles. In fact, to hear him tell it, this year is a golden opportunity to be Green.
"This cycle, there seems to be an anti-incumbency attitude," Karpen told HuffPost Chicago. "In 2008, even though there was a lot of the same frustration, a lot of it got sucked up into the Obama 'hope' bubble. This year, people are less tied in to the parties."
Karpen isn't the only one hoping to ride the anti-Democrat sentiment to victory over a Berrios. Forrest Claypool is making a formidable run at Joe Berrios in the Cook County Assessor's race. Berrios won the Democratic primary in that race in February; Claypool is running as an independent.
There are some differences between the two, though. Claypool, as a Cook County Commissioner, former Superintendent of the Park District, and one-time chief of staff to Mayor Daley, has deep coffers and powerful allies. Karpen is a 29-year-old Minnesotan whose only electoral experience is winning 21 percent of the vote against Toni Berrios in this same race in 2008.
Berrios has over $100,000 in her campaign coffers, donated from pharmaceutical PACs (she's the chair of the Biotech Committee), downtown lawyers (many of whom lobby her father about property taxes at the Board of Review), and a massive contribution from Joe Berrios himself. Karpen sends email blasts trying to scrounge up enough for his next mailer. As of the end of June, he had a little over $6,000 on hand.
Still, Karpen thinks his underdog status works to his advantage. His campaign claims to have knocked on over 4,500 doors, and Karpen says that Berrios has knocked on none this cycle--though she disputes that claim.
"A lot of people just don't know who she is," Karpen says. "When we talk to people about working for the community, that helps them recognize that, look, we need someone who's actually interested in what's happening here, who doesn't just pay lip service to it."
He has found that residents of the 39th - a district on the Northwest Side that includes Logan Square, Hermosa and Avondale - are willing to engage on issues like affordable housing (for which Karpen's been a long-time advocate), school reform, wider access to health care and addressing gang violence.
"I firmly believe that Toni's heart is in the right place," Karpen says, "but she's not an active leader on these issues in the community."
Berrios ardently disputes that claim.
"I don't know where he gets away saying that," she said in an interview. When asked for specifics, she describes the summer breakfast legislation she sponsored to ensure that low-income students who get free breakfast and lunch during the school year can continue to do so over the summer; the women's health fair she held in the district where women could sign up for free mammograms; the community table she keeps periodically at the farmer's market to discuss neighborhood issues.
In fact, she argues that it is Karpen, not she, who is at remove from the community.
"I'm born and raised in this community, unlike him, who was born in a different state," Berrios said.
And she was quite frank about an issue that lingered below the surface in speaking with Karpen: Race.
During the 2000 redistricting, the 39th District was created as a Latino district, with a 68 percent Hispanic population. "The reason for that," Berrios said, "is so that we can have more Latino representation downstate."
"So yes, this district was created for Latinos, I believe it should have Latino representation."
Of course, the district has changed since 2000. Many of the neighborhoods have gentrified, especially Logan Square, where young white people have edged out many Latino families. A Gapers Block profile of the race in 2008 drew the obvious analogy: Karpen, the young white male, hoping to displace Logan Square's Puerto Rican representative.
Karpen has grappled with this question. "It sucks; the feeling sucks," he said, adding that he will fight to keep the neighborhood diverse. "I'm sure this is going to insult some folks, but if this becomes the next Wicker Park, it's not going to feel like home."
The young Green believes that Latino voters will look past his race and listen to his message. And the young incumbent hopes to steer clear of her more recent ancestry: "My father is my father; I can't change that," Berrios said, on the ever-present question of Joe Berrios. "I'm so proud of him, but it's sad that just because I'm his daughter, people don't want to support me."
Sad or otherwise, in this electoral climate, those people might be enough to pull off one of the most surprising electoral upsets of the season. At least Jeremy Karpen hopes so.