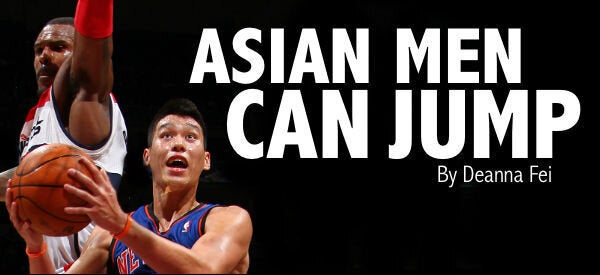 One year ago, a very different scene was unfolding at Madison Square Garden, one that in retrospect shows just how badly we needed Jeremy Lin way before we'd ever heard of him. And by "we," I don't just mean Knicks fans.
At yet another dull game in the midst of another dreary season, three Asian American men, one with his young son, were sitting near my husband. (I was pregnant with my now 5-month-old and home on my own couch eating cake instead of wasting my time.) Two loud, burly white guys stood in front of the Asian guys, blocking their view. The Asian guys genially asked the white guys to sit. They refused. Except they didn't just refuse. They yelled "Asian bitches!" and soon let loose with their fists.
When my husband got home, he was a little shaken. Not by the violence he'd seen, but because the incident crystallized for him, as the soon-to-be (non-Asian) father of an Asian American boy, what our son might be up against, like too many Asian males before him: a world where "Asian" was still wielded instinctually as a dirty word -- and as a synonym for being the opposite of a man.
Not long before, upon learning the gender of our baby, we'd playfully discussed how we would handle our future boy when he threw a ball indoors, stole candy bars, got in a fistfight. That last scenario was where we hit a snag. I agreed with my husband in principle that violence wasn't the answer -- but in practice, I said, if anyone picked on our son, I didn't want him to back down. When pressed, I explained, "He'll be Asian."
After that night at the Garden, my husband understood what I meant.
It's not that those two white guys represented broad swaths of the population. It's that their attitude was only an extreme manifestation of how, in American pop culture, Asian American males have long suffered the indignity, as Ky Phong Paul Tran writes, of "never being depicted and thus never existing OR being depicted in the most humiliating and emasculating light possible."
Nearly two weeks in, Linsanity is raging for anyone who takes even a passing interest in the game, or identifies as one of the billions of Asians around the globe, or who simply relishes an unlikely hero. And yes, Jeremy Lin's breakout success is a moment of cultural pride for Asian Americans similar to what we've felt in the past with luminaries from Michelle Kwan to Maxine Hong Kingston.
But it also feels very different.
Because what's most undeniable about Lin -- what screamed to anyone who saw his game-winning, buzzer-beating three-pointer Tuesday night -- is that the guy has balls.
Which obviously has always been true of other Asian males. But now Lin is demonstrating it in a way that even the most racist douchebag would be hard-pressed to refute.
And the effect is only magnified by his relatively low-key yet evident swagger, his self-aware nerdy cool, his substantial yet unfreakish build, the fact that on TV he pretty much looks and sounds like your brother or your cousin or a kid who rode the same bus in high school. Amid all the hoopla, he's utterly unafraid to be himself -- which, in the end, is the only form of masculinity a mother truly wants for her son.
So today, as I scour the web for an infant-sized #17 jersey, I can't help picturing those two white guys showing up at the Garden this year. And I have to think that this time, if they're tempted to pick on some Asian guys they assume won't fight back, and if their own memories aren't sufficient -- did I mention that they got their asses beat before they got hauled out (i.e., rescued) by security? -- then all the Jeremy Lin posters, chants, and masks surrounding them as they take in the grand spectacle of the man himself on the floor will make them think again.
Related
Popular in the Community