Jeremy Lin, who ignited "Linsanity" on the court, may be one of today's most recognized names in professional basketball, but it wasn't always easy for the 28-year-old athlete.
When asked by fitness vlogger Kevin Kreider during a recent Q&A session if Lin had ever experienced negative stereotyping as an Asian man, the Brooklyn Nets point guard got surprisingly real about his own masculinity.
"Asian-American masculinity is one of the issues that I feel like should be talked about way more," Lin said, as seen at 1:55 in the video above. "I feel like it's very behind the eight ball."
Lin then brought up the 2010 NBA draft, when John Wall, currently with the Washington Wizards, became the No. 1 draft pick while Lin was left undrafted.
"Me and John Wall were the fastest people in the draft, but he was 'athletic' and I was 'deceptively athletic,'" Lin said. "I've been deceptively 'whatever' my whole life."
According to the book, the Houston Rockets were set to draft Lin, who would later measure as one of the fastest NBA players, but General Manager Daryl Morey backed out at the last minute because of racial bias. 
Lin "was incredibly athletic," Morey is quoted as saying in "The Undoing Project." "But the reality is that every fucking person, including me, thought he was unathletic. And I can't think of any reason for it other than he was Asian." 
When they said 'yellow fever' growing up, it wasn't all these white girls going for Asian guys.

Jeremy Lin
Lin's "deceptively athletic" identity also hurt him off the court, in the dating realm. During the recent Q&A, Lin discussed the double-edged sword of "yellow fever," a controversial term used to describe a non-Asian person's attraction to a person who is Asian.
"A lot of times we have Asian girls go for non-Asian guys, but you don't see a lot of the opposite. You don't see a lot of non-Asian girls go for Asian guys," Lin said. "When they said 'yellow fever' growing up, it wasn't all these white girls going for Asian guys. It was the Asian girls going for the white guys."
"So I feel like it is definitely different," Lin added. "Asian-American males are viewed differently."
Lin's views on dating as an Asian man were proved true in a study done by dating site OKCupid. Data collected from the app in 2014 revealed that Asian men had more difficulty locking down dates than any other racial groups, while Asian women were more successful than any other racial group. 
Despite the stereotyping Lin first encountered in the NBA and the setbacks he's seen in dating, he believes the tide is turning for Asian men.
"I just think we need to keep being ourselves, and I think the world will come around and appreciate us Asians," Lin told Kreider. "I think the time will come, but kill them with kindness for the time being."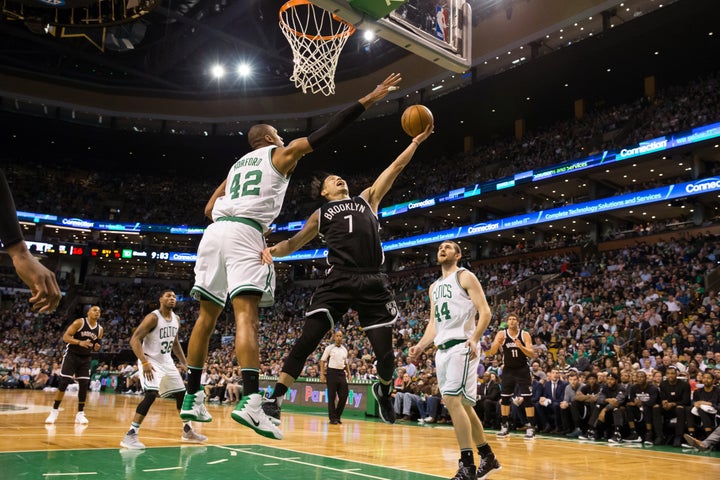 Calling all HuffPost superfans!
Sign up for membership to become a founding member and help shape HuffPost's next chapter
BEFORE YOU GO
PHOTO GALLERY
Old-School Asian American Actors You Should Know About