So far this NBA season, Charlotte Hornets point guard Jeremy Lin has received far more attention for his nightly outrageous hairstyles than his overall play. Four years removed from Linsanity, it's the silly stuff that now gets Lin headlines these days, even as he has quietly settled in as an effective backcourt partner off the bench to Kemba Walker.  
But on Monday night, Lin was back in the headlines for reasons that have nothing to do with his hair, and Walker, the Hornets' franchise player and recently named Eastern Conference Player of the Week, took a back seat. Lin put together 29 points, 7 rebounds and 2 assists, leading the way during the Hornets' shocking 91-88 comeback win over the San Antonio Spurs.
Historical probability, however, is no match for those rare moments when Linsanity returns.  
Lin, barreling to the hoop with his signature sneaky strength and quickness, also flashed a mid-range touch and clutch 3-point stroke -- two areas of his game he's never been lauded for. Seeking to shut down the pesky, surprise threat, the Spurs eventually switched reigning Defensive Player of the Year Kawhi Leonard onto Lin. Still, he proved to be too quick in mind and body for Leonard and center LaMarcus Aldridge on this clutch Kobe Bryant-like step-back jumper:
The Spurs never regained the lead after that shot. Of his 29 total points off the bench, Lin's 15 fourth-quarter points were one fewer than the entire Spurs team scored in the fourth, and were the second most fourth-quarter points in his career. He accomplished his best fourth-quarter points -- 16 -- when, you guessed it, he was a New York Knicks rockstar in 2012.
For a night, Linsanity was back, baby. 
Last summer, I decided to wear my Knicks No. 17 Lin jersey in public for the first time since Lin left New York in the summer of 2012. That day, my family took a trip down to the Jersey Shore. A group of immature white teenagers in an open-air Jeep made me regret that choice. Standing on a corner across from the boardwalk, they drove by shouting racial epithets at me -- the usual mock Chinese language nonsense. My Lin jersey had made me a target for bigotry. 
As someone who was fortunate enough to go to college in New York during Linsanity and even attend his breakout game, Lin's play during those short two months remains the happiest time of my life as a sports fan. Usually, normally hapless Knicks fans' joy comes in bursts -- a big win here, a clutch moment there -- but this was two months of uninterrupted, prideful bliss. Every one of his games served as a referendum on how I, as an Asian man, related to basketball. And every time, we came out stronger. 
So even if it was for a night, it was refreshing to see the entire league congeal around Lin. I hope those kids in that Jeep saw Lin's highlights, saw how his outstanding play obscures race, and realized how wrong they were. 
Because in the face of bigotry in sports, getting buckets and winning trumps all, for better and worse.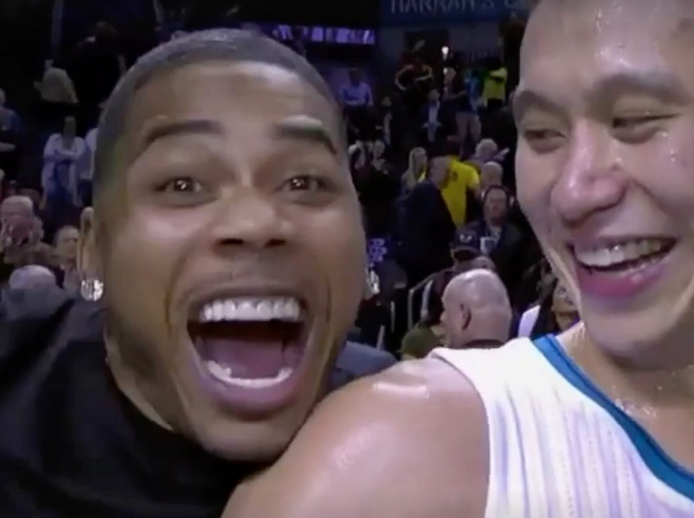 BEFORE YOU GO
PHOTO GALLERY
Monster Dunks From The 2015-2016 NBA Season