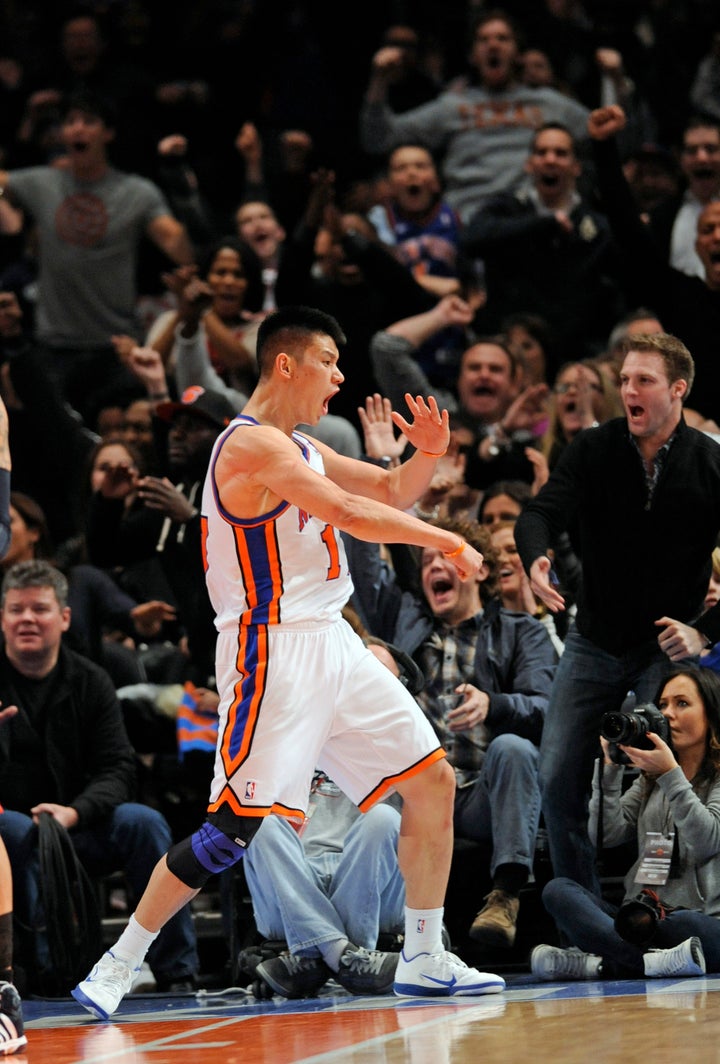 Jeremy Lin is going on offense to protect Linsanity.
The Knicks sensation this week applied for trademark rights to Linsanity, The Huffington Post learned late Friday after obtaining his application. One of Lin's attorneys confirmed it. "We're prepared to protect his intellectual property rights," said Pam Deese at the Washington, D.C., law firm of Arent Fox. She declined to comment further.
Lin paid a filing fee of $1,625 to cover use of the trademarked term on all manner of apparel, including underwear. In a detailed listing of goods, the filing seeks to protect its use on everything from action figures to beverage sleeves and backpacks.
According to the document, Lin filed his application on Feb. 13, several days after two California men entered the cash-in derby to trademark Linsanity. But Washington, D.C., trademark attorney Josh Gerben told The Huffington Post that those claims will likely turn into a procedural air ball, costing the two men time and money.
Lin's move with the U.S. Patent and Trademark Office could also jeopardize an online venture of one of the men, Andrew Slayton. By selling "Linsanity" T-shirts on his Linsanity.com website, Slayton is playing fast and loose with certain protections, Gerben said. He believes the marketing tactics of Slayton and his website potentially violate the trademark rights of the New York Knicks and the publicity rights of Lin, whose sudden success with the Knicks has generated the term Linsanity.
Slayton reportedly bought the domain name Linsanity.com in 2010, but the goods he's selling appear up-to-date. Some of the T-shirts have similar blue and orange coloring like that of the Knicks' uniforms. (The colors of the website are also blue and orange.) The #17 that appears on one of the shirts is Lin's number for the Knicks. And the site's copy mentions the "Garden," common shorthand for Madison Square Garden, where the Knicks play. "It's clear that he is trying to sell merchandise using the New York Knicks brand," Gerben said. "He should be very careful."
In addition to possible trademark violations, Slayton, a Los Altos, Calif., resident who once coached at the high school where Lin played, is also in danger of infringing on California's "right to publicity" law. The law protects celebrities from the commercial use of their names without their consent. Slayton told the New York Post that he believed Lin did not know of his Web ventures.
An attempt to reach Slayton through the website resulted in the following email message: "We would be happy to clarify any facts for you about the site on background, but are not interested in doing on the record interviews at this time."
Ayala Deutsch, NBA senior vice president and chief intellectual property counsel, wrote in an email on Saturday: "The NBA is pursuing enforcement -- in the US, China and other countries -- to address the sale of counterfeit 'Lin' jerseys and other unauthorized merchandise using NBA intellectual property. We also are coordinating with Jeremy Lin's representatives regarding their efforts to enforce against the unauthorized use of his name and image."
Slayton's inventory listed on the site includes $20 shirts emblazoned with LINsanity, LIN.Y.C., LIN YOUR FACE #17, I <3 LIN and just LIN baby.
"Legally, he's on shaky ground," Gerben said.
Now that Lin is defending his name, perhaps even more so.
This story was updated on Feb. 18 at 9:15 a.m. to include a comment from the NBA.
Calling all HuffPost superfans!
Sign up for membership to become a founding member and help shape HuffPost's next chapter