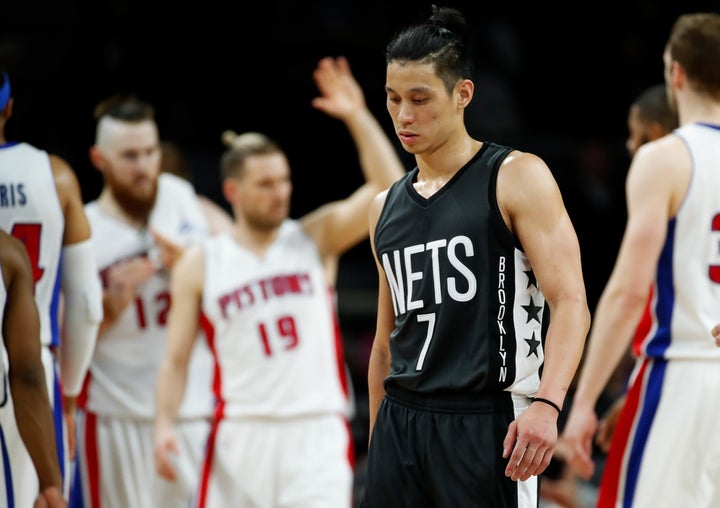 Most people know Jeremy Lin as the fast-as-hell Brooklyn Nets point guard whose on-court talent pushed him to Linsanity fame. But not many people know that the 28-year-old Taiwanese-American athlete had to endure many degrading insults to get there.
During a Wednesday interview on his teammate Randy Foye's podcast, "Outside Shot," Lin revealed the racism he's faced as an Asian athlete ― the brunt of which he says he dealt with while playing college ball for Harvard University.
"The worst was at Cornell, when I was being called a chink," Lin said, referring to a game at Cornell University at which he was distracted by the insults hurled at him while he played.
"I ended up playing terrible and getting a couple of charges and doing real out-of-character stuff," Lin explained. "My teammate told my coaches, 'They were calling Jeremy a chink the whole first half.' I didn't say anything, because when that stuff happens, I kind of just, I go and bottle up ― where I go into turtle mode and don't say anything and just internalize everything."
Lin was also subjected to offensive Asian stereotypes, which both fans and coaches would use against him. 
Once, Lin said, someone at a Georgetown yelled out "chicken fried rice," "beef lo mein" and "beef and broccoli" throughout the game. Another time in Vermont, the opposing coach had called Lin "oriental" when speaking to the referee and the players joined in by calling him "chink."
"I was like, 'What is going on here?'" Lin recalled. "And the ref heard it, looked at both of us and didn't do anything."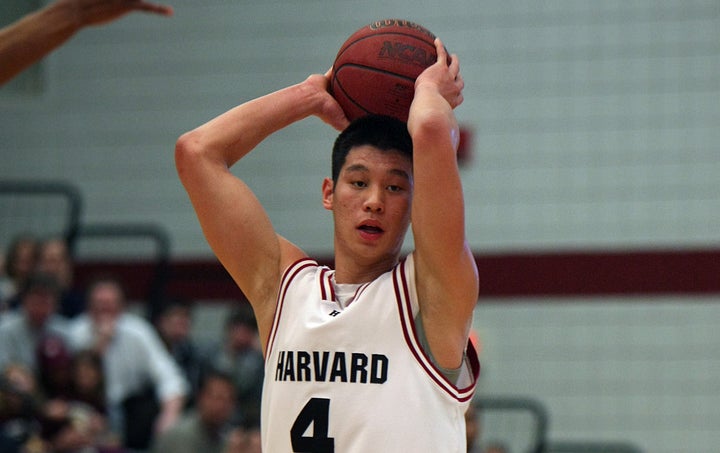 Lin expected the racist abuse to get worse after he was drafted by the NBA ― which was a struggle of its own ― but it didn't. The coaches and players, Lin said, were "way more under control." Whenever he hears a slur aimed at him, it's usually coming from a heckler in the crowd ― "and that is not a big deal," he said.
But Lin did face another type of racial prejudice: The stereotype that Asian men are weak and not aggressive affected how coaches and NBA analysts saw him.
"No one had ever seen a player like me in terms of my natural appearance," Lin said. "Coming out of college, everybody who's criticized me was like, he's too weak and he's not fast enough, and that's all they ever say."
Lin said that, even though his statistics were exceptional on paper and proved he was both fast and strong, people just could not see him that way, which left him without a team after the 2010 draft.
"Every time [critics] would write about me, they would say he's not going to be fast enough, he's not going to be strong enough, he's not athletic enough," he explained.
Though Lin had felt uncomfortable as an Asian role model earlier in his career, he has grown into it. Now, he says, he represents his community proudly.
During a recent post-game Q&A session, for example, Lin talked openly about Asian male masculinity and encouraged all Asian men to stay true to themselves despite the stereotypes cast against them.
"Now when I say badge of honor, it's like, this is cool," Lin told Foye on Wednesday.
"I rep for all the Asians, I rep for all the Harvard dudes, I rep for the Cali guys, I rep for the underdogs. I take pride in it," he added. "It is not a burden to me anymore. I am not scared anymore. I appreciate it, and want to help and challenge the world, stereotypes and everything."
REAL LIFE. REAL NEWS. REAL VOICES.
Help us tell more of the stories that matter from voices that too often remain unheard.
BEFORE YOU GO
PHOTO GALLERY
Old-School Asian American Actors You Should Know About