 Middlesex School better watch out for the Los Angeles Lakers. No, the Lakers aren't ceding the Western Conference to the Oklahoma City Thunders (at least, not intentionally) and going out barnstorming from one New England boarding school to another. But Kobe Bryant could have the Lakers attempting to lure away the Middlesex basketball coach.
"They all would be fired if I was owning a team," Bryant said of the many NBA scouts and general managers who whiffed on Lin. "I hear this stuff, 'It came out of nowhere.' I think it's a load of [garbage]. You can't play that well and just come out of nowhere. There has to be something there and everybody missed it. So heads would roll [if I was owner]."
If Bryant were an owner and were to adopt such a punitive policy regarding personnel staff that passed on or otherwise overlooked Lin, then he might find himself with only one place to turn: Bill Holden.
Currently the head basketball coach at Middlesex, Holden was previously an assistant coach at Harvard. In this capacity, he was dispatched to Las Vegas to scout several prospects in July 2005. Among those high schoolers was a point guard from Palo Alto named Jeremy Lin. After learning about Lin by way of a letter, Holden got his first glimpse during a forgettable game. Playing against a somnambulant opponent, Lin didn't do much to impress.
"His high school coach happened to be at the game," Holden recalled during a recent conversation with The Huffington Post. "I happened to see him when I was going out the door and I just said, 'Hey, you know, he really looks like he might be better suited for Division III.' I was just trying to give an honest opinion so that they could go on about their business."
Unlike the entire Pac 12, the Golden State Warriors, the Houston Rockets and, well, every team outside of Manhattan with a selection in the 2010 NBA Draft, Holden got a second chance when it came to evaluating Lin. He didn't get it wrong twice. Given a reprieve during the summer of 2005, he realized not only how good Lin already was but foresaw how good he could possibly become.
"What you're seeing is what you get," says Holden. "He's a very humble kid. He's very team oriented. He's got a great family. Everything he's getting right now is well deserved."
With Linsanity spreading across the globe, Holden spoke with The Huffington Post for a few minutes to explain that not everyone blew it when it came to evaluating Lin.
What was your first impression of Jeremy Lin?

He was not a really consistent shooter at that time. You also take a look at him and say, 'Hey, here's a kid, you know, he's about 6'1" 155 pounds.' He's not the 6'3" and 205 that he is now. So, it didn't appear that there was anything special that was going to stand out about him that was going to make him make an impact for our team.

What was your second impression of Jeremy Lin?

During the same tournament in the next day or two, I'm in the gym and I'm watching another kid on my list. It's a similar situation where not much is happening. At all of these AAU events in Las Vegas they have two gyms. Well, the other gym is kind of loud. There is pretty good commotion going on. So, I just go over to check out what is going on. Jeremy's team is playing against a very high-level AAU team that is very competitive and that has several players that are considering Division I or being recruited by Division I. Jeremy is playing at that level. He is playing defense nose to nose with those guys. He is taking the ball to the basket. He's getting pressured full court and breaking the press. He's getting into the lane and doing his pull-up jumper on guys. He's just kind of playing with renewed enthusiasm and passion for the game that I didn't see a few days before.
What was most impressive about Lin's play?

The thing that really drew me to Jeremy is that he just had some natural basketball instincts that you can't coach. He just has a good way to read the game, a good vision of the game, a good understanding of the game. He even had it back then as a senior in high school. So that's what really drew me to him are things that aren't coachable, things that he just has a knack for doing.

If you saw those things then why did everyone else pass on him?

At that highest level, you're looking for guys that are physically developed. At the highest level, they're looking for guys who are 1-year and done. Look at what Kentucky does, for example. But that's a little extreme. They're looking for guys who are physically ready and capable of making an impact in their program. Maybe they just couldn't foresee that in Jeremy. He certainly grew during his time at Harvard. He certainly developed a work ethic in the weight room to work on his body and make himself better. He definitely had footspeed coming out of high school, but he certainly didn't dunk the ball like he did at Harvard or like he's capable of doing now. Not that he couldn't dunk but now he's just so much more explosive going to the basket and so much more speed getting to the rim. Maybe it was hard to project.

What happened after that second time you saw Lin?

Right after that tournament, I got back to the coach and said 'Hey coach, I apologize. I saw him in a different environment. He's really got a knack to play and he'll be at the top of our recruiting list.' And we made him the No. 1 priority to recruit for that summer.

What were your first impressions of Lin away from the court?

He was a very respectful kid and someone that had a sincere interest in Harvard. But he was also someone that had an inner ego that thought maybe he could still play at a higher level than Harvard. He believed in himself. He grew up down the street from Stanford and all along we were always leary of them jumping in and recruiting him. And, certainly, Jeremy would have wanted to play in the Pac 10 and would have wanted to play at a school like Stanford, which is so strong academically and good basketball-wise. I think he was really holding out for that almost his entire senior year.

Were there any symptoms of Linsanity in Palo Alto?

He even had a following back then, like a group of sophomore girls who would have signs at the games. I can't remember specifically what the signs were, but I don't think they had the play on words with Lin quite yet. I think he was No. 4 in high shcool and they had signs with No. 4 and 'We Love Jeremy.' So, he even had that kind of impact on the school that he was at then. Certainly, he was a big fish in a small pond and they made a great run. The one thing to understand about his high school team is that (I'm pretty sure that) Jeremy jumped center then played point guard. He may not have been the tallest on the team but there wasn't really anybody on that Palo Alto team that was bigger than like 6'2." They went on to win the state title and beat Mater Dei, which is like 6'10" and 6'9". He really went on to have a storybook senior year and, obviously, that made us a little nervous about stanford as well.

Were you surprised by Lin's lack of scholarship offers?

I wouldn't say I was surprised. He was still not phsyically a Division I recruit at that time. He had a tremendous senior year but certainly didn't have the work ethic that he has now. He had to develop that over the course of time. And that's the great thing about having a four-year college career. He was able to work and improve and develop over four years. He go to play right away. If he goes to Stanford then it could have been just like it was at the beginning of his NBA career. He may have never gotten off the bench and never been able to develop as a player. Instead, he goes to Harvard and gets to play right away off the bench and then start for three years. And he's able to develop right away into the player that he is because of that.
What did you tell your colleagues at Harvard about Lin?

I projected at that time that Jeremy could be an all-league player by the time that he'd be a junior or a senior. The thing about Jeremy is that he just had the capability to make some plays that other kids can't make at our level, meaning at the Ivy League. He wasn't consistent yet at doing it. He did not necessarily have the jump shot that he has now, or, as we've already mentioned, the body. But he had the potential to grow into those things. He had the potential to develop his jump shot. He had time to work on his body. It was the intangible things that you can't coach that made me feel like, "we just need to get this kid."
Once a recruit that you lobbied for arrives on campus do you feel any extra attachment?

You feel like you have more of a responsibility to them. Take Jeremy's case: He's 3,000 miles away from home. He's very close with his family. Here he is coming to one of the most elite institutions in the world. So, basketball is going to be hard for him. Academics are going to be hard for him. His family life, and being 3,000 miles away from his parents, is going to be difficult. So, you do feel a responsibility to try and take care of a kid in that situation.

Was Lin able to contribute immediately?

Even as a freshman, he had an ability to get to the basket, to get into the lane and score. That's something that he would always be able to do. He was unique in the sense that you usually have offensive players that are drivers and offensive players that are shooters. Well, he was kind of a unique player that he had the mid-range game where he could get to the foul line and pull up and elevate over smaller defenders and score. That was probably the best thing that he did as a freshman. I was singing his praises as a freshman, saying that in future he would be very good.

Did you keep track of Lin's progress after you left Harvard?

During his junior year, I was able to go to that Boston College game and I actually sat in the front row. I was just in awe of how far he'd come. Clearly, he just dominated the end of the game when it became crunch time. They got the ball in his hands. Obviously, he was put into a system that was allowed for him to excel and it was very impressive.

Why do you think that Lin seems to perform so well on the big stage?

Even from that second AAU game that I saw him play, he just always had an ability to raise his game to a higher level when the competition was better. He just has a unique competitive drive. As a recruiter, I learned a long time ago that you can't measure what's in a guy's head; you can't measure what's in a guy's heart; and you can't measure what's below his belt. And that was the unique thing about Jeremy: He just measures off the charts in all three categories. He gets into that environment and he can just compete. He did in high school, he's done it in college and now he's proving he can do it in the NBA.

Did you think that he'd be this good in the NBA?

38 points against Kobe? No. Compete and play? Yes. Obviously the story has taken off so much in the past few weeks. I honestly believed if he got into the right system, into the right program, with the right coach, that he could have a long NBA career. I did believe that. Now, to be the leading scorer after five starts among any starter going back to the NBA-ABA merger? No. No one ever imagined that. But I do believe in him. That's for sure.

Is Mike D'Antoni's system a good fit for his talents?

As soon as he got picked up by New York, I sent him a text. I said, 'Hey, New York City, baby! This is going to be great team for you.' He just needed an oppportunity, and who knew if he was ever going to get it. It was just right time, right place, an injury, some guy is not quite working out, and finally he gets in there. It's just the kind of system that is perfect for him: using the ball screen, getting into the lane. Certainly, the dynamic of the team will change now that Stoudemire is back and Carmelo is back but he's smart. He'll figure out what his niche will be with those guys and continue to have an impact.
PHOTOS: Jeremy Lin Through The Years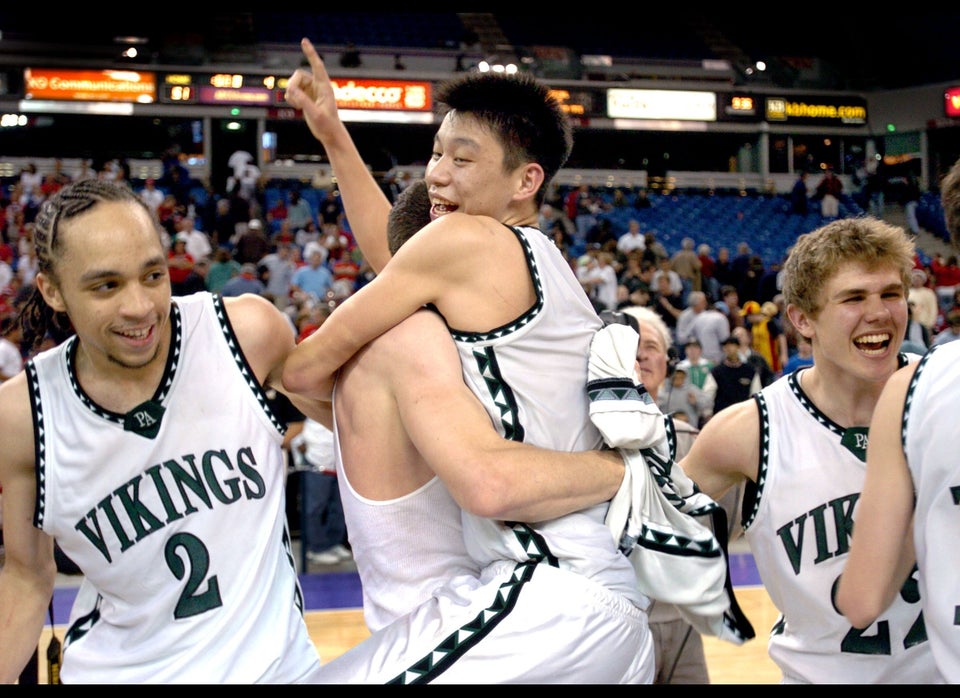 Jeremy Lin Through The Years
Popular in the Community