Jeremy Lin has now dribbled his way into the pages of a comic book.
The Brooklyn Nets point guard was featured as a character in Marvel's "The Totally Awesome Hulk" #13, which was released last week. Since this particular incarnation of the Hulk is an Asian-American named Amadeus Cho, comics writer Greg Pak felt it would be perfect to incorporate Lin ― who appears as himself ― into the storyline.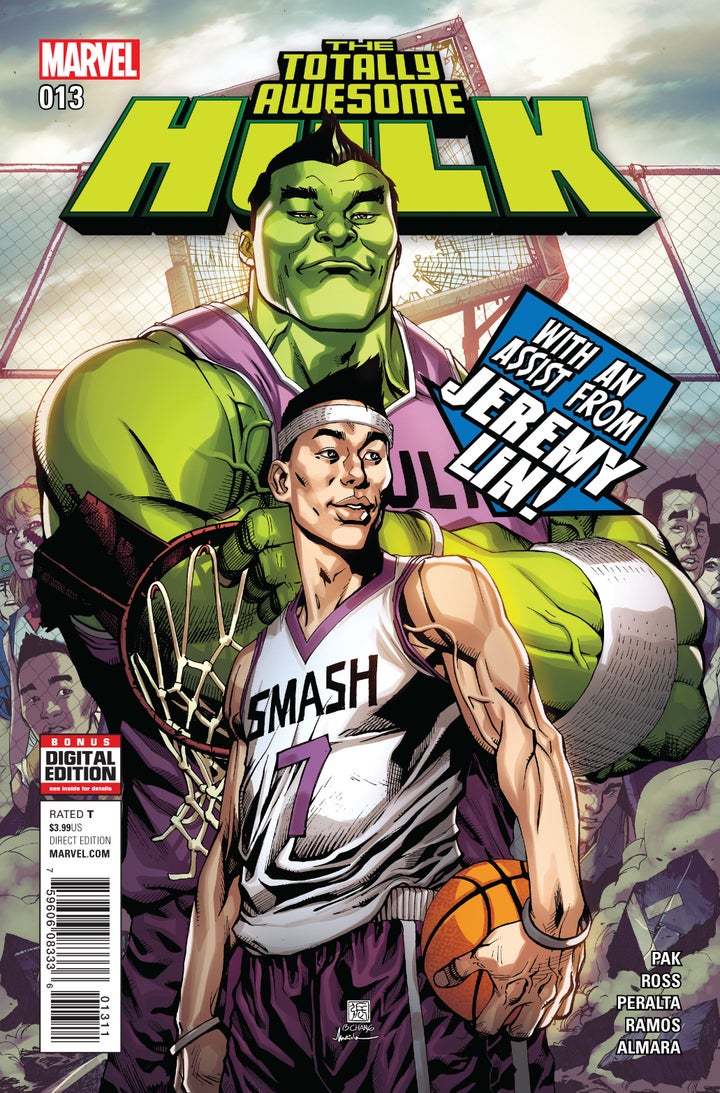 "I was here in New York when Linsanity happened and it never stopped for me," Pak, who's Korean-American, told amNewYork back in September. "I just love the guy. And at a certain point, I just found myself thinking, 'Hey, wouldn't it be cool if the biggest Asian-American superhero met the biggest Asian-American sports star?'"
In the story, Cho meets Lin, who also appears in issue 14, and the two team up for a charity basketball game. But things eventually go south, Pak told the CBR.com. Cho who is a "cocky kid" and feels he's got it all figured out, and Lin who values teamwork also experience a bit of conflict between themselves due to their personality differences. Through it all, the writer says on his blog that "someone big and green might just learn a little something."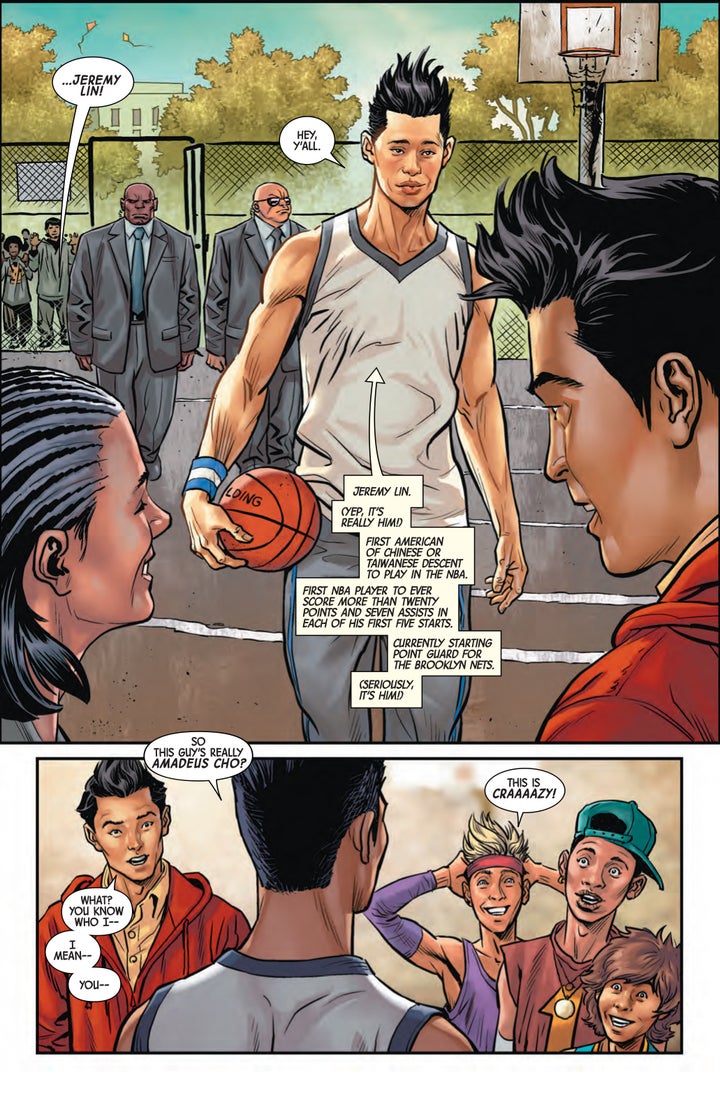 Though the basketball star was drawn to the comic in part because of Cho's faux hawk ―a hairstyle similar to one that the athlete's had in the past― he was also impressed with Marvel's use of diversity, he told amNewYork. While there's been a number of Asian superheroes, Asian-American characters aren't all that common in comics, Pak explained.
"I have always been an Asian-American and had a special interest in seeing Asian-American characters," Pak told ESPN. "Historically there hasn't been a ton."
Pak created Cho a little over a decade ago, building a character known for his impressive intellectual genius. Last year, Cho made history as Marvel's first ever Asian-American Hulk after succeeding Bruce Banner with the entire "Totally Awesome" series focusing on Cho's experiences. Marvel not only received praise for representation in its stories, but it also got props for its step in extending diversity to the creative team, The Washington Post points out.
In addition to the main character and an appearance by the first American of Chinese descent in the NBA, there are also other Asian-American elements incorporated into the series' storyline. There's even Korean barbecue, karaoke, and Asian dads fighting over checks in issue 15, Pak told CBR.com.
Creating a superhero that reflects his own background was a very personal experience for the writer. And Pak's already witnessing the power of representation in young minds.
"This little Asian-American kid came up with this wrinkled, big poster that he had had on his wall, and it was the Amadeus Cho Hulk poster," the writer said, according to amNewYork."This is his favorite book, and so he brought this poster from his bedroom into the shop for me to sign and he also had these books and everything. My heart grew three sizes."