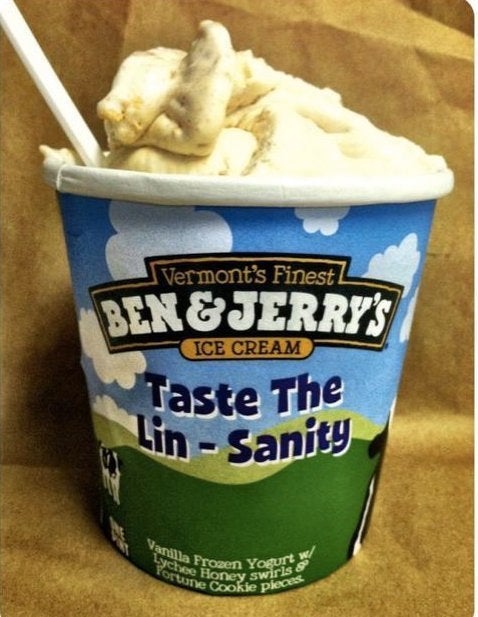 Now that Ben & Jerry's has apologized for its absurd stereotyping in issuing a Linsanity ice cream made with fortune cookies (a food that has no link to actual Chinese heritage and culture, but is rather a North American phenomenon), the brand should learn from its misstep and take the logical next step: issue a product more authentically connected to the cultural heritage that Lin's family comes from.
Here's one idea: An annual, limited-edition Chinese New Year ice cream or sorbet made with fresh tangerines -- the ubiquitous, iconic fruit of the holiday that symbolizes renewal, abundance, and fortune and is a holiday season must-buy within the 3.5 million strong Chinese community in the U.S. Such a treat would surely also attract the purchase intent of millions more consumers who, while not Chinese or even Asian, nevertheless enjoy the culinary exploration of other cultures. A Chinese New Year flavor would also work well with Ben & Jerry's colorful and artistic packaging strategy. New containers can be issued each year to accommodate the 12-year zodiac cycle: Year of the Dragon this year, Year of the Snake next year, and so on.
Of course, a Chinese New Year ice cream could still be directly linked to Jeremy Lin after all. With the auspicious symbolism of the tangerine flavor, it would be eminently appropriate to name the ice cream "New Year of Linsanity." Does anyone doubt that Lin, like the early spring tangerine, represents "renewal, abundance, and fortune"? I bet the Knicks would agree with that!
But, half-joking aside (only "half" since a Chinese New Year ice cream flavor could actually be a viable product!), Jeremy Lin may embody another breakthrough-power that the media and pundits have yet to ascribe to the Linsanity phenomenon: Lin could finally rivet corporate America's attention on the consumer opportunity within the Asian American community he hails from.
Consider two prominent headlines from the thousands in the last couple of weeks. On February 17, the Associated Press documented the unprecedented hero-identification that Jeremy Lin has produced across a broad ethnic spectrum of Asian American cultures and communities in an article headlined, "Asian-Americans Rejoice as Unlikely Basketball Star Jeremy Lin Smashes Stereotypes." This story revealed that Lin's success is not just the pride of the Chinese-American community, but also embraced by broader mix of Asian Americans (and, in particular, Asian American men for whom Lin's success has started to refute long-reviled profiles). Then, three days later on February 20, the trade publication, Advertising Age, documented the frenzy to cash-in on Lin's success in its story, "Madison Avenue Lines Up to Court NBA's Lin -- From Agents to Nike, Ad World Inundates Knicks Phenom With Endorsement Proposals."
There is no question that beyond his athletic achievements, Lin is hot as an Asian American role model, as well as a potential pitchman for marketers. Combining these two manifestations of Linsanity, we can easily conclude that a brand's strongest, and perhaps fastest, domestic route to cash-in on Lin's power as an icon lies with the consumers in the U.S. who truly care about, and identify the most with him: Asian Americans. But, while Jeremy Lin has shattered stereotypes about Asian Americans in general, and Asian American athletes and men in particular, will his power be strong enough to shatter prevailing corporate stereotypes about Asian American consumers -- stereotypes that characterize this market as a relatively unimportant, distinct opportunity? The answer to this question still remains to be seen, but there is no doubt that Linsanity offers brands a timely call-to-action to take a fresh look at their untapped business potential in the Asian American community.
Why Should Brands Even Care About Asian American Consumers?
(Asian American Market 101)
With a total population of 17.3 million recorded by Census 2010, Asian Americans now represent 5.6 percent of the total U.S., and are heavily concentrated in key regions of the country. For example, 50 percent of all Asians live in just three states: California, New York, and Texas. In California, Asians represent 13 percent of the total state population. Asians also form critical double-digit percentages of the local populations in key metropolitan areas such as New York City, Los Angeles, and San Francisco, among others.
The Asian-American market stands out from all other segments as a true market of superlatives. With 43.7 percent population growth across the country between 2000-2010, Asians experienced the fastest population growth rate of all racial groups. In top states, Asian population growth in the last 10 years remained robust, with 32 percent growth in California, 36 percent growth in New York, 74 percent growth in Texas, and 51 percent growth in New Jersey. But outside of these traditional Asian population centers, Asian growth rates spiked even more dramatically with 119 percent growth in Nevada, 94 percent growth in Arizona, and 88 percent growth in North Carolina, to cite a few. Asians also enjoy the highest median household income of all groups -- almost $10,000 ahead of non-Hispanic white households, and far in excess of Hispanic and African American median income. One reason that income is so strong is that Asians have the highest level of educational attainment of all groups in the country, with 44 percent of Asians holding a B.A. degree or higher. Asians also exhibit disproportionately high rates of entrepreneurial activity. Per the last published U.S. Economic Census survey of minority businesses in 2007, Asians owned and operated 1.6 million businesses nationwide, generating $514 billion in annual sales revenue.
The above figures demonstrate a key point that marketers need to understand about Asians as consumers: While they number less than many other population segments, their economic power
and corresponding potential bottom-line impact to many product categories and brands is disproportionately large. According to the Selig Center at the University of Georgia, Asian American purchasing power in 2009 reached $509 billion, representing an 89 percent increase in purchasing power since 2000, and nearly twice the purchasing power growth rate for the total U.S. population during the same period.
Such an attractive market profile has spurred a wide range of product categories and brands to 'lock in' on Asian American consumers, including a very deep bench of historical players in the financial, telecom, automotive, spirits, and retail industries. Nevertheless, entire product categories are still conspicuously absent from the Asian American marketing arena. These include major consumer packaged goods (CPG) brands across a wide spectrum of products (food, household products, personal care, baby care, over-the-counter pharmaceuticals, and others), beverage companies (carbonated soft drinks, energy drinks, bottled water, teas, and beer), travel & leisure brands (hotels, airlines, car rental, geographic and theme destinations), lifestyle products and apparel brands, fast food (currently, McDonald's is the only brand which implements consistent Asian marketing programs), computer hardware/software, and many top e-commerce brands. Quite obviously, many of these missing marketers comprise brands that often engage in heavy sports-related marketing, including associating with prominent star players.
Given the seismic demographic shifts towards diversity within the American population, the decision to implement targeted Asian marketing is no longer a question of if, but rather of when. Following the example of the Hispanic market which is in full transition from 'good option' to 'marketing imperative,' Asian programming will similarly sooner or later be viewed by all marketers as essential.
The sudden emergence of Jeremy Lin, the national obsession with his story and background, and the role he has already started to play as an icon for the Asian American community hold the potential to accelerate this eventuality.
Popular in the Community