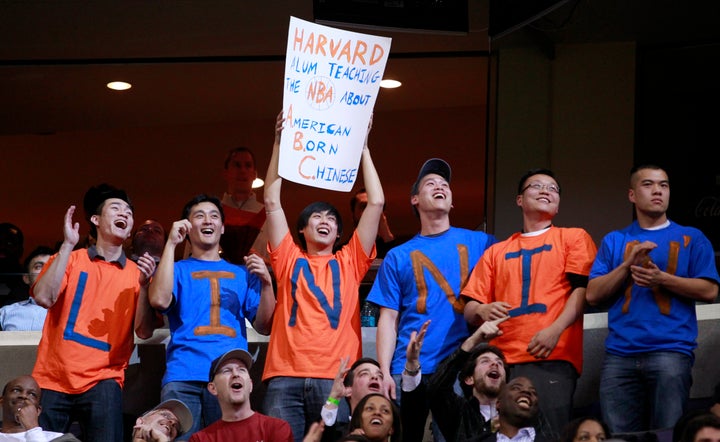 Jeremy Lin isn't just an overnight sensation, an international star, and an NBA phenom. He's even helped do the unthinkable at Harvard: gotten Harvard undergraduates excited about Harvard basketball.
The New York Knicks haven't lost a game since making Lin, a Harvard graduate, a starter just 10 days ago, and students at Harvard University are as thrilled about it as the rest of the planet.
"People are talking about [Lin] on Friday nights," says Martin Kessler, who covers sports for the Harvard Crimson. Students "are skipping reading to watch NBA games on TV or streaming on the Internet."
Lin, who played for Harvard from 2006-2010, has caught the attention of New Yorkers, the media, celebrities and NBA fans across the world, in a phenomenon that has been dubbed "Lin-sanity."
Meanwhile, Harvard's basketball team has been continuing its own unlikely success that Lin helped build, having earned rankings in the top 25 this season.
Scott Reed, a senior at Harvard who covers men's basketball for Harvard's WHRB radio, watched as Lin scored 38 points on Friday against Kobe Bryant's Lakers. He noted on Twitter that it was quite a night for Harvard, what with alum Lin's breakout performance against Los Angeles and Harvard beating Penn to remain undefeated against Ivy League teams.
"When he was still here," adds Kessler, "people were just starting to care a little bit about Harvard basketball."
Kessler says he noticed things started to change on campus recently when a political-science professor took a few moments before class to stop and talk about Lin, asking the class if they'd been following the "Lin-sanity." Adds Kessler: "Professors don't typically delay class to talk about Harvard sports."
On the Crimson's website, many of its most-read stories have been related to basketball and Lin's rise.
"We are also having a surge on our YouTube page," Tim Williamson, assistant director of Harvard athletic communications, tells The Huffington Post, "which includes video of when Jeremy played here."
Williamson notes that Harvard's men's basketball games were already sold out prior to Lin's breakthrough with the Knicks, as interest in the team has generally been on the rise this season.
"The one thing I can guarantee," says Williamson, "is a bigger interest with the media in terms of the publicity that our program is receiving, both locally and nationally."
That increase in attention deluged Harvard's media-relations team with interview requests of Lin's teammates and Harvard's men's basketball coach Tommy Amaker.
Originally from Northern California, Lin chose Harvard after his first-choice, home-town Stanford University offered him only a walk-on role with the team. After college, Lin went undrafted by pro teams. He eventually landed a spot as a free agent with the Golden State Warriors, made his way to the Houston Rockets, then got picked up by New York after Houston cut him. Lin was originally sought out by the Knicks only after their guard lineup was depleted by injuries. Now the new kid out of Harvard has become the team's star.
Lin scored 109 points in his first four games as a starter, the most of any player since the NBA merged with the ABA in 1976.
Harvard senior Keith Wright, who played two seasons with Lin, told ESPN he couldn't be happier for Lin, but notes he's getting asked about his former teammate a lot more.
"I'm hearing a lot," says Wright. "Everywhere I go, it's like, 'Yo, did you play with Jeremy?' 'Have you talked to Jeremy?'"
Related
Popular in the Community