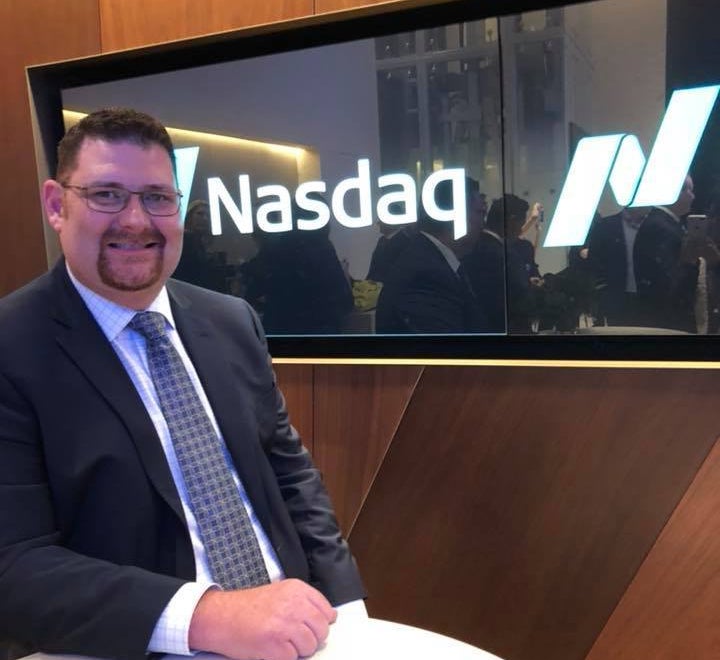 Wow, The Nasdaq. It is an honor to be here today. I have dreamt about this day my whole life.
You see, as a tax and wealth manager I get the privilege to educate people. It is my goal to pass on some of my wisdom to you today.
When God blessed my wife and I with our first child Katelyn, Cindy was working at Wells Fargo Bank. During maternity leave, and thinking about when it was time for Cindy to go back to work, we had to start considering childcare. Nothing we found was really satisfying to us. It just seemed like we would be dropping our daughter off and she would be in baby jail all day long. They would just put her in a crib and leave her there.
It just did not seem fair or what we wanted for our child. We were thinking of alternatives, and suddenly we got the idea to ask some close family friends of ours. Judy and Richard who lived nearby and had never had children themselves. When we asked Judy if she would be interested in providing daycare for our daughter she graciously accepted. Suddenly Judy was our daycare provider while my wife was going to work. A few years later God blessed us again with our son Chase. Judy took on Chase as well. Judy and her husband instantly became unofficial grandparents of our kids. Now let's fast-forward a few years, my business had become successful, my firm was rapidly expanding and I needed the help of somebody I could trust, so Cindy came to work with me at the firm. In 2014, after years of hard work, we finally got the opportunity to build our dream home in a beautiful section of The Woodlands, Texas which is a very prestigious area, but away from Judy and Richard, who our kids grew to love.
Low and behold Judy and Richard made the decision to move closer to us because they wanted to be near their grandchildren. They found a house to buy about five minutes from us. The only problem is they did not talk to anyone about the tax implications of their move and they didn't get good advice from their financial advisor. I wasn't managing their money, they were just friends of the family and I prefer to generally keep family and business separate. Unfortunately, what they did was not a smart financial move. They ended up selling stock from their portfolio in order to purchase a new home in our neighborhood, so they could be close to us. Once they sold their old house they reinvested that money. The result of that decision had huge consequences and they ended up with an additional $120,000 in capital gains, which cost them an extra $20,000 in taxes just because they didn't manage the transaction properly. If they would have been my client I never would have had them cash out their portfolio. My advice would have been to take out a mortgage and then pay the mortgage off with the proceeds from the sale from their old house. Not only would they have saved themselves from the capital gains, and they would have been able to deduct the interest on the loan until they paid it off. It is important to point out that most financial advisors are just that, a financial advisor. If you ask them a tax question they will send you to a tax advisor. If there are tax ramifications from the transaction they treat it like it is none of their business. That is what happened to Judy and Richard, unfortunately their financial advisor did not think about the tax ramifications.
Anybody who knows anything, knows that taxes are the number one expense in any type of investment. You must always be aware of the tax ramifications on the upside and downside of any investment. If you don't, then you are not being realistic about life in the 21st-century. There are tax ramifications with almost everything when it comes to investing. My unique approach to wealth management is centered on a tax based philosophy. My process is what separates me from a lot of my competition. My firm provides not just financial advice and wealth management, we also understand and provide tax guidance. You can learn more about this in my new book that will be released in the first quarter of 2018 titled "Taxing Away Your Wealth" Tax Management the missing piece of your wealth strategy. Remember it's not what you make it's what you keep. Again, my name is Jeremy Matranga and I am a financial advisor representative offering securities and advisory services through Cetera Advisors LLC, member FINRA, SIPC. The case study mentioned should not be construed as a guarantee of similar tax planning results. Thank you for having me here today.
Popular in the Community