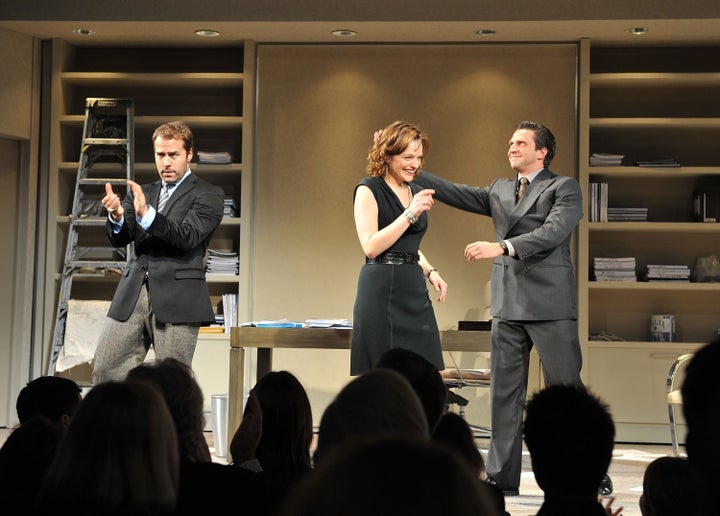 Almost a week after Jeremy Piven abruptly pulled out of Broadway's "Speed the Plow" citing a high mercury count, the story continues to develop.
Piven's theatrical castmates Raul Esparza and Elizabeth Moss have now joined playwright David Mamet in making fun of the "Entourage" actor and implied they are happy he is gone.
Sources say that when the matinee was finished yesterday, Esparza suddenly addressed the audience...

According to those who saw this, Esparza -- famous for being outspoken -- reamed Piven while Moss, my sources say, "sobbed."

"'He said, I'm sure you've read the headlines about the silliness in our show.' Then he said, Today was the first time I really enjoyed playing this show.' I hope you weren't expecting a big TV star." It was pretty emotional."

Esparza has a reputation for being lively -- and much of a diva himself.
Meanwhile actor Fisher Stevens has come to Piven's defense:
"I believe him. His numbers are off the charts," Stevens, who suffered from mercury poisoning this year, told Page Six. Stevens says that while he was producing his upcoming Sundance entry, "The Cove," a documentary about the slaughter of mercury-loaded dolphins in the Far East, he ate fish four or five times a week. "I started feeling really sluggish and had no energy. It turns out the larger the fish, the higher the levels. I only eat small fish now."
REAL LIFE. REAL NEWS. REAL VOICES.
Help us tell more of the stories that matter from voices that too often remain unheard.