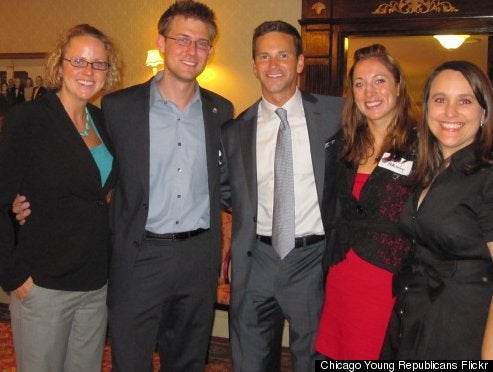 For the Republican Party in Illinois, these are heady times. In a state that has been reliably blue in recent years, the GOP candidates for U.S. Senate (Mark Kirk) and Governor (Bill Brady) are running competitively, giving the party a chance at two national wins in Illinois for the first time since 1998.
But as the party prepares for battle with Democrats in November, it has also suffered its first casualty in an internal conflict that has embroiled the GOP's Chicago organization, and threatens to derail the entire state party.
Jeremy Rose, the executive director of the Cook County GOP, resigned Tuesday night after word spread of a past allegation of sexual misconduct. According to documents obtained by Huffington Post Chicago, his boss -- Cook County GOP chairman Lee Roupas -- has known about the allegations for over a year, during which time he hired and promoted Rose. And when a whistleblower came forward about the complaint, Roupas organized a concerted effort to remove that person from her elected position within the party.
On the night of June 17, 2009, a young woman was attending her last Chicago Young Republicans function before moving to Wisconsin.
After the event, the woman went back to the home of Jeremy Rose, the charismatic then-president of the CYRs, along with another young man and woman. She would later write an email describing the events of that night, which HuffPost Chicago recently obtained and which she stands by to this day. (She has requested that her name be withheld to protect her privacy.)
"I became very uncomfortable on the walk over, as Jeremy was putting his hand on my neck and around my waist," she wrote, adding that she was under the impression that other people would be at the residence. . "When we arrived, Jeremy continued with this sort of behavior, putting his hand on my thigh, tickling me, and leaning in very close to me. It really felt like he had invited me to his place solely to see if he could sleep with me."
When she tried to leave, it only got worse. "Jeremy and the other guy refused to walk me out, saying I needed to stay and hang out with them, and Jeremy took my phone away from me (I had been trying to call a cab) and sat on my lap, not letting me up.
"At this point I felt like his behavior was bordering on keeping me there by force. At last the girl who was there walked me out to the street and I hailed a cab and went home."
The woman said the situation made her uncomfortable--to the point that she was unsure about attending future CYR events. She also noted that Rose was very "hands on" with other women at CYR events.
On July 1, 2009, the complainant sent this email to Rick Veenstra, a high-ranking figure in the Illinois Young Republicans. Veenstra spoke with her about how she wanted to proceed, and she told him to try to resolve the matter internally by speaking with Rose, hoping to keep the situation from "damag[ing] the CYRs image and membership."
Three weeks later, Veenstra and Rose spoke one-on-one, and Veenstra told HuffPost Chicago he left the meeting feeling that Rose understood the gravity of the situation and wouldn't repeat the behavior. Veenstra relayed the conversation to the complainant, and she decided not to pursue the matter further.
"This issue was dealt with in the manner that I requested it to be dealt with and I consider it to be done and over with," she said in a recent email.
But Veenstra wasn't the only one with a copy of the document. It also landed in the hands of Steve Boulton, general counsel for the Chicago Republican Party.
In early July 2009, Boulton called Lee Roupas, chairman of the Cook County Republican Party, to discuss the complaint. Cook County encompasses Chicago geographically, but there is both a city-level and a county-level Republican Party organization.
In that phone call, Boulton told Roupas about the complaint against Jeremy Rose.
Roupas dismissed the complaint coming from Boulton as "rumors and hearsay," he told HuffPost Chicago.
"To investigate and pry through people's lives based on every hearsay rumor or accusation is not my job," he said.
Roupas, who was frequently evasive in an interview, said that at the time, he did not know enough about the allegations against Rose to believe them.
"To believe something would require me to have some knowledge of an allegation, and I didn't have that," Roupas said.
But, according to documents obtained by HuffPost Chicago, Roupas had ample knowledge of the allegations against Rose.
Boulton recently signed a statement swearing that he explained to Roupas the nature of the complaint during that phone call, and "went over the allegations in some detail."
Later, in a July 25th, 2009 email message, Boulton mentions "the full text of the CYR female member complaint." The following day, Roupas acknowledges the complaint, writing, "How you proceed with JR [Jeremy Rose] and this situation is really up to you." Due to a number of other obligations, Roupas writes, "getting into the weeds with [Rose] hasn't been a priority for me."
Instead of "getting into the weeds," Roupas did quite the opposite. That December -- having investigated the matter no further -- he hired Jeremy Rose as the political director of the Cook County Republican Party. And in early 2010, Rose was promoted to the CCRP's executive director.

Retribution For The Whistleblower
According to many sources, including Lee Roupas in his interview, tensions between the Chicago Republican Party (CRP) and the Cook County Republican Party (CCRP) have long run high. In order to address those tensions before an important election, Roupas tried to organize a meeting early this summer between himself and Jeremy Rose from the county, and Steve Boulton and Eloise Gerson from the city.
Gerson, a Jewish woman who immigrated to the U.S. from Peru, rose through the ranks to become the head of the Chicago Republican Party in April of 2008. When Roupas reached out to meet with her, she encouraged Boulton, her general counsel, to join her in doing so.
But in a two-page letter sent on June 3, 2010, Boulton refused his boss's request. He told Gerson that he was wary of Rose's tactics, and mentioned the allegations made against Rose by the woman from the Young Republicans.
Three days later, Gerson requested a copy of the complaint.
"While I had heard of the complaint, until recently I had never actually seen the allegations," Gerson wrote later in a memo. "I was shocked by them."
Gerson wrote Lee Roupas, presenting him with the complaint and demanding that Rose resign immediately. Roupas responded on June 15th by saying that he took the allegations seriously, and would look into the matter.
Instead, he reportedly began a coordinated effort to undermine and replace Gerson.
On the 15th, the same day Gerson came to him with the complaint, Roupas reportedly presided over an impromptu "executive session" of the Chicago Ward Committeemen. In that session, which Gerson could not attend, a number of committeemen aligned with Roupas made allegations against Gerson's leadership of the Chicago Republican Party.
One committeeman allegedly said that Gerson had not held any meetings of the organization, a claim that is verifiably false. Others stated that she had failed to cooperate with the state party, and that she had been a poor leader, claims that Gerson rebutted at great length in a subsequent memo.
Still, with the groundwork laid, Roupas allegedly attempted a coup at a meeting two weeks later, but did not have enough votes to oust Gerson directly. Instead, Roupas went on to announce the creation of a new post: the Chicago Chairman of the Cook County Republican Party.
"I viewed this proposed appointment was [sic] a move to marginalize or completely supplant my position as Chairman of the Chicago Republican Central Committee by creating an open schism in the Chicago Republican Party," Gerson wrote in a scathing internal memo two weeks later.
Frustrated with his failure to oust Gerson, Roupas was allegedly overheard in an angry rant after the meeting, calling Gerson "boss b**ch." And, despite objections by many committeemen that the new post appeared to undermine Gerson's authority, Roupas announced the appointment of a Chicago Chair of the CCRP in an email on July 1.
"This is like the Catholic Church all over again, where the cover-up is worse than the crime, and there's this concerted effort to try to shut down the whistleblower," said CRP political director Tom Swiss in an interview. "He [Roupas] has a meeting and tries to vote her out and get her removed from her position, because she brings this complaint to him and he doesn't want to be bothered by it."
With tempers flaring in the city's Republican organization, word of the complaint against Rose, Roupas's suppression of it, and the campaign to undercut Gerson began to surface on July 12 of this year.
An anonymous group of former Chicago Young Republicans calling itself "Roxy Vanilla" sent an email to a number of news sources on that date. The Roxy Vanilla email mentions the complaint against Rose, the situation with Gerson and Roupas, and makes a number of other unsubstantiated allegations as well, including that Rose had multiple female victims and that he was protected by powerful donors within the party.
The recipients of this message included a blog called HillBuzz. HillBuzz is run by Kevin DuJan, a Chicagoan and longtime Hillary Clinton supporter who, since Clinton lost the 2008 primary, has been supporting some Republican candidates--most famously Sarah Palin.
HillBuzz had in fact received a copy of the complaint against Rose more than a year ago; due to a HillBuzz blogger's personal connections to the story, it was not published. But when the Roxy Vanilla email implicated Roupas in covering up the allegations, HillBuzz spoke out--and has been closely following the story since.
"The root of the scandal is something that should have warranted jail time for [Rose]...but he has been protected and helped, apparently, by the likes of Roupas ... all this time," the blogger wrote on July 12.
The coverage began to turn heads at the Republican Party, and before long, officials began to respond.
Roupas circulated an email on July 16th, again claiming ignorance of the allegations. In that message, he wrote that he only received the complaint on June 10th of this year, a claim that could only be construed as true under a very limited understanding of the word "received."
But as the HillBuzz coverage continued, and as other media sources - including this one - began to inquire, the Republican leadership appeared to realize that a more coordinated response would be required.
And indeed, though many details of the story remain to be unearthed, the inquiries have already caused one head to roll: within an hour of concluding his interview with Huffington Post Chicago, Chairman Roupas circulated a letter to Republican officials announcing the resignation of Jeremy Rose.
"I feel it is best for our GOP team that I step aside as executive director so you and the Republican Committeemen can continue without distraction the work needed to win in November," Rose writes in his resignation letter.
Popular in the Community