Jeremy Scahill tore into media coverage of the Bradley Manning trial on Tuesday, saying it had been, by and large, "shameful."
Manning was convicted on 19 counts on Tuesday, though he was acquitted of the most serious charge he was facing, "aiding the enemy." Most mainstream outlets have, by and large, devoted little coverage to Manning's trial, and that pattern continued on Tuesday.
Speaking on "Democracy Now," Scahill said that "corporate journalists basically systematically whited out" coverage of Manning. He compared it to the Jodi Arias trial, where, he said, "all of cable news was turned into one big Nancy Grace Christmas."
Scahill said journalists had been complicit with the government in denying Manning a large level of coverage:
"When those in power want to gin up support for a war, they know who to call in the powerful media outlets. When they want to tamp down any public awareness of an issue, they know how to make it a non-story...there has been more coverage of the indictment of that Real Housewives lady and her husband than there has been of Bradley Manning. This is the state of media in this country right now, and it is just devastating that we don't have a media culture that says this trial should have been gavel-to-gavel coverage."
When Glenn Greenwald tweeted a Mediaite post about Scahill's comments, MSNBC's Chris Hayes noted in response that there had been no cameras in the courtroom for Manning's trial—something that often leads to lower levels of TV coverage. That led to this exchange: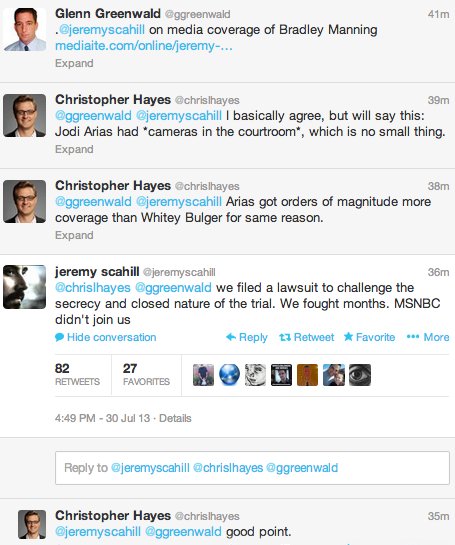 Calling all HuffPost superfans!
Sign up for membership to become a founding member and help shape HuffPost's next chapter
BEFORE YOU GO
PHOTO GALLERY
The Bradley Manning Trial