The event was held to prompt discussion about "what legal protection for graffiti means for the fashion and art worlds." The discussion, led by The Fashion Law Editor-In-Chief Julie Zerbo, included New York-based artist/photographer Adrian Wilson (Gallery Owner), a graffiti artist and Eriq Gardner, a Senior Editor at The Hollywood Reporter.
The need for this conversation was sparked by the onslaught of copyright allegations faced by beloved designer Jeremy Scott.
True Crime:
"Question Everything" - Adrian Wilson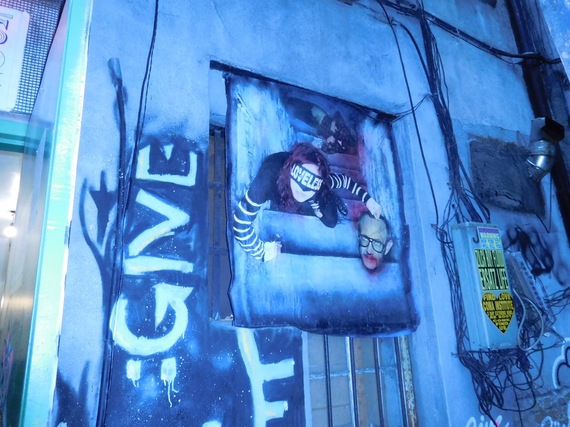 Justice for Terry Richardson by FLOODCLUB. This art is one of many works visitors will find in Adrian Wilson's graffiti-doused LES outdoor garden. The garden is the backyard of the storefront property, currently known as the "Jeremy Scott Free Inspiration Gallery"
Teaching America's youth to like or dislike things based on their own opinion and conclusions instead of taking up the stance of their peers to fit in is very important. Adrian Wilson, the gallery owner, aims to get people thinking about why they do and say the things they do. For example, he shared with me a story about his son coming home from school saying he did not like a former president. He asked his son why to see if he had formulated his own opinion or just repeated what he heard others say. I enjoy asking people why they hate the Kardashians for the same reason. This interview with Gallery Owner, Adrian Wilson is a great read.