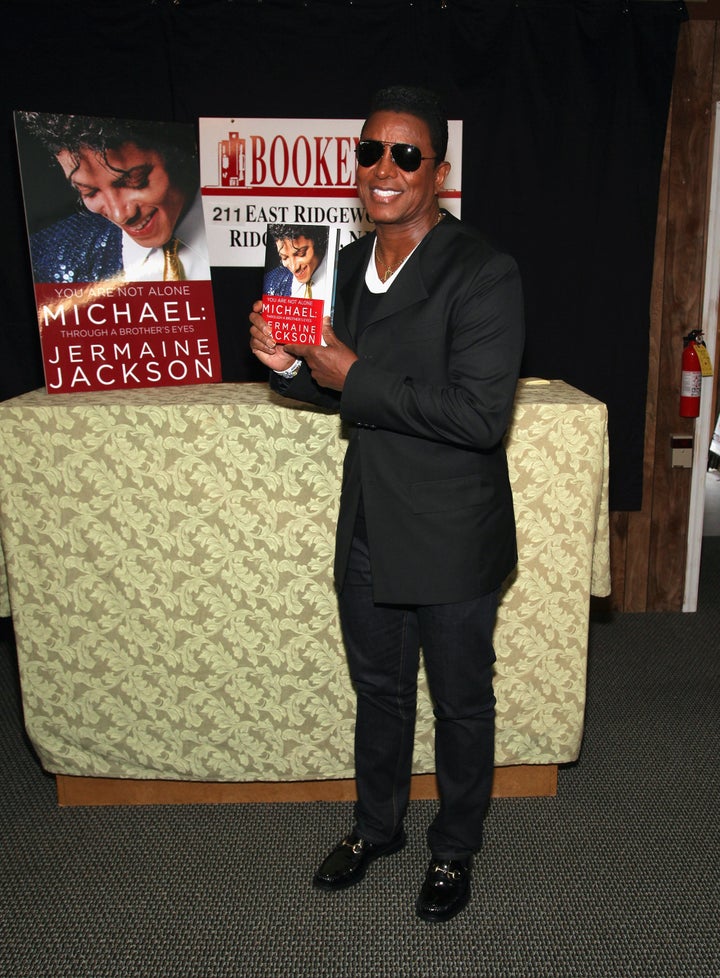 It hasn't always been easy for Jermaine Jackson to hear stories about his brother, Michael Jackson -- especially after his untimely death in 2009.
Fed up with the rumors and mystery surrounding Michael's life and death, Jackson decided to pen a heartfelt book, "You Are Not Alone, Michael: Through a Brother's Eyes." Partly a look at their family's early years in Gary, Ind., and the phenomenal success of The Jackson 5, the memoir also delves into Michael's final days and all the questions surrounding his death.
"You Are Not Alone" doesn't hold back, with mentions of Michael's chimpanzee Bubbles, the child abuse allegations against Michael, and the singer's marriage to Lisa Marie Presley all thrown into the mix. The book comes as Michael's personal physician, Dr. Conrad Murray, goes on trial Tuesday in Los Angeles for the involuntary manslaughter of Michael Jackson.
HuffPost recently had the chance to discuss the new book and the upcoming trial with Jermaine Jackson. Read the interview below:
Was this a difficult book to write?
It was emotional going over all the happy times and fun memories, but it was also cathartic. I wanted to write the book to give a true documentation of Michael's life. When I started to write it, I read stuff about Michael, and I couldn't believe the lies written and the false allegations.
Your dad has always been vilified, but you defend him in the book.
They call it abuse today, but that's how everybody was raised then, with beatings. It was not abuse. [My family and I] don't hold anything against him. We love our father.
In the book, you say Michael lost a disturbing amount of weight right before he died.
The weight loss came because of whatever [his doctors] were putting in him, but before that he was ripped and ready to go. He started to lose the weight in mid-June. What I've done in the book is give [readers] eyes and ears into those rehearsals that they didn't show during ["This Is It"]. They were poisoning him with Propofol. All he wanted to do was sleep. As a doctor, you take an oath to do right by your patient. He was trusting of his doctor. We don't know how much they were putting in him.
Dr. Murray is about to go on trial. Do you think others were involved?
What I want to do is let the readers decide. Of course Dr. Murray was responsible, but we don't know if he acted alone because the surveillance tape at the house was erased. According to the investigation, it was the LAPD who erased the tapes. But something was
erased before then, too. We're trying to get answers to all these questions.
Why do you think people wanted Michael gone?
There are a lot of people in this world that don't want to see [people] become more successful. If they were there in the beginning of your successful ride, yes, but if they're not there ... then they get bitter. I'm just trying to use the facts and common sense to say what happened.
How are Michael's kids doing?
They're doing great. This book is to remind people who Michael was. During the trial, they are going to say the most horrible things, but we know -- and I know -- who my brother was. The media have a way of focusing on the wrong things. It makes me so angry. That's how it was during his whole career. People just running with stuff.
You write that you think he suffered from dysmorphia.
We all have things on our face weren't not happy with. Plastic surgery was not invented for Michael Jackson.
I know, but he did completely change his face.
Part of that was vitiligo.
I'm not talking about skin color.
What does his plastic surgery have to do with anything? There's a trial coming up. What does his skin have to do with it?
I'm not saying it has anything to do with it. It's in the book.
But at the same time, that's his mindset. He wasn't happy with something so he changed it. People do this every day, but when Michael Jackson does something it becomes international news. When you look at my sister, LaToya, what's the difference between her and Michael? What's the difference between her and Michael in terms of skin?
What do you want people to come away with from this book?
I want people to realize he was a human being. He didn't deserve the things that were spread about him. But at the same time, he was the biggest entertainer out there. He was an incredible human being. ... The media wants to focus on all the lies.

Related
Popular in the Community