Probably somewhere near the top of your list of 'things you didn't expect to see in 2013' was Jermaine Jackson staging a touring one-man comedy musical in French.
Nonetheless, this week the Jackson Five star launched his touring production, 'You Are Not Alone: The Musical', in Bordeaux.
Taking its title and structure from Jermaine's 2011 autobiography, the show was co-created with French producer and opera singer David Serero.
"I wanted to do a different type of music," says David. "Something more contemporary. I was speaking to a friend in Los Angeles and he said he knew Jermaine Jackson. I told him I would love to meet him and he said he would arrange it."
Fresh from producing and starring in a revival of Duke Ellington's 'Beggar's Holiday', David had musical theater on the brain.
"Before I met Jermaine, I read his book 'You Are Not Alone'," he explains, "and I thought that in it there was a musical."
The bestselling memoir tells the story of the Jackson family with a particular emphasis on Jermaine's superstar brother Michael, charting the siblings' relationship from early childhood all the way up to Michael's 2005 child abuse trial.
The show interweaves the music from each era of their lives, comprising tracks from the Jackson Five days and both brothers' solo careers, with the stories behind the songs.
"The show tells the story of our family with pictures and videos," says Jermaine. "We're showing things from the past. Some of these pictures haven't been seen before.
"It's all of the music from the start all the way up to the present day. It's letting people know who we are as a family and clearing up a lot of misleading information and misconceptions that have been put out about us. I want to share the truth."
As Jermaine charts his family's turbulent journey, David Serero translates for French audiences.
"The Jackson family is so legendary," says David. "To hear the story and hear all of the music - the show is both very informative and very entertaining."
David was so impressed by Jermaine's vocals that before long the pair hit the studio together. The result was 'I Wish You Love', Jermaine's first studio album for 21 years.
"It's a big band album," says Jermaine. "A sort of Frank Sinatra sound."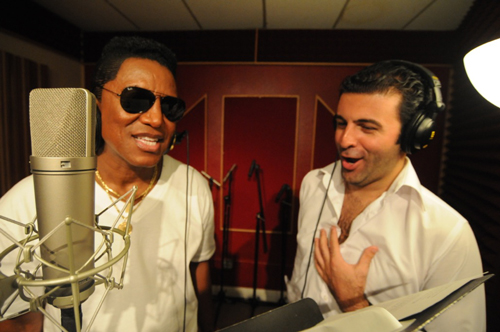 Jermaine Jackson in the studio with David Serero. Picture published with written consent from David Serero.
"I wanted to do something that neither of us had done before," says David. "People know him for singing R&B music but when I listen to his voice I think of Nat King Cole. People see him as maybe just the brother of Michael, but his voice has a crooner quality that his brother didn't have.
"It worked out perfectly. This is what his voice was meant to do."
One of the pair's collaborations - a duet titled 'Autumn Leaves' - features in the stage show.
"It is a meeting of two styles," says David. "That is what I'm most proud of."
After wrapping up 'You Are Not Alone: The Musical' on January 30, Jermaine will join his brothers on a two-month, 26-concert tour of Europe and Australia. In late summer they plan to release their first album since 1989.
"We're working with various producers and we're writing a lot of it ourselves," says Jermaine. "It's dance music. All different tempos. We like to tell good stories."
After the album release he anticipates another potential Jacksons tour, but does he have any plans to take his musical beyond France in the near future?
"We're going to focus on making it work here," he says, "but if time permits I would love to do it in other places too."
Tickets for 'You Are Not Alone: The Musical' are available here.
Related
Popular in the Community