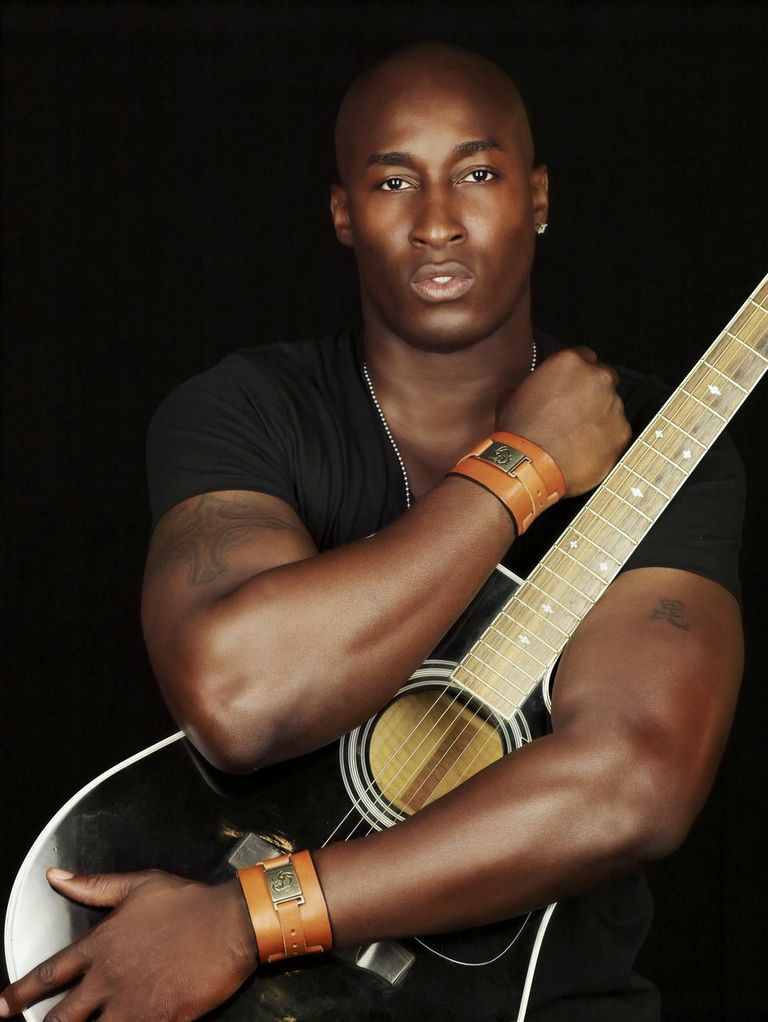 Music is the soundtrack to our life; it sparks our soul when we meet that special someone, initiates the first time you make love and fills the air during the first dance after shared vows. The voice behind the sound... well now, that's a whole other story.
R&B love songs consist of a few simple ingredients: A sensual melody, passionate lyrics and a voice to tie it all together. These three characteristics can form a lifetime of memories and will replay in our hearts for an eternity. When the NBC show The Voice auditioned singers for their 2nd season, I don't think they expected to discover the next living R&B legend. Leaving the ultimate decision to fans across the country only solidified the glorious power that is in The Voice. Winner of the primetime competition, Jermaine Paul sets himself apart not only vocally but by his magnificent influence in his community and home. His voice demands your attention and draws you in but this man of many talents has a lot more to offer than just his musical gift... Jermaine Paul is a father first and supporter of all those less materialized by the spotlight.
At this point, I'm going to lay down some facts that should be used solely to show that this man is not playing. Even though our interview lasted well over two hours, Jermaine was no help when it came to sharing key moments in his career. With his wife sitting across the dim lit table, Melissa Paul and I had our own conversations about her college sweetheart's livelihood. "Babe, did you mention the time in LA?" Melissa would suggest something that would be huge for my story that Jermaine would casually blow off... and then he'd laugh it off with a shoulder shrug. This modest man so ready for his next venture has already passed the late night studio runs in Europe with Alicia Keys and international tours...you know, because everybody is on movie soundtrack these days. Cue bulging eyes and jaw drop now. Yes, ladies and gentleman, this man is thee voice on track 7 of "The Diary of Alicia Keys" album. He is who you have been singing along too for ten years. As you run back to now jam out to that gut wrenching classic don't doubt me when you don't see his name in the credits -- believe me when I say he is not new... he is now.
Obviously we know Jermaine is gifted...the man can sing! But what sets him apart is not the flashy title or heavy resume; it's what he does in his every day life. I admire a man who holds the title "Dad" and respects the true definition of being a great role model. With four children of his own, Jermaine remains a staple in their lives and a constant reminder to dream big and never settle. What I absolutely adored about this meeting is that with all his success he has not lost sight of what grounds him as a man. Crediting his father for molding his musical gift, Jermaine associates music with family. "I am one of ten kids, all gifted in our own ways." Imagine growing up in a home where all your siblings offer artistic richness and value to life, "We were introduced to musical icons that helped develop our harmony and relationship with meaningful sounds." Valuable time spent with their grandfather in Alabama kept the Paul brothers, Charlie and Jermaine grounded. Respecting his father's decision to send them away for a better quality of life kept them out of upstate New York's Hill area and kept them focused. Cultured and wide eyed, the Paul brothers now formed an undeniable bond that will take them on an adventure far from the dirt roads in Alabama and troubled streets of Spring Valley.
Finding himself and honing in on his passion, Jermaine focused his time towards performing... anywhere. Constantly tweaking his sound all through his school years also led him to an instrumental advantage. Responding to the iconic Pearl Jam era, Jermaine now introduced a multiracial singing group offering covers from the Stone Temple Pilots and soulfully mastering the essential swag of R&B's Jodeci and Boys II Men. "Reality" was now performing and in demand at all local venues for live shows. Ultimately college was tugging at his tails and it was goodbye to average and hello to destiny.
College for Jermaine was much more than sports and lessons; it was filled with ultimate life changing decisions that helped carry him from that campus to the table we met for this very interview. I mentioned his lovely wife Melissa who helped co-pilot this article, but crucial to meeting Jermaine is understanding that the woman this man sings about is she who has carried the torch while he traveled and followed what he was destined to do. The love they shared at first site has guided them through industry hype, hope and disappointments. That time in LA Melissa mentioned was the call that ultimately made Jermaine a headliner on the 1997 Booty Call soundtrack.
"This is going to be a life choice, not a little thing... I'm going all in," Jermaine exalts the same adolescent excitement he felt while explaining his decision to quit school and commit to his career. Opportunities were not at his fingertips and deciding to part from a group and step up solo was the next obvious move. Leaving Los Angeles behind, Jermaine decided to settle in the Bronx and focus on building his solo career.
Jermaine hustled during the day to support his now wife and first born never once considering failure as an option. From make-shift recording studios to chump change performances, this smooth vocal machine was branding his sound anywhere. "I was literally stocking Adidas sneaker boxes from 9-5 and switching clothes to later rip it on the stage..." he remembers when he partnered up with the group "Focus" as their front man and owning performances night after night: "This music thing belonged to me!" Confidence poured into his smile as he looked over at Melissa at this statement. "It was a dope vibe, I was cocky and knew that this was it."
Performing regularly on the renowned BB King's stage led Jermaine to his most prominent break. Alicia Keys filled 2002 airways with her hit single "Fallin'" and was set to offer Jermaine a reason to believe. Schedule to perform with "Focus", Jermaine arrived to a closed set. After the smoke cleared, Jermaine heard that the keys were promised to the Hell's Kitchen goddess, and he had to take a backseat. During her performance, the band asked for volunteers to sing alongside Alicia and as it just so happened to spark the flawless duo that most of us have since paid to see. Jermaine delivered his rendition of Fallin' that was undeniably not what anyone was expecting. Now in his realm, the veteran to this legendary stage handed over his mic and requested backstage access that was earlier denied upon the arrival of Ms. Keys. Uncovering this gem was a bit of work, but again small remarks steered me to the Mrs. and she exposed that Keys and Paul had known each other before this moment and had actually collaborated years earlier. Right place at the right time? When Alicia asked what he was doing these days, he simply responded, "I have a family."
Life went from zero to 60 for the Paul family once offered to tour with Alicia and her new album. The rest... you can Google. His face is more familiar as you browse but once it was time to redirect attention on Jermaine, he graciously parted ways with the braided songstress and reinvested time in himself. With a growing family Jermaine moved back up to his childhood stomping grounds but now on his own terms.
Armed with a massive amount of experience he brought home his road equipment and released all the gems recorded on his Digi02. "After every show I felt like singing more and crafting my own sound." Back at home with his family allowed him to refit for his place on center stage. All the years away allowed R&B to drift and redirected the initial sound to a lucrative jingle. Songs obsessed with washed out vocals or overuse of popular artist leaks lost interest of what this specific genre had to offer.
Jermaine is the voice America was waiting for. Primetime had just been bombarded by yet another singing competition and Jermaine made it clear that reality tv was not a path for him. Overruled by his family, he set out to compete in a nationwide search and week after week proved that he was the voice to beat. Going against his natural sound, Jermaine strategically sang lyrics to popular songs that by definition described his journey. Kicking off the season with Avil Lavigne's "Complicated" and ending with R.Kelly's "I Believe I Can Fly" set the pace for a lifetime of success.
Finalizing this interview was interesting because after such an intense recap all I could say was "What's next?" Standing tall and grounding his feet on the stage of Apollo's celebrated theater is a mere glimpse of where you will find him. "I'm working on my album, tour and concentrating on my wife and kids." This family man was as transparent as his love for music when talking about the Orange County Performing Arts programwhere he helps support up and coming talent. He is humbled to give back musical guidance to those in his community blessed with the same skill set. "I am far from where I started and farther than where I need to be, but with the love and support of my family I know I'm on the right track." R&B has reinvented itself over and over again but what stays consistent is a voice to lure you in. Offering a fresh take to his lyrics and attitude, Jermaine laughs as he explains his style, "Music today is almost skipping the lingerie and going in straight butt naked. I want to raise the bar and create subtle sounds that lure you in."
Mr. Paul, your audience awaits....
Follow Jermaine on Social Media:
Twitter: www.twitter.com/JermainePaul
Facebook: www.facebook.com/MusicByJermainePaul
Instagram: @jermainepaul
Popular in the Community