For the second consecutive offseason, the NFL has been rocked by a series of early retirements from high-profile players who seemed to have good years still ahead of them.
The message those stars may be sending by walking away from the game should worry the league, former NFL running back Jerome Bettis said this week, especially given the increased discussions around football safety and head injuries.
"[The NFL is] going to be concerned, because they're losing some of the better players and faces of the NFL," said Bettis, who retired in 2006 after 13 NFL seasons with the Los Angeles Rams and Pittsburgh Steelers.
"It's definitely going to affect them long-term, and you worry about what message that sends to the youth that is hopefully going to take the game into the next generation," he said. "So obviously it's concerning for the NFL, and they have to figure out how they find a happy medium between health and a product that American people want to watch."
This offseason alone, Detroit Lions wide receiver Calvin Johnson, Seattle Seahawks running back Marshawn Lynch, New England Patriots linebacker Jerod Mayo and Green Bay Packers defensive tackle B.J. Raji all walked away from the game. All were younger than 30, and while none attributed their retirements to injuries specifically, there has been speculation that those concerns played a part in several of the decisions.
After years as one of the league's most durable backs, Lynch decided to stop playing when injuries limited him to seven games in 2015. Mayo suffered season-ending injuries in each of his final three years. Johnson didn't give a reason for his retirement, though he has battled through injuries over the last three seasons, and an unnamed teammate suggested that Johnson was "beat up." Raji, meanwhile, said that his retirement may only be a "hiatus" from the game.
Those departures followed an offseason in which San Francisco 49ers linebacker Chris Borland retired after only one season, saying he was concerned about the long-term impact of brain injuries, and 25-year-old offensive tackle Anthony Davis, Borland's teammate, retired "to allow my brain and body to heal and recoup."
But even if injuries aren't the major impetus behind their retirements, pain is an aspect of daily life those players will have to deal with long after they leave the game. And part of finding that "happy medium" between health and entertainment, Bettis said this week, involves providing better treatment for retired players who are left dealing with injuries long after their careers -- and NFL-provided health coverage -- end.
The NFL has argued in the past that it provides "generous league-funded benefits" that cover players' post-career injuries, even those that don't show up until years after players retire. The league gives five years of post-career health coverage, and provides access to other forms of care through different programs. Some players can access different forms of coverage and assistance after those five years, and players can file disability claims with a board jointly administered by the league and the NFL Players Association. But that board has been criticized in the past for rejecting a majority of the claims that come before it, according to the Washington Post.
Bettis wants to see improvements in the treatment of former players.
"When the players that you built the game on their backs, when those players are in need because medically they don't have that protection through the NFL, then yeah, that's a problem," Bettis said. "The NFL protects you for five years after you retire, but the multitude of injuries come 10, 15, 20 years after you retire. Those are when the ailments start to come, and at that time, you're not covered. That's doing a disservice to former players."
Bettis now feels the daily aches and pains that come with more than a decade spent in the NFL. Though he said he wouldn't have retired earlier even knowing what he knows now, the punishing rusher known as "The Bus" might have changed the way he played.
"I would have made some adjustments," Bettis said. "Not throwing my head in there in some of those collisions, avoiding some of those collisions."
Now, more than a decade after he retired, the Hall of Fame running back is partnering with Stryker, an New Jersey-based orthopedics company, to raise awareness about injuries that cause chronic pain. Though the potential for hits to the head to cause long-term damage has received major attention, Bettis also wants to focus more on other parts of athletes' bodies that take brutal blows during their football careers -- namely the knees, shoulders and other joints.
Head injuries "are the hot-button issue right now, and should be," he said. "But the joint pain and those type of injuries are synonymous with football, and it just kind of goes by the wayside. No one really talks about the pain, having to have the knee replacement, having to have the hip replacement."
Bettis wants to start more conversations about those injuries and how to deal with the chronic pain that comes with them, for both football players and non-athletes, too. And amid the renewed focus on the long-term health of former football players, he wants the NFL to do more. (Similarly, the NBA's players union last year voted to set aside money to provide better health care to former players.)
"They're on the right track of trying to monitor and manage the game from a health perspective," he said. "I think there are more strides to be made. As they recognize that, they'll now start to understand that the number one commodity is the player."
"The problem is, when you need that [help], the NFL says, 'We're done with you,'" Bettis said. "And that's a big problem, because so many players are dealing with this."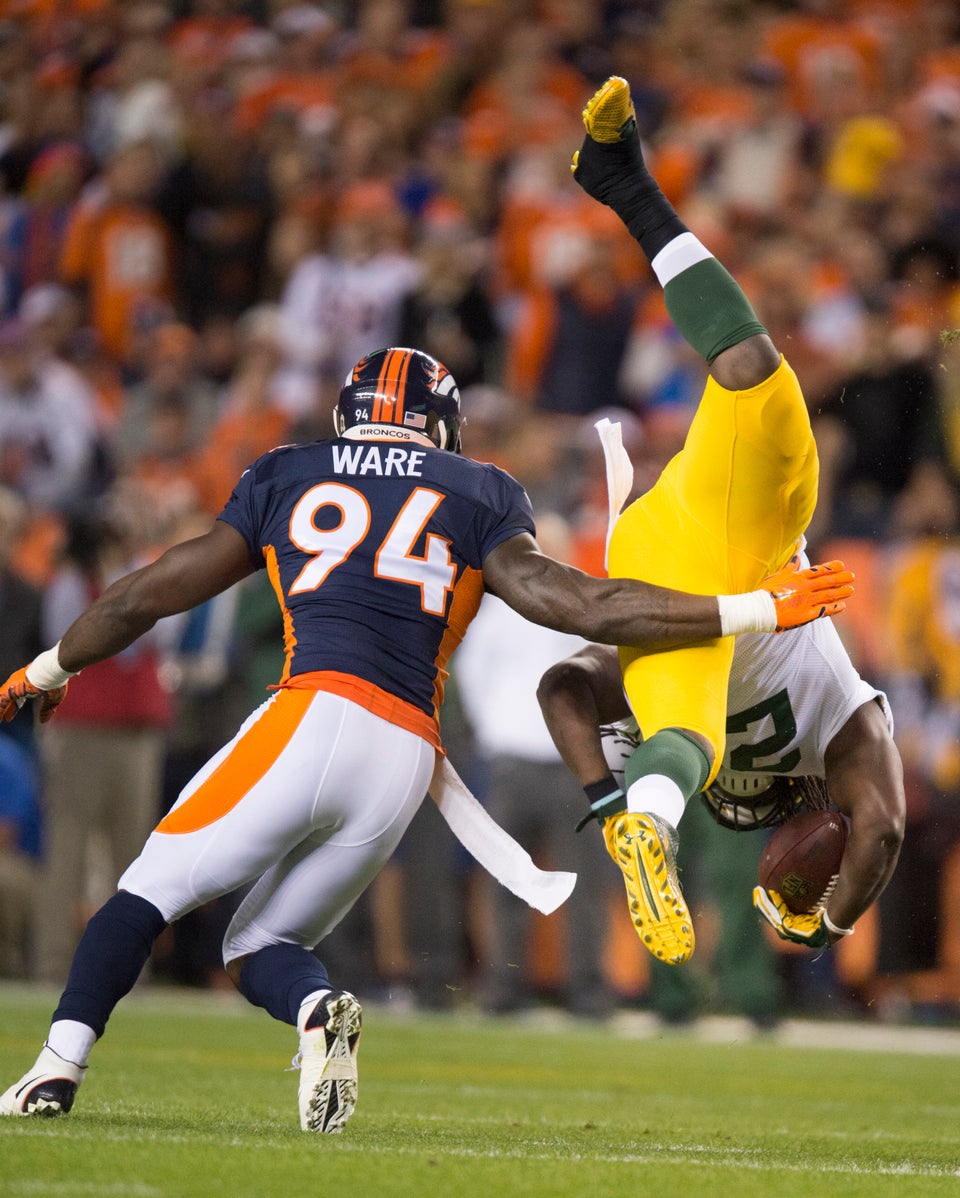 Amazing Photos From The 2015 NFL Season
Popular in the Community