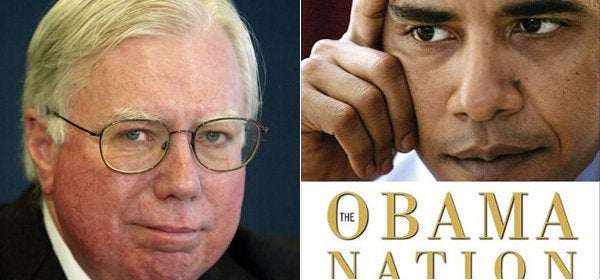 Talking Points Memo reports that Jerome Corsi's smear book on Barack Obama, "The Obama Nation," will stay on the top of the New York Times' bestseller list for the second week in a row:
It was previously known that it would debut at number one this weekend, but the fact that it will stay there for a second week running suggests the attacks will continue to resonate. ...

Obama advisers say that whenever they hear that Corsi has been booked for an appearance on a network program, they are quickly contacting the program's producers to rebut the book's charges in phone conversations and giving them a whole run-down of past Corsi quotes that are controversial.
Marc Ambinder has more on how Barack Obama's campaign is quietly pushing back:
Barack Obama's campaign hasn't said much publicly about Jerome Corsi's 2008 polemic against Barack Obama, but don't think for a minute that his aides aren't paying attention, and don't confuse the relative silence for a lack of action. Chastened by Sen. John Kerry's 2004 refusal to respond quickly enough to Corsi and the Swift Boat Veterans for Truth ads, the campaign is determined to discredit Corsi, quickly.

"We are aggressively attacking the factual errors in this book, and making sure that everyone knows about the deeply offensive things Corsi has said that will give readers of any political affiliation pause and ample reason to question the lies he's written," Tommy Vietor, an Obama spokesperson, said in a statement. ...

The campaign is quietly shopping around research to anyone who wants it and is encouraging allies to look into Corsi's background.
So far, it seems to be working. Last night, Larry King and his guests all assailed Corsi for his poor sourcing and unprofessional past. Even the Republican strategist on the air said, "I would strongly encourage Republicans not to use [the book]. I think going after someone's religion is the lowest form of politics." Joe Klein pummeled the book (and its backer Mary Matalin).
The Politico delved into Corsi's lurid past as an anti-Catholic, anti-Muslim right-wing fringe blogger who has written things like pedophilia "is OK with the Pope as long as it isn't reported by the liberal press," and "RAGHEADS are Boy-Bumpers as clearly as they are Women-Haters." And today, the New York Times reported that when Corsi started work on his anti-Obama book, he had to put aside another project: "exposing what he calls the government's lies about the 9/11 attacks on the World Trade Center."
Calling all HuffPost superfans!
Sign up for membership to become a founding member and help shape HuffPost's next chapter