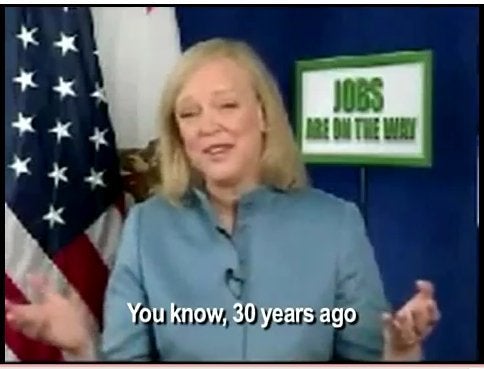 Former California governor Jerry Brown is out with a new ad as he attempts to win back the job he held from 1975 to 1983. For the second time in a week, the Democratic nominee is using the words of Republican opponent Meg Whitman against her.
"You know 30 years ago, anything was possible in this state," Whitman is shown saying at the beginning of the new commercial. Text then appears asking, "Who was governor 30 years ago?" Jerry Brown's name soon appears beneath the question.
The ad flashes back to clips from Brown's tenure as governor, while a narrator says that the Democrat "cut waste, got rid of the mansion and the limo." The spot continues to rattle off more of Brown's accomplishments before cutting back to more from Whitman. "I mean it's why I came to California," she says.
Whitman, meanwhile, released her own commercial Sunday night, in which she says that many voters feel she is one half of an "unhappy choice" that Californians face on election day. Scroll down for Brown's latest ad.
Support HuffPost
The Stakes Have Never Been Higher
Popular in the Community