California Gov. Jerry Brown (D) delivered a searing rebuke of President Donald Trump's worldview Tuesday, vowing to preserve the state's progressive values in the face of the new administration and pressing Californians to demand the truth. 
"Above all else, we have to live in the truth," he cautioned, a clear reference to Trump's many false assertions in recent days. "When the science is clear or when our own eyes tell us that the seats in this chamber are filled or that the sun is shining, we must say so, not construct some alternate universe of non-facts that we find more pleasing."
Without once mentioning the newly inaugurated president by name, Brown used his annual State of the State address to challenge Trump and his proposed policies. Rather than focusing on the state's progress over the last year, as he did in previous addresses, the governor took a wider lens Tuesday, arguing that California must lead the resistance against Trump and his administration. 
"This morning, it's hard for me to keep my thoughts just on California," he said. "The recent election and inauguration of a new president have shown deep divisions across America." 
He said he was already concerned by the administration's early days, taking a dig at Trump adviser Kellyanne Conway's suggestion Sunday that the administration will offer "alternative facts." 
"While no one knows what the new leaders will actually do, there are signs that are disturbing," he said. "We have seen the bald assertion of 'alternative facts,' whatever those are. We have heard the blatant attacks on science. Familiar signposts of our democracy ― truth, civility, working together ― have been obscured or even swept aside." 
He then pointed to ways California has led the country in recent years. He touted the state's strong immigrant community ― foreign-born individuals make up roughly one-third of the state's population ― and commended immigrants for creating "the wealth and dynamism of this state from the very beginning."
He touted the success of the state's implementation of the Affordable Care Act, and vowed to protect Planned Parenthood, an organization he said has been "unfairly attacked in too many places in this country."
He also promised to fight the administration on climate change and environmental protection, issues California has made historic strides on in recent years. He hinted at the state's intention to defy Trump on this issue, suggesting California could partner with other states and countries to combat global warming. 
"We cannot fall back and give in to the climate deniers," he said. "The science is clear. The danger is real."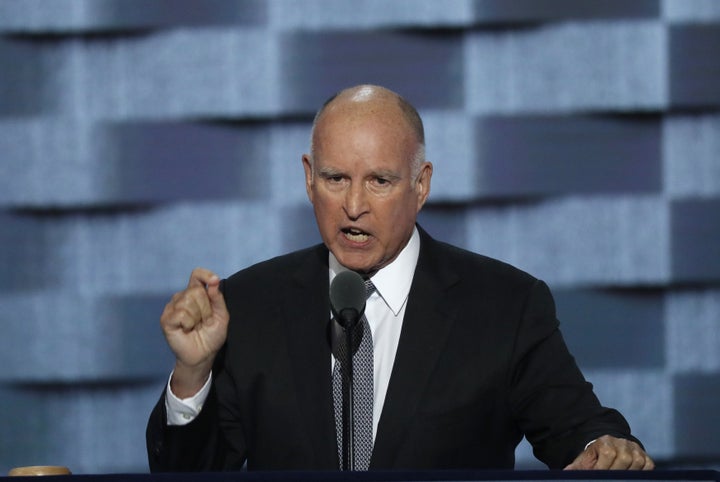 He did find one area to praise Trump ― infrastructure spending. He commended the president for meeting with labor union officials on Monday, and for paying lip service to the need for new roads and bridges in his inaugural speech.
"I say amen to that, man," he said. "Amen to that brother. We're there with you." 
He concluded his speech by quoting Woody Guthrie's "This Land is Your Land," and by calling for "courage and for perseverance" in the face of challenges. 
"California is not turning back," he said. "Not now, not ever."
Brown's speech is the latest pledge from California leaders to lead the country in resisting Trump's agenda. California Attorney General Xavier Becerra (D), whom Brown swore in to office shortly before delivering his speech, has also promised to fight the administration, as has Sen. Kamala Harris (D), Lt. Gov. Gavin Newsom, Senate President pro Tempore Kevin de León and Assembly Speaker Anthony Rendon. 
Watch his full remarks above. 
How will Trump's first 100 days impact you? Sign up for our weekly newsletter and get breaking updates on Trump's presidency by messaging us here. 
PHOTO GALLERY
Presidential Inaugurations Over The Years
Calling all HuffPost superfans!
Sign up for membership to become a founding member and help shape HuffPost's next chapter