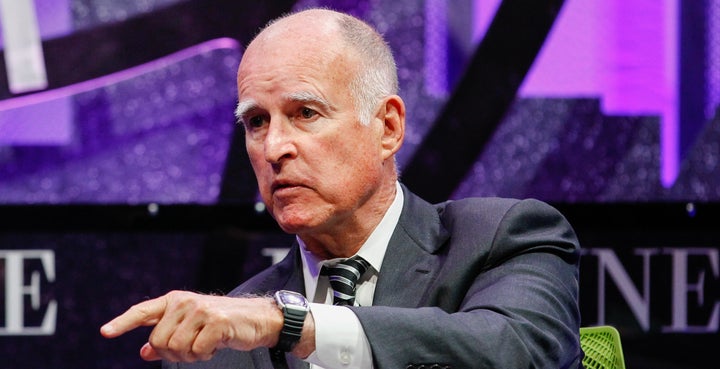 Ahead of the upcoming United Nations climate talks in Paris, California Gov. Jerry Brown (D) is facing pressure from environmental activists to take a stand against hydraulic fracturing, also known as fracking, in the Golden State.
Brown, who is one of the nation's leading environmental advocates, has faced criticism for years for not opposing fracking, the controversial practice of pumping pressurized water, sand and chemicals into rock to extract oil and natural gas. While the state has adopted the nation's toughest regulations governing fracking, Brown has said a statewide ban on the practice "doesn't make a lot of sense."
"If we reduce our oil drilling on California by a few percent, which a ban on fracking would do, we'll import more oil by train or by boat, that doesn't make a lot of sense," Brown said on NBC's "Meet the Press" in March. What we need to do is to move to electric cars, more efficient buildings and more renewable energy and in that respect, California is leading the country and some would say even the world and we're going to continue moving down that path."
Anti-fracking activists have continued to press the governor on the issue, voicing concern over the amount of water the practice uses in drought-stricken California. Advocates are also worried about the potential harm fracking could pose to drinking water and wildlife, as well as the risk of fracking-induced earthquakes.
With Brown set to lead a delegation to the upcoming climate talks, a new ad campaign airing throughout California is hoping to change the governor's mind on fracking. The ads, backed by Movement Generation and The Other 98%, feature community activists, artists and comedians calling on the governor to impose a statewide ban on the practice.
Actor and activist Mark Ruffalo is also upping the pressure on the governor, unveiling a new documentary called "Dear Governor Brown." The 20-minute film was directed by Jon Bowermaster, a writer and filmmaker who made a similar documentary geared at New York Gov. Andrew Cuomo (D) in 2012. (Cuomo went on to ban the oil extraction method in 2014, citing concerns about potential health risks.)
"Our industry generates billions of dollars in revenue for the state of California and for too long Governor Brown has put the fossil fuel industry above all others," Ruffalo told The Hollywood Reporter. "We are standing up to tell Governor Brown that fossil fuels are bad for the state of California and if we want to grow a vibrant economy, we need to keep oil in the ground. Building out all the solar in the world means nothing if California keeps extracting and dumping fossil fuels into the atmosphere."
"We have a governor about to step on the world stage and say he's taking action," said group leader David Braun, according to the Los Angeles Times. "We're calling on him to demonstrate his commitment to climate."
"California is a global leader in the promotion of alternative energy and the reduction of greenhouse gases," the Brown administration said in a statement sent to HuffPost via the state Department of Conservation. "Someday, we won't be dependent on fossil fuels. Until we get there, shutting down significant oil production in a state with millions of drivers would require us to import more. The Governor signed legislation creating the most comprehensive environmental analysis of hydraulic fracturing to date, and California has the most stringent rules in the nation for the use of hydraulic fracturing, ensuring environmental and public health and safety."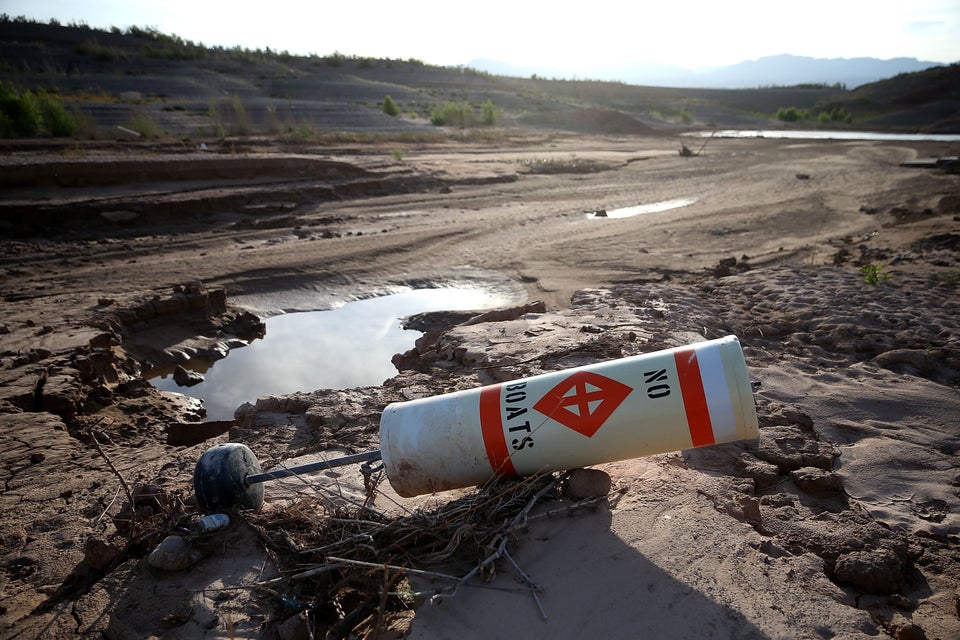 What A Drought Looks Like