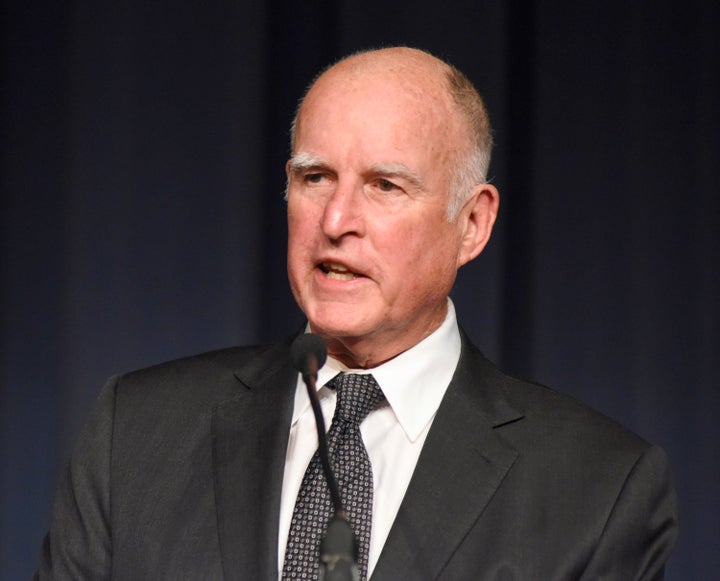 California Gov. Jerry Brown (D) endorsed Hillary Clinton Tuesday for the Democratic presidential nomination, providing an influential boost to the party front-runner ahead of the state's primary next week.
"On Tuesday, June 7, I have decided to cast my vote for Hillary Clinton because I believe this is the only path forward to win the presidency and stop the dangerous candidacy of Donald Trump," Brown wrote in an open letter to Democrats and independents in the state.
Brown said Clinton "has convincingly made the case that she knows how to get things done and has the tenacity and skill to advance the Democratic agenda." Her lead among primary voters up to this point is a testament to those skills, he added.
But Brown's case was ultimately pragmatic, arguing that Clinton is the best candidate to defeat presumptive Republican nominee Donald Trump.
"The stakes couldn't be higher," Brown said. "Our country faces an existential threat from climate change and the spread of nuclear weapons. A new cold war is on the horizon."
"This is no time for Democrats to keep fighting each other. The general election has already begun," he concluded. "Hillary Clinton, with her long experience, especially as Secretary of State, has a firm grasp of the issues and will be prepared to lead our country on day one."
Brown's endorsement gives Clinton an influential boost ahead of the California primary next Tuesday. Clinton leads Sen. Bernie Sanders (I-Vt.) in the Golden State by nearly 12 points in HuffPost Pollster's polling average. 
Sanders has campaigned heavily in California in the hopes of pulling out an upset win in the delegate-rich state. The Vermont progressive has made gains against Clinton in the state in recent weeks.
Voters who decline to state a party affiliation on the voter registration in California are eligible to vote in the state's Democratic primary, which could benefit Sanders.
Brown also said he was "deeply impressed" with Sanders' performance and commended him for "[driving] home the message that the top one percent has unfairly captured way too much of America's wealth."
Sanders' supporters might take issue, however, with Brown's contention that the Democratic primary race has already come to a close. Even if Clinton has the race locked up, she has yet to unify Sanders' supporters behind her candidacy.
REAL LIFE. REAL NEWS. REAL VOICES.
Help us tell more of the stories that matter from voices that too often remain unheard.
BEFORE YOU GO