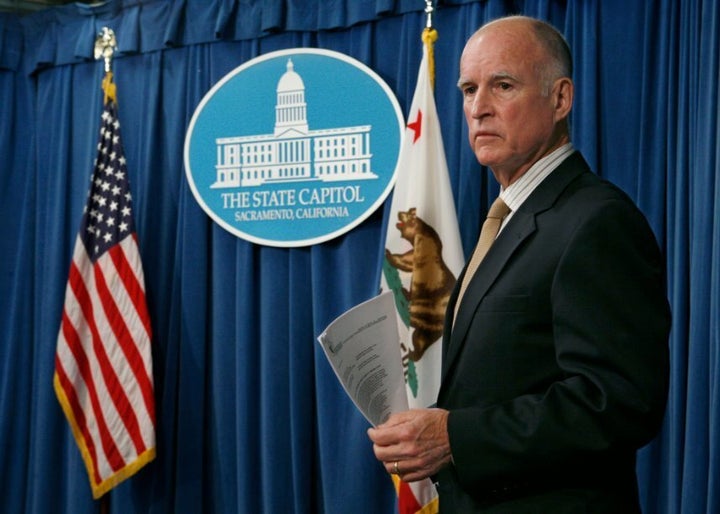 The governor offered no comments on the state's more than 150 separate Occupy groups, nor would he discuss the violent police activity that shed the national spotlight on incidents in both Oakland and Davis.
But that changed on Tuesday, when he finally responded to reporter questions about Occupy Oakland's efforts to shut down the city's port. Brown, who served as Oakland's mayor from 1999-2007, said he would do everything in his power to keep the Port of Oakland running -- short of employing the National Guard.
"I'd give whatever help was needed," the governor told CBS News. "We don't look to the Guard for police work except under extreme emergencies. However, there are resources under mutual aid and in Oakland. With some leadership and some imagination, not only can they keep the port open, but they should keep the port open."
Brown also touched on the movement's lack of specific demands. "I do think that politicians are listening, but in terms of some programmatic agenda -– that has not been articulated, and I don't think it ever will be," he said.
But the governor refused to discuss Occupy Oakland in relation to the city's embattled mayor, Jean Quan. "I don't think Jean Quan needs more critics," he told reporters.
Occupy protesters have successfully shut down the Port of Oakland on two occasions, once on November 2 and a second time December 12. Their presence has dwindled significantly, however: The most recent encampment, which popped up in West Oakland earlier this week, was raided by police almost immediately.
Meanwhile, Brown also took the time this week to reflect upon his first year in office. "The main story is the budget," he said, giving himself a "passing grade" for his handling of California's fiscal crisis, according to the San Francisco Chronicle. Indeed, since moving to Sacramento in January, he has managed to cut the state's deficit in half.
Never one to shy away from a soundbyte opportunity, the governor offered the following to sum up his performance. "You don't normally end on a triumphant note," he said. "You enter in triumph and you leave on tiptoe,"
Related
Popular in the Community