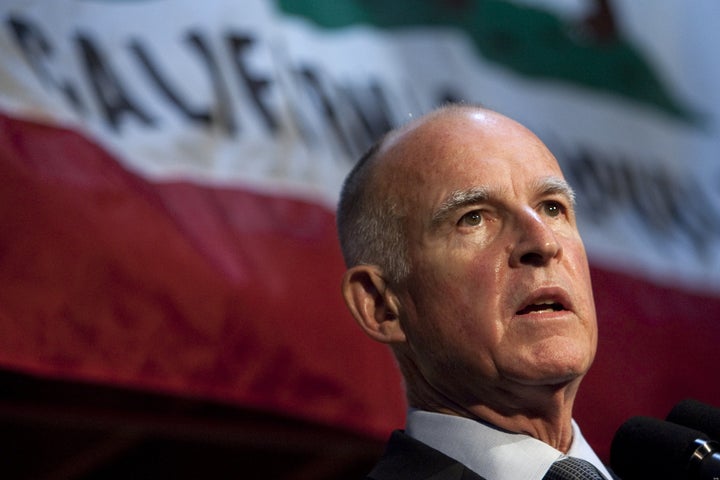 As Jerry Brown prepares to become California's oldest governor more than three decades after he became its youngest in the modern era, keeping his own counsel, many search for clues to his thinking. As usual, the past is prologue, especially when it comes to thoughts of the future for this determinedly futurist politician.
Brown, as you know, won a landslide 54% to 41% victory in securing his third term as governor of America's largest state, which is in turn the world's eighth largest economy, equal to New York and Texas combined. In crushing billionaire Meg Whitman's much vaunted machine, the biggest-spending non-presidential campaign in American history, by 1.3 million votes, Brown won more votes than any gubernatorial candidate in history. But his history in presidential politics has been decidedly more mixed.
Ironically, it may be the least successful of his three runs for the White House that turned out to be the most interesting. And the most relevant for what is to come in his historic third term as California's governor, especially given his Wednesday summit in Sacramento laying out the stark reality of the state's chronic budget crisis. Brown didn't paper over deep problems in his most famous speech as a presidential candidate, a Francis Ford Coppola-produced address in 1980 that is eerily relevant today. And he's not papering them over now.
Part one of then presidential candidate Jerry Brown's live, Francis Ford Coppola-produced address, entitled "The Shape of Things To Come," from the steps of the Wisconsin State Capitol on March 28, 1980.
Brown's most successful presidential runs both ended with him as the runner-up for the Democratic nomination, losing to eventual Presidents Jimmy Carter and Bill Clinton. In 1976, as California's rock star first-term governor, Brown entered the race late, almost casually, summoning reporters to his office late one afternoon to announce that he was running for president.
I remember getting a call one night, as an undergrad at Berkeley, asking me to drive up to Eugene to help organize a big rally at the University of Oregon. And oh, could I bring a carload of volunteers? When we arrived, the only campaign material was a flyer with a photo of Jerry Brown with just a single paragraph beneath, describing "A New Spirit" in American politics. It didn't matter. The students were fascinated by the idea of Brown. After he spoke to a a huge crowd, he played Pied Piper as he walked off the stage and through the campus, with students coming to the head of the line to question and banter with Brown, then drop back as more came forward.
In 1992, Brown, now back in politics after an interregnum period that had him studying Zen in Japan and working with Mother Teresa in India, started early but took a long time to build in free-form fashion, this time mounting an angry challenge to the political establishment with the slogan "Take Back America." This is the Brown for President venture best remembered, if not understood, thanks to dramatic video clips of his throw-downs with future President Bill Clinton.
As interesting as those campaigns are, it's Brown's 1980 presidential campaign, the one that I thought made no sense at the time, and which contributed greatly to the sense that he was simply running too often, that may be most relevant now. The slogan for this campaign was "Protect the Earth, Serve the People, Explore the Universe."
After winning a landslide re-election as governor of California, by a whopping 20 points, the 41-year old Brown audaciously set out to take down the president he'd beaten in a string of late presidential primaries in 1976. There were just three fundamental problems.
First, it's very difficult to beat an incumbent president for his party's nomination. Even Ronald Reagan failed to defeat appointed incumbent Gerald Ford in 1976. (Something for those thinking of taking on President Barack Obama to keep in mind. It took the Vietnam War and the candidacies of Robert F. Kennedy and Eugene McCarthy to bring down Lyndon Johnson.) Second, Ted Kennedy decided to run, exciting Democrats around the country with the prospect of the restoration of Camelot. Third, the Iranian hostage crisis enabled Jimmy Carter to play the rally-round-the-flag card and pursue the "Rose Garden strategy."
Vying against the presidency and the Kennedy Restoration, there wasn't much oxygen in the race for Brown. He looked for niches of support here and there, pushing some ideas now seen as mainstream but which marginalized him at the time. Potential support bled away, even in California.
By early 1980, Brown was in danger of being humiliated at his own state Democratic convention. His chief of staff (later California's governor), Gray Davis, came up with a way to finesse the situation. At Davis's behest, I coordinated a convention platform fight over alternative energy and nuclear power, the gambit being that Brown for President threw its mostly non-existent forces into winning the platform policy fight rather than engaging in a straw poll. (The platform fight was won, though I had to get a platform committee member to vote no rather than yes on the proposal to make sure we got the convention floor fight we wanted. The convention was my only involvement in that campaign.)
Part 2 of then presidential candidate Jerry Brown's 1980 address from the steps of the Wisconsin State Capitol. "The Shape of Things To Come," produced as a live television program by Francis Ford Coppola, is discussed in snarky terms today as nothing more than a technical debacle. It's actually much more than that.
Entitled "The Shape of Things To Come," in conscious echo of H.G. Wells, the speech was set for March 28th, 1980, just a few weeks before Coppola's classic Apocalypse Now was up for multiple Academy Awards.
As a filmmaker, Coppola has made several great movies by reaching for what seemed beyond his grasp. But none of those films were live.
Media coverage, then and forever after, focused on the production's technical glitches. Coppola tried new visual effects to augment Brown's message. But they glitched frequently, and distracted from Brown's words and delivery. With the big production having turned into a short-lived souffle, Brown finished third in the primary and ended his campaign.
Of course, those who didn't watch the speech on television had a very different reaction. I listened to it over a speakerphone in Tom Hayden's office in Santa Monica and thought it was very good (as I thought in later years listening to an audio cassette of the speech in my car). But an advance person phoning in from the site, Steve Rivers, later a top Hollywood publicist who died this past June, reported that it had played very differently on TV screens.
The high-profile failure of Coppola's production completely distracted the news media from what Brown was saying. But looking back at the speech is, in many respects, to look forward, both in terms of California's chronic budget crisis and in terms of the country's situation.
"Unless we assess where we are, as a country, and how we got here," declared Brown, America can't move forward.
The California governor offered a tour d'horizon of then contemporary American history, most of which rings true today.
The US, he noted, was unchallenged after World War II. "Our old adversaries were in rubble and we rebuilt them. And as we rebuilt them, we rebuilt ourselves." The "dividend of this renewal" gave us the opportunity to do many generous things here at home.
Governor-elect Jerry Brown's 2010 victory speech at the Fox Theater in Oakland on November 2, 2010. He is introduced by First Lady-to be (and more) Anne Gust Brown.
But the rebuilt nations became our competitors. Very gradually, the productivity rate of our country declined.
"We used to export oil," Brown noted, not long after the Arab oil embargo. "Cars, television, cameras, watches... We had no peer."
Then the decision was made to expand a war abroad and to pursue a Great Society at home, a strategy of "guns and butter."
We began to decline, Brown said, as we did not fund these projects "from current dollars, but from fiscal gimmickry, borrowing from the future."
"This country," Brown declared, "has pursued a path that Rome and Germany after World War I have pursued, running the printing presses of money." Three percent a year growth in wealth declined in the '70s to less than one percent, and "we began to fight over our decline in purchasing power."
The Republican response to this decline was "the imperative to avoid regulation and taxes."
This was the time, Brown said, that "the credit card came into vogue." Private and public debt accelerated to prop up the slowing economy that was once the giant of the planet. Japan, Germany, Korea, Taiwan, all manufactured cars, watches, and other products of great quality, entering "the latter part of the century with great momentum."
"Our leaders," he declared, "can't tell us the truth. We're in decline. Now the cheap raw materials we relied on are expensive, the Third World wants its share."
"Stay Jerry, my friends," urges a California Democratic Party TV ad inspired by the award-winning Dos Equis spots.
It's a situation, in Brown's view, in which presidents come and go, with political forces filled with cynicism. In such a scenario, it's "hard to sustain unity, to sustain dynamism. We've resorted to the printing press. We're inundated with foreign products."
Brown spoke of the near demise of the U.S. auto industry. "Our third largest auto company is bankrupt," he observed. "Our second largest auto company lost a billion dollars, bailed out only by foreign sales. Our number one auto company has to give people four or five hundred dollars to get them to buy a car."
The great cities, he said, were declining, and poverty was on the rise.
It's time, he said "to reindustrialize." Surely, he argued, we don't have to rely on a war to revitalize the economy. Time, he said, to invest in new technologies, protecting environment, educating people, to make America "once again a society with upward momentum."
Laying out several specific policies, he issued "a call to arms, not to war, but to peace, to reindustrialize this country and regain our independence."
First, he said, we had to stabilize the economy, to stop inflation. The federal government had to "stop the printing press," as he put it, as government shouldn't print more money than can be sustained by the production of the economy.
He proposed policies to encourage personal savings. And he proposed industrial policies to re-tool the economy, retraining workers using new technologies to create new vehicles and train systems and promote health science, information technology, and alternative energy, forging a "North American economic community" in the process.
"We must revolutionize the world and make this planet a very small global village, an interconnected family on a very small speck in this universe."
In this key TV ad in his landslide-winning election campaign this fall, Jerry Brown promised not to sugarcoat the problems facing California's state government.
Brown called for an international forum, in which developed countries create a partnership with poorer nations "exchanging our health science, technology, and energy-knowhow for raw materials, creating a new economic order lifting all of us."
Back at home, to restore a sense of citizenship in America which had been shattered in the '60s and '70s, Brown urged the re-establishment of the Civilian Conservation Corps begun by Franklin Roosevelt.
He then returned again to energy policy. Noting that "5% of the world cannot continue to consume 30% of its oil" without deep repercussions -- which now include repeated wars -- Brown urged the establishment of "long-term contracts with Mexico, the Saudis" and other oil powers in order to hold down the price and guarantee supply.
Noting that "we waste 40 to 50% of the energy we consume," Brown called for widespread policies to promote energy efficiency similar to those he was instituting in California, which have left the biggest state in the union a model in this area.
He also emphasized cogeneration, small-scale hydroelectric, solar, photovoltaics, and other renewable energy resources, declaring: "We waste more steam from factories than is generated by nuclear power plants." And he urged a sharp turn in the pricing structure, in which utilities would buy back surplus power that farmers, factories, and communities can generate. In these ways, he said, "We all participate in our energy future."
Brown closed with a call to create new vehicles, reduce dependency on foreign oil, and make America stronger and more secure.
Fast forward ahead 30 years.
Brown held a two-hour "civic dialogue" event on Wednesday in the Sacramento Memorial Auditorium attended by several hundred state legislators, state officials, and local elected officials. Brown said the event would lay out the scope and nature of the state's chronic budget crisis, and it did so, in very sobering fashion.
"Today, we're not going to argue about solutions, but we're going to get on the same page," Brown said in his opening remarks. "It's very hard to get any agreement if there's no consensus on what the underlying facts are."
In the process of the session, Brown's new state budget director, Ana Matosantos, who until late Monday was Governor Arnold Schwarzenegger's state budget director, established herself as the new star of the Brown Administration before it's quite begun. The 35-year old Stanford grad, a Democrat, laid out much of the factual basis of the situation, helped by Legislative Analyst Mac Taylor, state Treasurer Bill Lockyer, and state Controller John Chiang, all of whom joined Brown on the dais.
Brown and billionaire Meg Whitman debated this fall.
Also joining Brown on stage were state Senate President Pro Tem Darrell Steinberg, Assembly Speaker John Perez, and Assembly Minority Leader Connie Conway. State Senate Minority Leader Bob Dutton chose to sit in the audience, despite a seat and placard being left for him in front. I don't know why he chose to go that route. Perhaps he didn't want to say anything that might possibly offend any member of his increasingly conservative Republican caucus.
Now to some budget realities.
Likely federal moves easing the estate tax would cost California another $2.7 billion. Given that the Legislature is taking no action in Schwarzenegger's special session to deal with the $6.1 billion shortfall in the current budget, Brown will likely have to confront a prospective $28.1 billion budget deficit in his state budget proposal next month.
Here are some key numbers. Contrary to what most voters believe, 71.1% of the state government's general fund expenditures actually go to fund local government and its services, including education. Only 13.3% goes to state operations. 6.7% goes to debt service, 5.3% to the state's universities, and 3.6% to public pension systems.
The state employee payroll is only $9.2 billion. Put it another way, every state worker would have to be fired not once but three times over and the budget deficit still would not quite be eliminated.
Two-thirds of the state employee payroll is in corrections.
And so absent permanent budget solutions, either cuts or revenues or, more likely, both, large budget deficits will persist for years.
Even with economic recovery. The UCLA forecast is that unemployment will drop below 11% next year; it's 12.4% now. But it's a slow-growth recovery without a new economic boom, such as greentech, which is why Brown is pushing greentech.
California entered the recession in fall 2008 in what Matosantos and Brown and the others described as "poor fiscal shape." The state government's underlying out-year budget problem was more than $7 billion and there was little budgetary reserve to speak of.
I remember speaking with Schwarzenegger then about the situation. He had just faced down the Legislature, threatening a veto unless he got his way on the beginnings of budgetary reforms he had been pushing for some time. Successfully facing down a threatened veto override, he thought then that he had begun to turn the corner on the budget. The global recession hit with full force shortly after that.
The global recession absolutely devastated state revenues. And the state government responded with three budgets in a row relying heavily on short-term solutions and solutions that did not materialize.
In Matosantos's accounting, 75% of the budget solutions in 2009-09, 84% in 2009-10, and 85% in 2010-11 fall into that category.
That amounts to over $66 billion. And some of those solutions, such as the economic recovery bonds, i.e., deficit financing bonds first authorized in 2003 and later constitutionalized in a Schwarzenegger special election initiative in 2004, the sale of future tobacco lawsuit funds under the Davis Administration, and the sale of state buildings actually make the future deficit worse.
Along the way, some favored canards of the far right were dispensed with.
California is not one of the highest tax states in America. Actually, it ranks 15th in taxes and fees compared to other states, below most of its Western neighbors who are supposedly benefiting from California's woes.
And California state government is not flooded with employees. California actually ranks fourth lowest in the nation in the ratio of state employees per 10,000 residents.
Expect to see a lean and mean state budget proposal from Brown, followed by a discussion of what people really want in this state.
Support HuffPost
The Stakes Have Never Been Higher
Related
Popular in the Community