The Trump administration is "basically going to war" against California, Democratic Gov. Jerry Brown warned Wednesday, citing Attorney General Jeff Sessions' decision to sue his state over its policies aimed at shielding undocumented immigrants from a federal crackdown.
"It's not wise, it's not right and it will not stand," Brown said in a press conference.
The Trump administration sued California late Tuesday over three laws meant to protect undocumented immigrants. But on Wednesday, the fight was in the court of public opinion, with Sessions and California Democrats holding dueling events casting one another as the villain in the country's contentious battle over immigration policy in the Trump era.
In a speech in California announcing the administration's suit, Sessions described the state's Democrats as "lawless open borders radicals," accused them of sheltering criminals from immigration authorities and likened their limitations on cooperating with federal immigration authorities to the Confederacy's effort to secede from the Union in order to protect the institution of slavery.
"I understand that we have a wide variety of political opinions out there on immigration. But the law is in the books and its purposes are clear and just," Sessions said. "There is no secession ... I would invite any doubters to go to Gettysburg, to the tombstones of John C. Calhoun and Abraham Lincoln."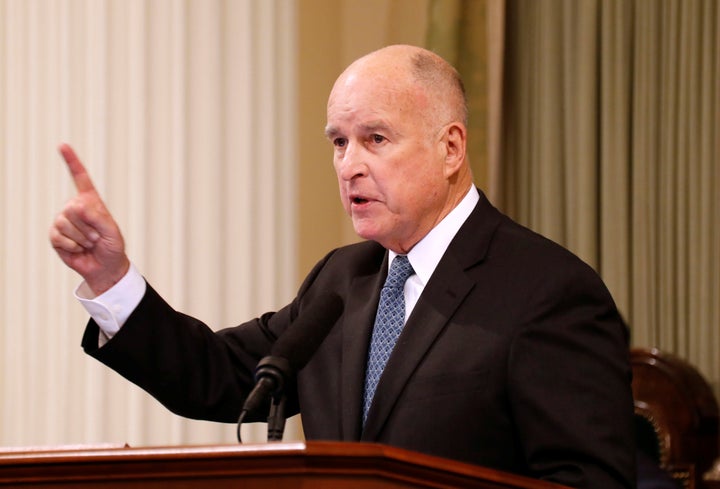 The Trump administration's lawsuit seeks to block three California laws: One that prohibits business owners from voluntarily letting Immigration and Customs Enforcement officers enter their property without a judicial warrant; a second measure that requires state inspections of immigrant detention facilities; and a third that bars local law enforcement officers from helping transfer people to ICE or telling the agency when they will release people from custody.
The Democrat-dominated California Assembly passed all three laws last year amid White House efforts to boost deportations. California is home to the nation's largest population of undocumented immigrants.
Sessions characterized the challenged laws in stark terms, claiming that they effectively neutered ICE agents' ability to safely detain criminals. But although the laws limit some of the ways employers and police can work with ICE, they don't ban immigration agents from entering jails or workplaces, and include exceptions for immigrants convicted of serious crimes.
"There are three lies," Brown said of Sessions' comments. "Open borders, lie one. Protect criminals, lie two. California wants to secede, lie three. Not true."
Brown took personal jabs at Sessions, calling his press conference in California a "political stunt" and describing the attorney general as "a fellow coming from Alabama talking to us about secession and protecting human and civil rights." He called the Trump administration "full of liars" and said the Department of Justice special counsel investigation into the Trump campaign's ties to Russia was "closing in."
"Maybe [Sessions is] trying to keep his job because the president's not too happy with him," Brown said, a reference to Trump's public hostility against his own attorney general. "I do think this is pure red meat for the base and I would assume ― but this is pure speculation ― that Jeff thinks that Donald will be happier with him and I'm sure Donald will be tweeting his joy at this particular performance."
The escalating tensions mark the latest spat in a long-running feud between the Trump administration and California Democrats over the White House's aggressive immigration tactics. Following the playbook of Texas Republicans during the Obama administration, California Attorney General Xavier Becerra (D) has sued the Trump administration several times in federal court, seeking to block or delay construction of a proposed wall on the Mexican border and the rollback of the Deferred Action for Childhood Arrivals program, which shields undocumented immigrants who entered the country as children from deportation.
"We are in the business of public safety, not deportations," Becerra said Wednesday, alongside Brown.
Despite the political contention over California's policies, most ICE arrests there continue to take place in jails or prisons, according to a declaration submitted to federal court alongside the DOJ's complaint by the agency's acting director, Thomas Homan. Last year, 17 percent of ICE's 34,606 arrests in California were carried out "at large."
At large arrests, however, have spiked in recent months, accounting for nearly 30 percent of ICE's 8,588 apprehensions in California since the 2018 fiscal year began on Oct. 1, according to Homan.
""These California laws were very carefully written. When you look at the details, the laws build in some important exemptions to prepare for a case like this, where the federal government is claiming that they're preempting federal law.""
Homan vowed to ramp up ICE efforts in California last year, following passage of one of the laws the Trump administration is now seeking to block in part. He has also called for public officials to be criminally prosecuted if they back so-called "sanctuary" policies that restrict police cooperation with ICE. Most recently, he criticized Oakland Mayor Libby Schaaf for warning the public about reports of upcoming ICE arrests in the area.
Sessions took a jab at the mayor in his remarks, too, accusing her of "actively seeking to help illegal aliens."
Sessions' lawsuit argues that the three laws passed by California last year violate the Supremacy Clause of the Constitution, which dictates that the federal government sets immigration policy. The lawsuit also argues that the limitations on sharing information about suspected undocumented immigrants in local jails violates a provision of federal law requiring local authorities to provide ICE with information about the citizenship of the people in their custody.
But some legal analysts pointed out that the laws are narrowly tailored and loaded with exceptions that may fortify them against legal challenges.
"These California laws were very carefully written," said Sarah Pierce, an analyst with the nonpartisan Migration Policy Institute. "When you look at the details, the laws build in some important exemptions to prepare for a case like this, where the federal government is claiming that they're preempting federal law."
The Trump administration probably would have challenged the laws even if it didn't expect to win in court, immigration attorney David Leopold argued.
"This is just another brazen use of the courts for political gain," Leopold said. "The Republicans and Trump have a pattern and practice of politicizing the courts and this is just one more example of that."
Popular in the Community