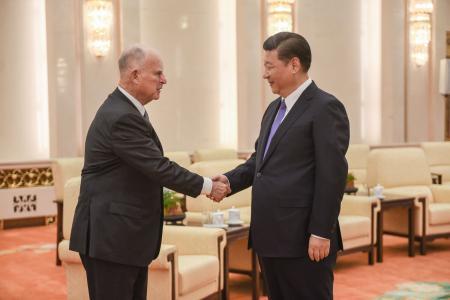 In a highly choreographed meeting with Chinese President Xi Jinping, the Governor of California, Jerry Brown was yanked up and symbolically elevated to the stature of a head of state. The meeting itself was held in Beijing's Great Hall of the People, a setting that is traditionally reserved for national congregations or meetings between world leaders, and received enormous attention from China's state-controlled media. The reason for Brown's unexpected anointment? The Governor's staunch environmentalism, a rare commodity to find in the US in the wake of Donald Trump's decision to quit the Paris Accord.
Over the course of a 5-day tour of China, Governor Brown met with scientists, business leaders and politicians; signing clean energy agreements with China's Ministry of Science and Technology, partnering with provincial authorities in Sichuan and Jiangsu to develop more effective pollution management strategies, attending an energy conference in Beijing and, of course, discussing the global threats of climate change with Mr. Xi. As the governor of the most populous state in America, Jerry Brown's far-reaching commitments to sustainability and clean energy is a powerful rejoinder to President Trump's isolationist policies and ignorant approach to climate change.
Brown is clearly willing to go to significant lengths to demonstrate that Trump's irrational views on climate change do not reflect all American politicians. On the same day that President Trump announced his intention to exit the Paris Climate Accord, Brown was joined by the governors of New York and Washington in unveiling the United States Climate Alliance, a collection of states, cities, businesses and universities that have pledged to work with the United Nations (UN) and redouble their efforts to reduce greenhouse gas emissions. Countless others will soon follow.
But, no matter how many such coalitions emerge and how many international meetings are dedicated to climate change, local and state-level action is not nearly enough to offset the void left by the lack of federal support. Why? Because China is not the climate leader some hope it to be, and because local initiatives rarely form coherent global responses. In an act of unprecedented political immolation, Washington has chosen to turn its back on progress and be left by the wayside.
If one thinks that China can simply pick up the mantle and shepherd the world to the Elysian ideal of a 2°C future, they can think again. As a coal-addicted developing nation, China is in no better shape to lead than the climate change-denying administration of Donald Trump. China's banks have funded energy investment projects around the world; spending $160 billion on foreign energy infrastructure, with 53% of this investment being used to finance the construction of coal-fired power plants, outsourcing the majority of China's pollution. Despite significant domestic progress on clean energy technologies and environmental regulatory reform, the country's ability to establish itself as an international climate change leader is hampered by provincial and corporate interests.
Arguably, the clearest sign of US leadership on climate change was the funding of federal and international organizations: the Green Climate Fund, the World Health Organization (WHO), the UN, and other bodies that support environmental protection, sustainability and global health. California might continue to reduce emissions, but Trump's war on US public health and environmental initiatives and proposals to axe federal spending for regulatory agencies and research centers will inflict more damage than Governor Brown can parry.
A cautionary tale for those thinking that local efforts are enough to deal with global crises should look no further than the failed response to the 2015 Ebola epidemic in Western Africa. Faced with the muted international response, private corporations, charities and NGOs stepped in and attempted to singlehandedly care for patients. Medecins Sans Frontieres helped lead frontline response in first few months and the Gates Foundation donated more than $75 million, while aluminium company RUSAL invested $20 million in an epidemiological center and laboratory complex in Guinea that conducted critical work towards devising a new vaccine.
While these initiatives made significant difference on a local level, global coordination would have saved more lives. The WHO body was lambasted for failing to provide leadership during the outbreak and for disregarding early warnings about the potential scale of the epidemic, errors that likely caused thousands of unnecessary deaths. The epidemic raged for months before anyone in the West bothered to do anything about it.
While curing Ebola and fighting climate change might not seem so similar at first, they are in fact interconnected – and not just because climate change accelerates the spread of diseases. The horrific outcomes of the Ebola epidemic could have been averted if the US and the WHO had proactively responded during the early stages of each crisis. Similarly, the initial impacts of climate change are already being felt in coastal communities around the US, but Donald Trump is choosing to look the other way.
The breakthrough embodied by the COP 21 came on the back of a string of failed agreements – most notably the 2009 Copenhagen Summit, which had almost snuffed hopes for a global solution. A major achievement of Paris was that the voluntary contributions made then will be reviewed and strengthened every five years. Without the US in the mix come 2020, fighting to get India and China to sign up to more aggressive CO2 reductions could very well be a fool's errand.
Worse, Trump's withdrawal could very well act as a catalyst and draw other countries down the same rabbit hole. And if the world is not walking in lockstep towards passing the very drastic and economically painful measures needed to reduce CO2 emissions to sustainable levels, the chances of reversing and mitigating the catastrophic effects of climate change are slim.
Related
Popular in the Community