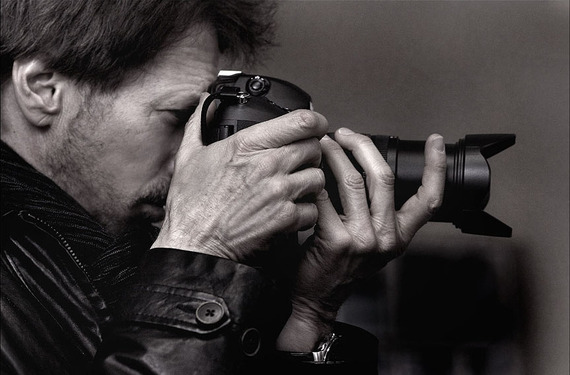 While doing stills on Terminator 3 in 2002, I get a call to work on the upcoming filming of Bad Boys 2, produced by Jerry Bruckheimer and directed by Michael Bay. I've never worked for Jerry before nor have I sought this job. As I have the opportunity to observe him, I learn that Jerry makes it his business to know what's going on not only in the many nooks and crannies of the film industry, but in society and culture as well. Who's doing what, what the latest trends are, and who is the best at what they do. My first day on set I see this soft spoken, unassuming man, arguably the most powerful producer in the world, with a Nikon camera snapping photos around the set. Not all the time, but random moments when the spirit moves him. I check out the Pearl Harbor making of book and see some of his pictures in there, and I'm impressed with the quality of his work. During filming, Jerry comes to set on and off, between tending to his many other projects. While there, he is keenly interested in the goings on and talks with people from many departments -- director, writers, electricians, wardrobe and more -- it's clear that he is passionately involved in the filmmaking process. I come to understand that a key element of Jerry's success is in his bringing talented people together and letting them do their thing. Since Bad Boys 2 I've worked on several of Jerry's films and have had a great time talking shop during his visits to the set. Today I'm working on "Confessions of a Shopaholic." I'm on set covering the scene when I sense a presence to my left. I turn and there's Jerry, camera in hand, lining up a shot, doing what he loves.
www.robertzuckerman.com
robert@robertzuckerman.com
REAL LIFE. REAL NEWS. REAL VOICES.
Help us tell more of the stories that matter from voices that too often remain unheard.