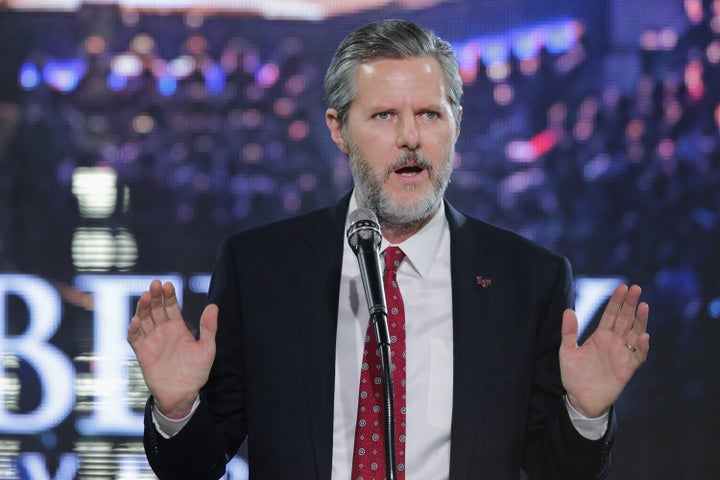 Campaign leadership shakeup? Check.
Offensive outreach speech aimed at African-Americans and delivered to a white audience? Check.
Now, we can add a prominent surrogate's comparison of Trump to legendary British prime minister Winston Churchill to the growing list of Hail Mary passes by the campaign and its allies.
"We need a leader with qualities that resemble those of Winston Churchill, and I believe that leader is Donald Trump," evangelical Christian leader Jerry Falwell Jr. wrote in an op-ed in The Washington Post on Friday. "As Churchill did, Trump possesses the resolve to put his country first and to never give up in a world that is increasingly hostile to our values."
The analogy to Churchill comes not from anything Trump has done yet, but from the strength with which Falwell believes Trump will confront the global jihadist terror threat, just as Churchill stood up to the Nazis.
Falwell, president of Liberty University, a conservative Christian institution in Virginia, was an early endorser of Trump. In the aftermath of the terror attack in San Bernardino, California, in December, Falwell said that if more people carried guns, "we could end those Muslims." (Falwell later clarified that he meant Muslims who carry out acts of terror, rather than all Muslims.)
In other ways, Falwell's Washington Post op-ed reads more like a typical conservative indictment of Democratic foreign policy. Just as Trump is the "Churchillian leader we need," in Falwell's telling, President Barack Obama and former Secretary of State Clinton are, conversely, the "Neville Chamberlains of our time" for brokering a deal with Iran to eliminate its nuclear weapons program. (Chamberlain was Churchill's immediate predecessor, best known for trying to appease German dictator Adolf Hitler with the cession of a portion of Czechoslovakia.)
But Falwell clings to the hardline conservative myth that Republican leaders in Congress could have done more to stop Obama's foreign policy.
"All of this was enabled by a feckless establishment Republican Congress," he wrote.
In fact, congressional Republicans are limited in their ability to obstruct Obama by the Constitution's separation of powers. They are able to hold up legislation related to domestic policy proposed by the president, but as commander in chief, he can negotiate certain foreign agreements and prosecute counter-terrorism efforts as he sees fit.
In his Friday op-ed, Falwell also urged conservatives to vote for Trump out of concern for the liberal Supreme Court justices Clinton would get to appoint.
"If Clinton appoints the next few Supreme Court justices, not only will the Second Amendment right to bear arms be effectively lost, but also activist judges will rewrite our Constitution in ways that would make it unrecognizable to our founders," he wrote.
BEFORE YOU GO