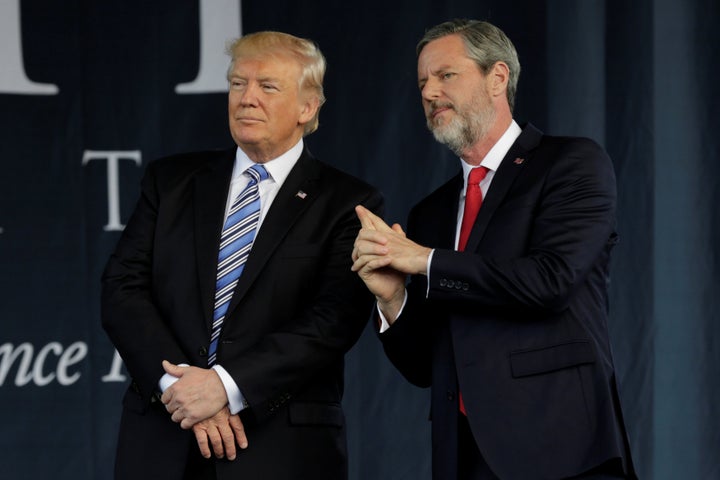 In an interview with The Guardian on Tuesday, Falwell said he is standing firmly by the president and "absolutely" believes Trump sets a good moral example.
"Ever since I've known him, he's been a good, moral person, a strong leader, a tough leader ― and that's what this country needs," Falwell said.
"He is like Ronald Reagan on steroids," Falwell added.
But not all evangelicals feel the same way about the president.
Jim Wallis, leader of the progressive Christian organization Sojourners, said Falwell's description of Trump as a moral person is an example of why Falwell does not speak for millions of evangelical Christians, particularly those of color.
"The people that Christ told his followers to protect — the poor and vulnerable, the least of these — are the very ones Falwell's tough leader assaults virtually every day," Wallis told HuffPost.
Falwell, who is the son of the late Moral Majority founder Jerry Falwell Sr., has in many ways taken up his father's mantle. The elder Falwell's activism in the 1980s helped cement white evangelicals' ties to the Republican Party and expand the political influence of the religious right. The younger Falwell is part of a group of conservative, predominantly white Christians who serve as Trump's informal religious advisers, often speaking up in public to lend their support to the president's policies and tactics.
Trump has spoken at Liberty University three times in the past six years, The Guardian reports. In September, Falwell encouraged Liberty students to travel to Washington to rally for then-embattled Supreme Court nominee Brett Kavanaugh.
Falwell said his support for Trump arises from his belief that the Republican Party has "betrayed evangelicals."
"When they were in office, they didn't take actions that were consistent with their campaign rhetoric," he told The Guardian.
He listed several issues that he thinks are crucial to conservative evangelical Christians: "support for the state of Israel, strong national defense, traditional family values, and pro-life." He also said that a generally prosperous America helps Christians live out their obligation to serve the poor.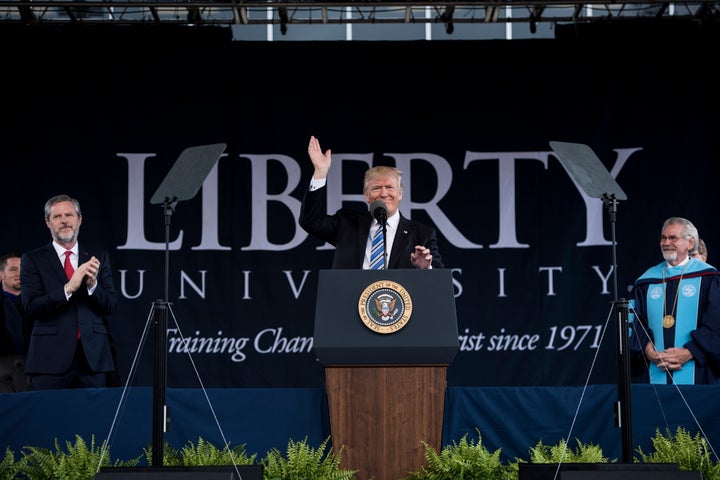 One of the core beliefs that tie all evangelicals together is an acceptance of the authority of the Bible. But while American evangelicals share a common scriptural text, they vary widely in how they interpret the Bible's commands and how they think those commands should inform their political views.
White evangelicals have been among Trump's most reliable supporters, but other evangelicals have very different opinions about the president's performance and what their priorities should be. Evangelicals of color overwhelmingly opposed Trump in the 2016 election. Research indicates that they tend to lean more progressive than their white co-religionists on issues like immigration and racial justice.
Over the past two years, some evangelical leaders and institutions have spoken up when they felt Trump's policies contradicted Biblical commandments. Last week, 39 progressive evangelical leaders released a declaration reaffirming their own commitment to fighting economic inequality, defending immigrants and refugees, resisting racism and patriarchy, and caring for the environment.
Andre Henry, a black evangelical speaker and writer from Los Angeles, told HuffPost that he thinks it's inevitable that believers interpret the Bible differently. But he wishes that conservative, Trump-supporting Christians who are vocal about supporting Israel would offer that same enthusiastic support to "their poor, women, immigrant, LGBTQ, and PoC neighbors."
"This president incarcerates his neighbor when they're seeking asylum, mocks his neighbor when they've vulnerably shared their experience of sexual violence, and recommends his neighbors be subjected to humiliating policies like stop-and-frisk," said Henry. "Call that type of leadership what you will, but it doesn't fit a Christian standard for 'moral.'"
He suggested that Falwell would benefit from listening to people who don't share his privileges.
"I get the impression that Falwell doesn't see how his social location as a white, affluent, straight man informs his readings of scripture and his ethical conclusions," Henry said. "He'd benefit from really listening to those who are and have been doing theology from the margins."
"As a Christian person of color, I think more about compassion for the poor and vulnerable in our society," Henry said. "The things at the forefront of my mind are climate change, racial justice, and economic justice."
Adam Taylor, executive director of Sojourners, told HuffPost that he's become deeply concerned about the tactics used by Falwell and others who often publicly represent evangelicalism.
"They have made a Faustian bargain with a political party and administration that is far too narrow to adhere to the gospel of Jesus," Taylor said. "They have been willing to overlook and ignore the propagation of racism, xenophobia, and misogyny while supporting moves towards autocracy that undermine democracy and tolerate lying by public officials."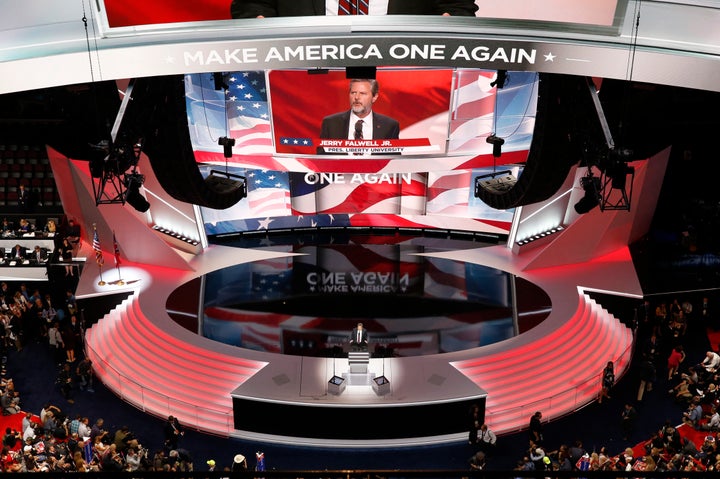 The Christian right has acted as a "tool" of the Republican Party, especially during the Trump administration, Taylor said. Quoting the Rev. Dr. Martin Luther King Jr., Taylor said the church is called to be the "conscience" of the state ― not its master or its servant.
Progressive evangelicals don't believe that God has given the U.S. government, or America itself, a special status among countries, explained Jon Huckins, co-founding director of the Global Immersion Project, a Christian education organization.
But other evangelicals like Falwell "associate the United States of America as a kind of second Israel. A 'city set on a hill' to do God's divine work in the world," Huckins said. "That is slippery ground that views our country as nothing short of an idol."
The progressive evangelicals who signed last week's declaration ― including Wallis, Henry, Taylor and Huckins himself ― have a different interpretation of how religion and politics should interact, he added.
"We will call our nation-state systems and structures to do what is right for the least and last," Huckins said, referring to a Bible passage instructing Christians to care for vulnerable groups. "But we will not place our primary hope in it."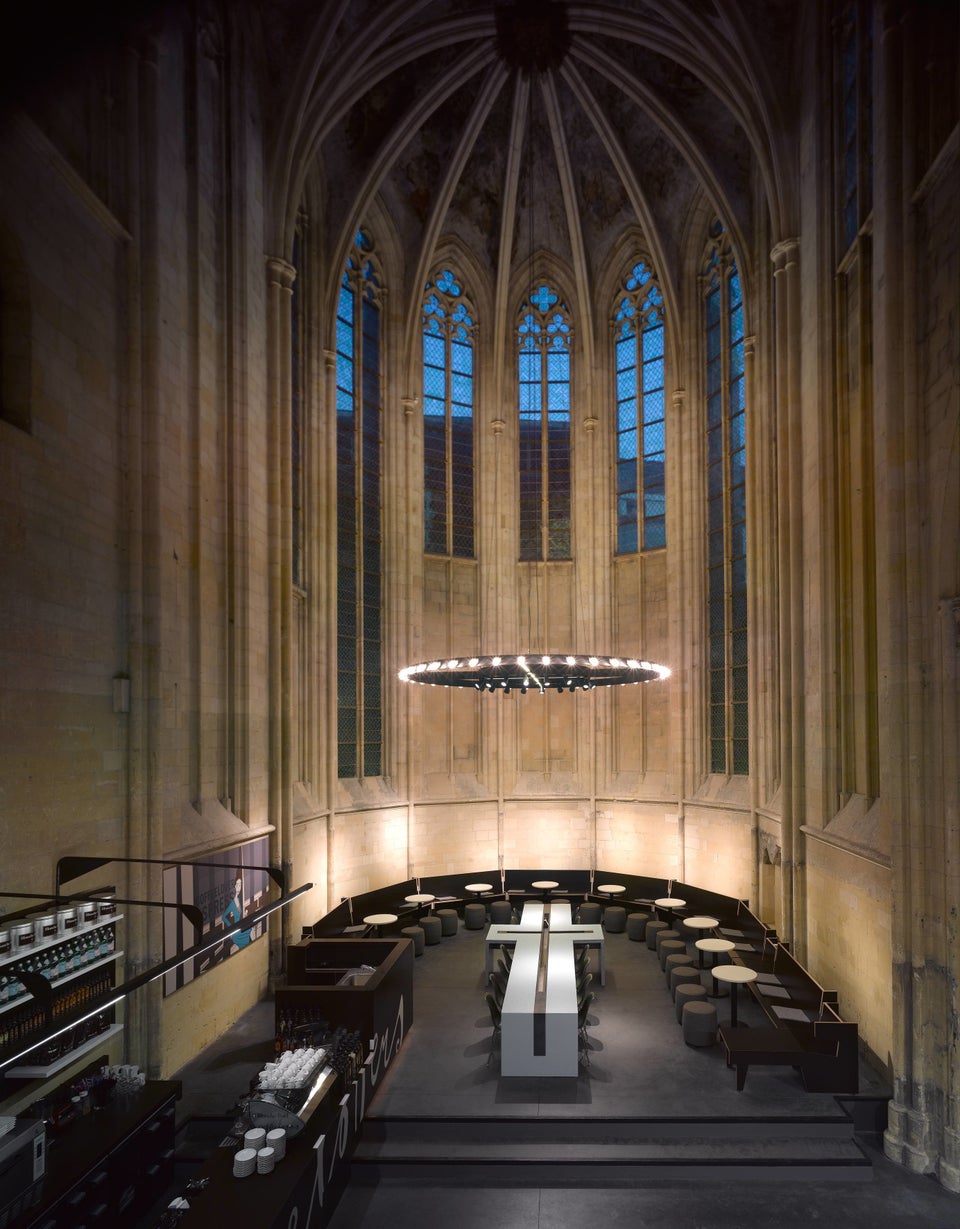 Churches turned into secular buildings