Robertson has been placed on temporary hiatus from his family's reality show after comparing homosexuality to bestiality and suggesting that African Americans were happier working the fields "pre-welfare."
"I never, with my eyes, saw the mistreatment of any black person. Not once. ... I hoed cotton with them. ... They're singing and happy," Robertson told GQ. "I never heard one of them, one black person, say, 'I tell you what: These doggone white people' -- not a word! ... Pre-entitlement, pre-welfare, you say: Were they happy? They were godly; they were happy; no one was singing the blues."
Fielding said that the network had "bowed to pressures from liberal groups rather than respecting Robertson's biblically correct views" and that he believes a "vast majority of Alabamians" share Robertson's views. The former Democrat pledged his and thousands of unnamed Alabamians' support for Phil Robertson, urging A&E to reverse the suspension.
According to the Daily Home, Fielding's proposed resolution, which will be introduced when the Alabama Legislature convenes next month, declares:
Whereas, renown[ed] entrepreneur, Louisiana outdoorsman, and reality television star Phil Robertson has positively impacted countless lives through the powerful testimony of his steadfast faith in Jesus Christ and how it has transformed his life; and Whereas Phil Robertson, along with his family ... have served as ambassadors of the love and grace of the Heavenly Father ... Whereas recently, Phil has received backlash for expressing his personal views on homosexuality that were based on scripture in the Bible in an interview with GQ Magazine; ultimately, the Arts and Entertainment Network (A&E) punished him for his beliefs and suspended him indefinitely from the reality television show, Duck Dynasty ... Whereas a portion of the politically correct populous [sic], which strongly encourages tolerance and open-mindedness, is now contradicting themselves with extreme intolerance and close-mindedness towards Phil and his personal beliefs, which stem from his rock-solid Christian faith ... Phil should not be penalized in any way for practicing freedom of speech, but should be celebrated as a hero for courageously revealing his self-truth and Christian ideals in a world that can be unkind towards those with a conservative mind-set ... now therefore, Be it resolved by the Legislature of Alabama, both houses thereof concurring, that this chamber of persons stand united in support of Phil Robertson and his family, and in opposition to the A&E Network's deplorable action of suspending Phil indefinitely from Duck Dynasty for relaying his Christian beliefs.
On Friday, Bristol Palin, daughter of former Republican vice presidential candidate Sarah Palin, also expressed solidarity with the "Duck Dynasty" star by taking to her Patheos blog to attack the LGBT community and condemn A&E.
"Everyone needs to leave Phil Robertson alone for expressing his beliefs," Bristol Palin, herself a veteran of reality TV, wrote. "I hate how the LGBT community says it's all about 'love' and 'equality.' However, if you don't agree with their lifestyle, they spread the most hate. It is so hypocritical it makes my stomach turn."
Before You Go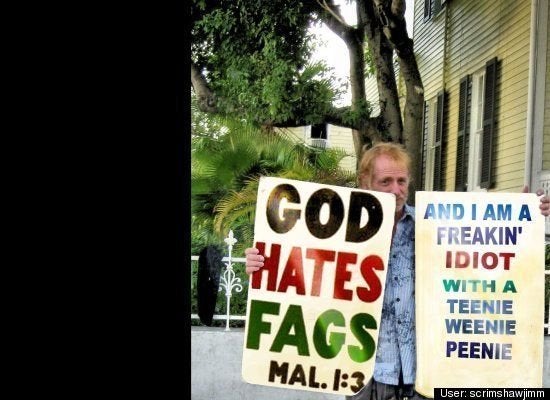 Anti-Gay Protesters Getting Owned
Popular in the Community