Jerry McLaughlin used to believe that if you didn't go to art school, then you can't be a painter. He'd allowed himself to explore his creativity through photography because he was, at least, a "technical person." And though he experienced some success, photography never meant what he felt it should mean. After moving from Denver to Washington State and placing his photography supplies into storage, McLaughlin realized that the mere presence of the materials was keeping him tethered to his 'photography past.' He then drove to a dumpsite and purged much of what he'd accrued over the years, which he describes as being, "hugely liberating."
McLaughlin still had about 25 pounds of beeswax from his photography processes. Research led to the discovery of encaustic painting, in which the artist uses pigments added to hot or molten wax. Unfortunately, he found that hot wax was not very "painterly," in that it didn't have the ease of movement he was expecting. Further exploration led to 'Cold Wax Medium' - where beeswax, mixed with mineral spirits, can be used as a soft paste at room temperature. Artists can then mix in dry pigments and oil paints, which increases the flexibility of working with them; traditional oils can take weeks or months to dry, whereas cold wax speeds this process up to a few days. McLaughlin has been working in Cold Wax Medium ever since. Many of the breakthroughs he had early on were a "product of ignorance"; as a self-taught painter, he simply did what he thought to be natural, but felt the art world lacked the resources for teaching technique within the medium. He reached out to Rebecca Crowell, an expert in the field, and the two collaborated on the book, Cold Wax Medium: Techniques, Concepts & Conversations.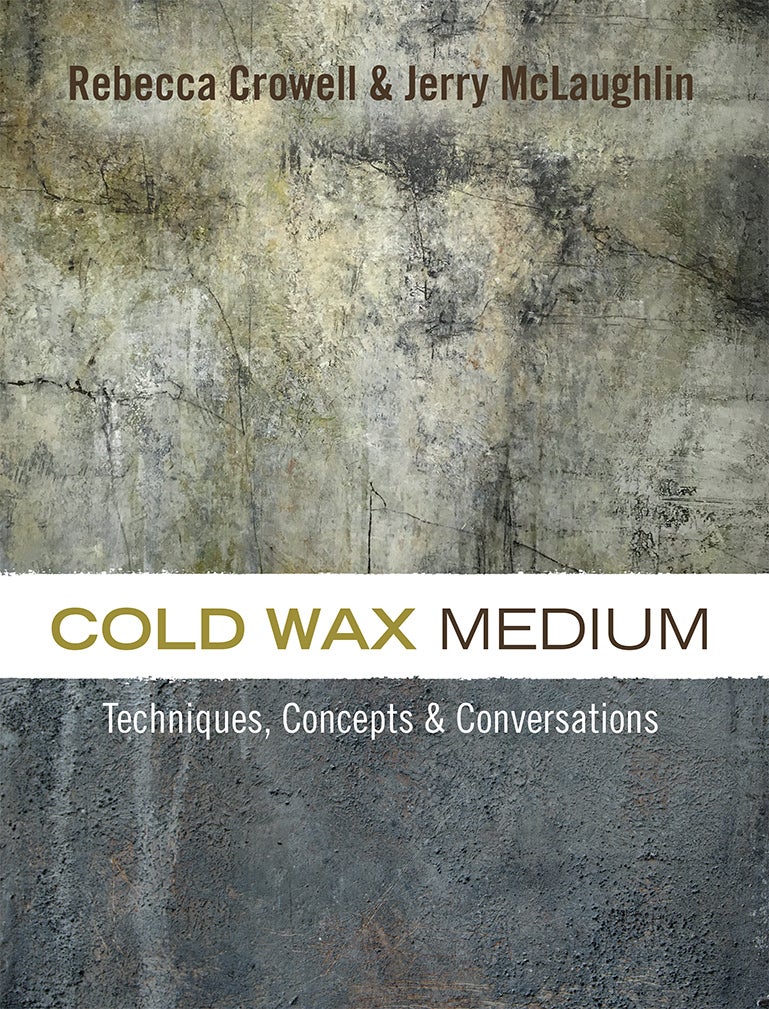 McLaughlin explains that when he was first exposed to other artists working in Cold Wax Medium, he, again, faced self-doubt: "I thought, 'Mine just doesn't look like anybody else's - I must be doing something wrong.' I tried to incorporate other people's techniques and styles into my work. It was the wrong thing to do, obviously, because suddenly my work didn't feel like me. It took me awhile to get back to what I thought was me." We discussed the combination of naivety and lack of confidence that many artists experience early on in their careers; how challenging it can be to avoid being derivative, while also connecting with other people: "That was the most naive. The thing that makes most people's work really good is that they're honest to what they're doing and it comes from deep within."
With years of knowledge and a more "mature" approach to his work, McLaughlin has developed his style, which he would describe as, "Minimalist, textured, and monochromatic." He draws inspiration from the 'human' origins of urban surfaces and materials: walls, sidewalks, buildings, concrete, etc.: "My paintings start with a lot of colors and marks. Frequently there are words, numbers, and symbols—recognizable things. But gradually, layer-by-layer, I obscure them. As I build up the painting, I am quieting it down, a kind of meditation." The cold wax's plasticity and drying time allow McLaughlin to build up to 40, 50, even 60 layers, then go back with solvents and tools to scrape, scratch, and gouge away at the layers - revealing complex textures below. Many of his larger pieces can take months to complete.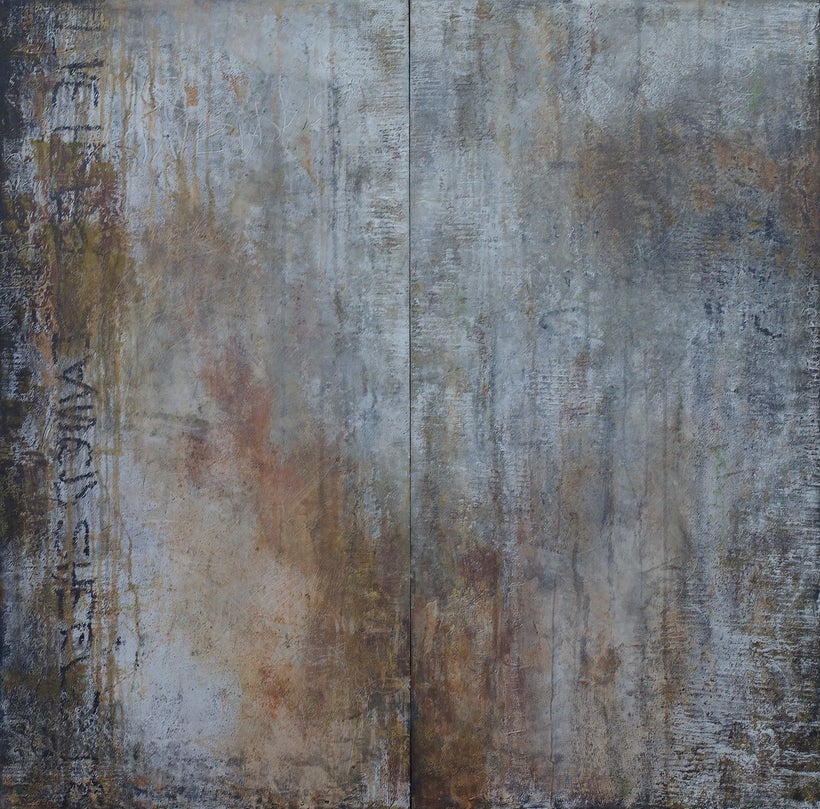 McLaughlin's pieces tend to have a great deal of activity near the edges, with very little action at the center. He explains how meditation has played an important role in this stylistic development:
"I'd been meditating for a year or two and, one day, it dawned on me that what I was doing while painting was, at first, indulging my chaotic stream-of-consciousness that runs all the time. If you're at the center of a meditation, at the outside edges [of your focus] are things trying to get in - thoughts, worries, etc. Meditation is not about emptying your mind, it's about focusing your mind in a very singular place. You're constantly pushing those [thoughts] back…that's what I was doing with these pieces; pushing back all of that 'stuff' into a singular powerful quiet space."
McLaughlin also works in the medical field, which, while giving him the time to focus on art without undue financial pressure, can often take a toll on his emotional health. The rules and regulations alone can be stifling, but working specifically in Pediatric Intensive Care exposes him to the trauma, pain, and loss children and families experience on a daily basis: "Families are going through the worst experiences of their lives. Working in that, you end up getting very good at holding emotions back, suppressing, and shutting down. It can carry into other parts of your life." Painting has opened up a space where he can release the side of himself that often remains hidden. In fact, he explains that allowing himself to explore some of his dark feelings helps keep his work "personal, intimate, and real." In fact, he says, "Painting is the hardest thing I've ever done."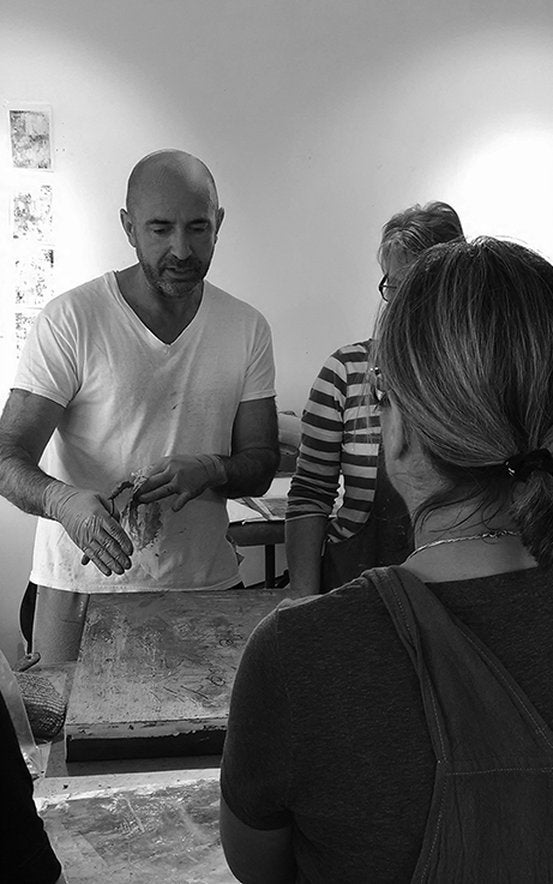 McLaughlin has a Certificate in Adult Education and finds enormous satisfaction in teaching and mentoring other artists. Many of the feelings of fear and self-doubt that he'd experienced also affect many of his students. He takes the time to address these anxieties in his workshops:
"It took me a long time to get to this space where I feel comfortable saying, 'I'm a painter.' Many people I encounter have been doing the same thing - they're struggling to feel empowered to do that. It's very important to talk about that with people as I teach - it's as, if not more, important than the techniques. Ultimately, people will figure out [the techniques] if they keep practicing, but the psychological, emotional aspect of painting can be the toughest part for people."
 One of McLaughlin's recent bodies of work is a series of about 25 large paintings, all 3x4, 3x5, and 4x5 feet, exploring the dark feelings that exist in all of us. A portion of the pieces are inspired by the poetry and life of Edna St Vincent Millay and Constantine Cavafy. Another group allows McLaughlin to explore his internal 'darkness' by playing a particular body of music while painting.
He has three shows in the Bay Area:
Dark Matter - "A Show about the dark, unseen elements inside us that bind us as people and impact the course of humanity"
GearBox Gallery - 770 West Grand Ave, Oakland CA
Savage Beauty - "A show inspired by the life and poetry of Edna St Vincent Millay"
Jen Tough Gallery - 336 Georgia St, Vallejo, CA
Rellik - 726 First St., Benicia, CA

To learn more about Jerry McLaughlin, please visit: www.jerrymclaughlinart.com.
To learn more about Cold Wax Medium and to purchase Jerry McLaughlin and Rebecca Crowell's book, please visit: www.coldwaxbook.com.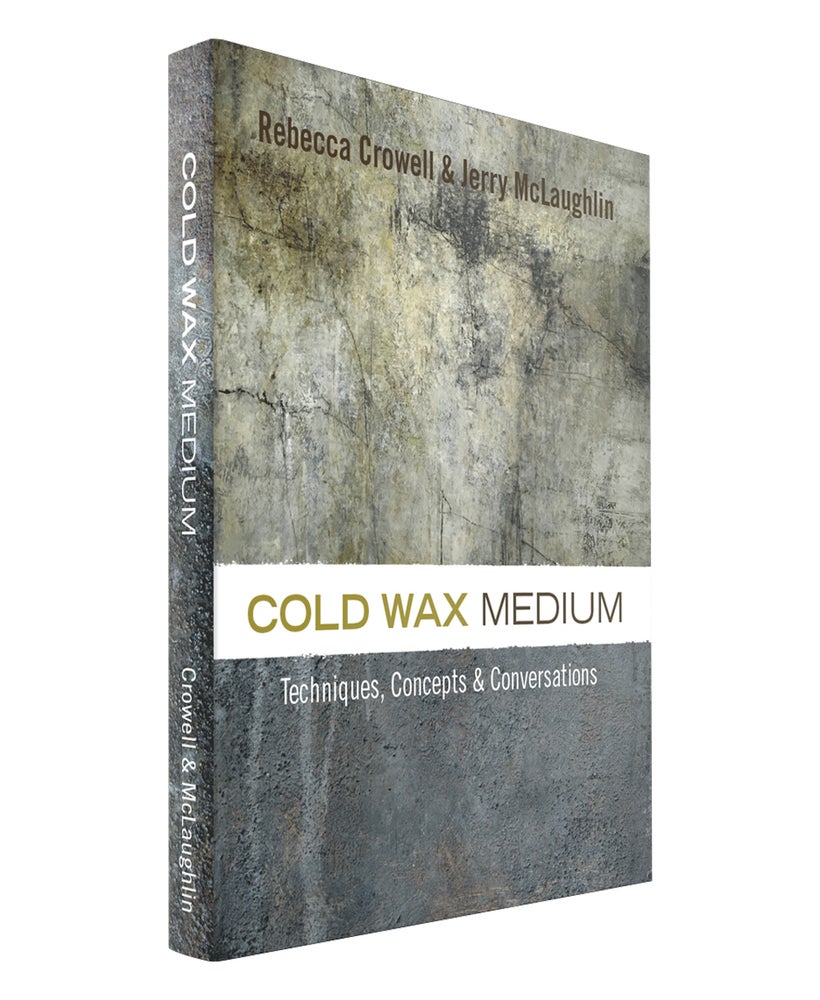 REAL LIFE. REAL NEWS. REAL VOICES.
Help us tell more of the stories that matter from voices that too often remain unheard.
This post was published on the now-closed HuffPost Contributor platform. Contributors control their own work and posted freely to our site. If you need to flag this entry as abusive,
send us an email
.