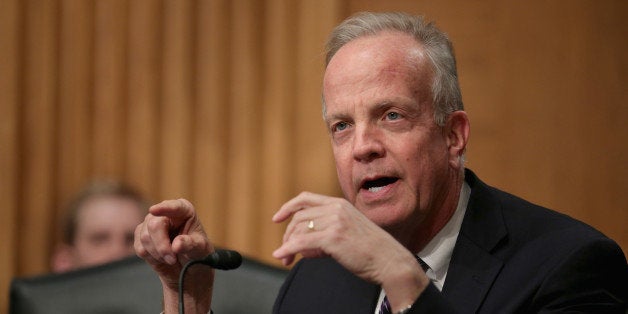 WASHINGTON -- A day after Sen. Jerry Moran, blocked votes on bills meant to address sexual assault in the military, the Kansas Republican apparently has signed on to support at least one of the measures.
Moran, head of the National Republican Senatorial Committee, objected on Monday to a request to have a speedy debate and vote on bills offered by Sens. Kirsten Gillibrand (D-N.Y.) and Claire McCaskill (D-Mo.), saying he wanted a vote on sanctions against Iran as a condition for agreeing.
It only takes one senator to object to such requests, and Moran's move at least stalled progress on the bills, which their sponsors say will help curtail rampant sexual abuse in the armed services.
But on Tuesday, Moran apparently informed Gillibrand's office that he would at least support her bill, and she tweeted the news.
The bills pushed by Gillibrand and McCaskill aim to build on reforms passed last year after reports that some 26,000 men and women in the military were sexually assaulted in a single year. Gillibrand's bill goes farther than McCaskill's, and would remove serious crimes such as sexual assault from the military chain of command, and put them in the hands of independent military prosecutors. McCaskill opposes Gillibrand's measure, contending it is unnecessary, and may hurt. The military and other allies argue it may harm military discipline and commanders' ability to lead.
In a statement, Moran suggested that Gillibrand's bill, the Military Justice Improvement Act, would help victims of assault in the military overcome the distrust that many victims have said stops them from coming forward to report perpetrators.
"I have thoughtfully studied this issue and sat down with my colleagues and stakeholders. Protecting those who protect us is of the utmost importance," Moran said. "I support the Military Justice Improvement Act, which I believe will protect individuals from sexual assault, give victims the confidence they need to report crimes, and make certain perpetrators are prosecuted."
Moran is far from the first conservative Republican to back Gillibrand's measure. Sens. Ted Cruz (R-Texas), Rand Paul (R-Ky.) and Chuck Grassley (R-Iowa) were early supporters.
If Gillibrand can secure five more backers, she would be able to break the 60-vote filibuster threshold for the bill, all but assuring its passage in the Senate.
This article has been updated to include Moran's comment.
Michael McAuliff covers Congress and politics for The Huffington Post. Talk to him on Facebook.

Calling all HuffPost superfans!
Sign up for membership to become a founding member and help shape HuffPost's next chapter
BEFORE YOU GO
PHOTO GALLERY
The Faces Of Military Sexual Assault