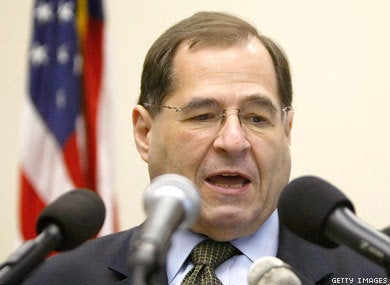 **SCROLL DOWN FOR UPDATE**
In what has to be one of the strangest political stories of the week, Congressman Jerry Nadler (D-NY) is being accused of skipping out on his taxi fare by an angry cabbie.
Taxi driver Abraham Habteab claims that around 2 pm Tuesday Nadler hopped in his cab at Union Station and asked to go to a hotel in Southwest D.C.
Upon arriving at their destination, the congressman and driver reportedly quarreled over payment. Nadler allegedly asked Habteab to keep the meter running while he ran inside the hotel and then to drive him to Capitol Hill.
Habteab refused, telling Nadler he should pay for the first ride and then restart the meter for the second one.
According to the D.C. Taxicab Commission, Habteab was right, and Nadler should have paid the full $8 fare upon arriving at the hotel.
Instead, Habteab says the congressman refused to pay unless the meter remained running. When the driver called the police to settle the situation, Nadler reportedly jumped in another cab and drove off.
In response to the accusations, Nadler's office released the following statement: "This whole situation was just a misunderstanding and we are working now to resolve it. Everyone will be happy at the end of the day."
Following the incident Habteab complained, "Who is going to follow the law if the congressman does not follow the law?"
Congressman Nadler responds:
"Regarding a misunderstanding yesterday, I must correct the record.

"Arriving at Washington's Union Station yesterday, I entered a taxi and asked the driver to take me to the Rayburn office building with one stop at my hotel to very briefly drop off my luggage, which is my routine each time I arrive in Washington.

"When we arrived at the first stop, I advised the driver, Mr. Habteab, that I would be out of the cab for 30 seconds or so, and requested that he leave the meter running in accordance with DC taxi regulations. Mr. Habteab then ignored DC taxi regulations and refused to take me to my final destination without restarting the meter.

"This is against the law, and Taxi Commission Chairman Leon Swain has clarified that point to me personally in a letter, which I shared with Mr. Habteab, but which he refused to read. Today, I spoke personally with Chairman Swain, who has confirmed that I was correct in relying on his interpretation of the law as stated in the letter.

"Therefore, as Mr. Habteab would not obey the law and take me to my final destination, I was obligated to find another driver who would. Of course taxi drivers have rights, but so do passengers. I am working with the Taxicab Commission and Mr. Habteab to ensure that he receives the correct payment, despite his misinterpretation of the law."
Calling all HuffPost superfans!
Sign up for membership to become a founding member and help shape HuffPost's next chapter