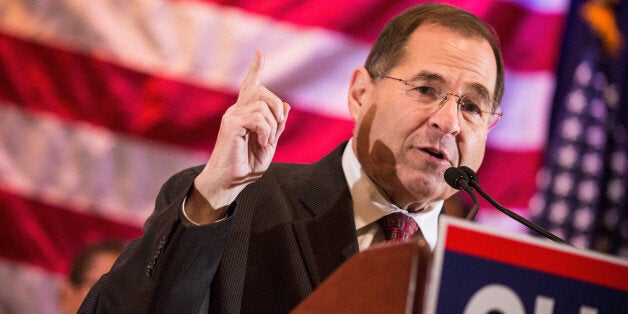 Rep. Jerry Nadler (D-N.Y.) spoke out this week about the Respect for Marriage Act, which he reintroduced in Congress last week with Rep. Ileana Ros-Lehtinen (Fla.). If passed it would repeal the Defense of Marriage Act (DOMA), only one portion of which was struck down by the Supreme Court in 2013.
The progressive New York Democrat also offered his thoughts on some conservatives' increasingly vocal defense of "religious liberty" in what Nadler and others see as an attempt to blunt LGBT rights in the face of the success of marriage equality. Last week former Florida governor Jeb Bush, who is exploring a run for the presidency, said in response to marriage equality coming to his state, that the "the rule of law" and the couples "seeking greater legal protections" should be respected but that citizens also need to "show respect" for "those of us who believe marriage is a sacrament and want to safeguard religious liberty." "I'm not sure it's a change on Jeb Bush's part," Nadler said in an interview with me on SiriusXM Progress. "[The use of the term 'religious liberty'] is new, and it's an inversion of the concept of religious liberty. Religious liberty should mean you don't interfere with my right to worship as I see fit. It has never been held to mean that I impose my views on you."
Nadler addressed anti-LGBT advocates who are defending businesses such as bakeries and florists that don't want to cater to gay and lesbian weddings because they say it infringes on their religious liberty. Nadler said that while this is new in the gay context, the argument is an old one that has been refuted by the American people and by the law.
"It's no more religious liberty to say I have the right not to serve a gay couple in my restaurant or my wedding cake business than it would be to say I have the right not to serve a black couple or a Jewish couple or a Chinese couple," he said. "Now, people used to say that in the 1950s and '60s. That was one of the defenses: 'I have a religious right to discriminate. My religion tells me whites and blacks shouldn't mix.' And we decided as a country that your religion is your religion and it cannot justify discriminating in public commerce."
On the Respect for Marriage Act, Nadler emphasized that while the Supreme Court struck down one section of DOMA, which banned federal recognition of marriages of gay and lesbian couples, the law still allows states not to recognize other states' gay and lesbian marriages and said that there is no clarity for couples who marry in one state and then move to a state with a gay marriage ban.
"The federal government recognizes the marriage in a state that recognizes gay marriage, but if you go to a state that doesn't have marriage [equality], there's confusion," he explained. "There are a few statutes, like [those around] social security and veterans benefits, that only recognize the marriage in the state in which it occurred."
While he acknowledged that the bill is unlikely to get a vote in the Republican-controlled Congress any time soon, just like a comprehensive civil rights bill that Democrats intend to be introduce this year and which would protect LGBT people in public accommodations in addition to other areas, Nadler said it's important to move forward. He notes that when he first introduced the Respect for Marriage Act in 2009, there was little support for it even among some gay groups and Democrats in Congress.
"You have to start," he said. "When I first introduced the Respect for Marriage Act back in 2009, it was controversial even among gay groups. Some of the gay groups said, 'Don't introduce it now. It's too radical and it'll take attention away from what we really want to accomplish, which we have a chance to accomplish,' which is to say, the Employment Non-Discrimination Act (ENDA), and gays in the military. My response was, 'No, I'm not trying to say we should introduce the Respect For Marriage Act and expect a vote on it and push for a vote on it before ENDA or ['Don't Ask, Don't Tell'] repeal. And yes, I know it will take time. But the sooner you start, the sooner you finish.' As I said, some of the gay groups didn't support [a DOMA repeal bill in 2009.] But two years later, it had totally turned around. Opinions can turn around but you have to push."
Calling all HuffPost superfans!
Sign up for membership to become a founding member and help shape HuffPost's next chapter
BEFORE YOU GO
PHOTO GALLERY
Biggest Queer Political Stories Of 2014