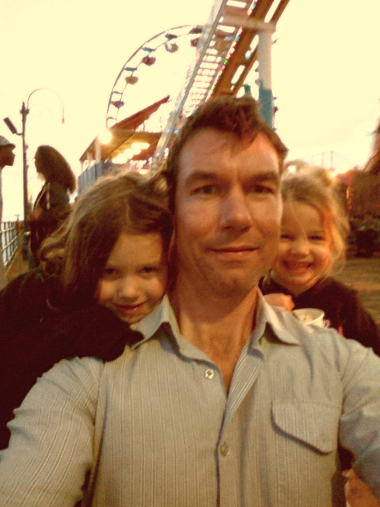 I asked Jerry O'Connell what brings him the most joy as a parent to his five-year-old twin girls, Dolly and Charlie. "When they are quiet," he quips. He goes on to say, "Watching them learn something new like swimming -- training wheels coming off are next. Also watching them do adult-like things like share. They may have a chance!"
A few months back, I saw the actor guest co-hosting on ABC's The View. Whenever the subject of kids and family came up, he addressed the topic with a sense of fun and humor that honed in on some of the craziness that goes along with being a parent.
This made me want to learn more about his role as a husband and a father, as well as his role in the new play, American Hero, a pensive comedy about "sandwich artists" loosing their grasp on the American dream, for which he is getting great reviews.
You Can Take the Girl Out Of Calabasas...
Like many in the entertainment business, O'Connell is mindful about the values his girls might pick up being at the epicenter of celebrity culture.
What are the values he wants most to pass on to Dolly and Charlie? "I just want my kids to be grateful. We are raising our girls in Calabasas -- go ahead and look who grew up there -- and we just want to make sure they have their priorities right," he states with a mix of resoluteness and humor.
He feels that fathers today seem to be more involved in their children's lives than when he was young, which is one way of ensuring that kids grow up with the desired values: "You see a lot of Dads around the playground these days."
On Getting Time With His Wife, Rebecca Romijn
In 2007, O'Connell married actress and model Rebecca Romijn. No doubt for him, fatherhood has changed their relationship and who he is as a husband. "I cherish the moments I get alone with my wife. I start crying. I am joking -- kind of."
Romijn and O'Connell do have different parenting styles. He's the more laid back one, while she's the disciplinarian. "I have trouble following through with punishments. Our girls are five so they are too adorable right now to get mad at. I'm sure that will change when they're teenagers," he says.
The Best Advice About Parenting He's Received
The best advice he got about parenting came from a friend who told him, "'They're gonna be who they're gonna be.' He was right. You can teach manners and take them to dance class, but the way they were wired at birth is the same way they are today at five. It's pretty crazy. I used to think my parents were responsible for how I thought until I had kids. Now I realize they had nothing to do with my issues. Sorry Mom and Dad!"

What He Was Like as a Kid
O'Connell was raised in New York City by his mom, Linda, an art teacher, and his father, Michael, an advertising agency art director. He has a younger brother, Charlie, who is also an actor.
O'Connell is well known for his role in the 1986 classic film, Stand By Me when he was 11-years-old. I wanted to know what he was really like as a kid and how it compares to how his kids are today. "I was a pretty outgoing kid. That may be a nice way of saying annoying. My kids are way more polite than I was," he says.
Coping with Parental Anxiety
At each developmental stage, there is something new to worry about with kids. O'Connell says, "Now that our girls are five and graduating from preschool -- class of '14 rocks! -- a lot of the anxieties of being a parent to toddlers has calmed. I am sure a whole list of new anxieties will pop up in kindergarten, but my wife and I have done so-so, so far!"
Currently, O'Connell is enjoying being back on stage in the play, American Hero. "Having an audience in front of you is the most fun an actor can have. It never gets boring because each new show brings a new crowd," he says.
In terms of his American Hero schedule, his parents have been helpful with watching their girls: "Grandparents make the best babysitters, and they come at the right price!"
Popular in the Community