 Jerry Perenchio, who built a personal fortune as co-owner of the Univision Spanish-language TV network, donated at least $2.5 million to super PACs backing candidates who political analysts describe as anti-immigrant.
His $2.6 million in super PAC contributions this election cycle -- all but $100,000 directed to super PACs backing Republican candidates tough on immigration -- makes him one of the nation's 10 biggest known campaign donors, according to Federal Elections Commission records.
Perenchio, the 81-year-old son of an Italian immigrant, declined to comment on his super PAC contributions through an assistant at Chartwell Partners, the Los Angeles-based boutique investment company where he now serves as CEO. He contributed to super PACs supporting GOP presidential candidates Mitt Romney, Jon Huntsman and to Karl Rove's American Crossroads, which backs conservative candidates.
The contributions add to the more than $50 million Perenchio and his wife have poured into politics for decades, mostly to conservative candidates and causes. They have contributed millions more to charities.
"It's appalling," said Matt Barreto, a political scientist at the University of Washington who is also one of the driving forces behind the polling firm Latino Decisions. "Univision has really, for a long time, been extremely open and taken a welcoming position toward immigrants. Their news has been very pro-immigrant. They have been advocates and that is why they have such a large and loyal audience. And, understand that audience, their ratings, those viewers, are what made it possible for Univision to charge what it does for ad time. That's what made it such a valuable asset."
Perenchio and his partners bought Univision in 1992 for $550 million. With Perenchio in charge, the network became a ratings powerhouse, airing a mix of news, original telanovelas (soap operas) and programs such as Sabado Gigante, a long-running visual cornucopia of a variety show. By 2006, when Perenchio and his partners sold Univision for what Forbes said was $13.7 billion, the network's flagship station often drew young audiences three times the size of MTV, according to Neilsen data. The network sale left Perenchio with a personal fortune of $2.3 billion, according to Forbes.
Perenchio is the notoriously press-adverse former manager of Hollywood stars including Elizabeth Taylor. He co-owned the production company behind hit TV shows such as "The Jeffersons," "One Day At a Time," and "The Facts of Life." He also masterminded The Battle of the Sexes, a tennis match pitting Bobby Riggs against Billy Jean King, according to a 2006 profile in The Los Angeles Times.
But press-adverse does not mean politically inactive. In 1998, when Perenchio co-owned Univision, he spent $1.5 million of his own money to defeat a California ballot measure that limited access to bilingual education in public schools, bucking the state Republican party position.
"I don't purport to know his politics," said Mike Madrid, a Sacramento-based political strategist and former California Republican Party political director during the time the bilingual education measure was the subject of public debate. "The truth is, Perenchio is not a party insider. He is not an ideologue. He is a big businessman."
Since January 2011, the start of what the FEC considers the 2012 election cycle, Perenchio has donated at least $100,000 to Our Destiny, a superPAC that backed Huntsman's short-lived run for the presidency. He poured $500,000 into Restore Our Future, a superPAC aiming to put Romney in the White House. And he gave $2 million to Rove's American Crossroads. The tally includes only donations that must be disclosed.
"Look, here's the reality on Romney," said Frank Sharry, executive director of America's Voice, a Washington-based immigration reform advocacy organization. "When he was a moderate governor her was in favor of comprehensive immigration reform. When he started to dream about running for the White House he became a very rigid right-winger on immigration. And while many people thought Romney would Etch a Sketch his way back to the center in the general [election] this time, he is tethered to the right wing."
Perenchio's $2 million donation to American Crossroads has helped bolster tough-on-immigration candidates and those favoring repeal of the Affordable Care Act, which the Urban Institute has said will extend medical coverage to 9 million Latinos.
Crossroads spent $174,839 against Kate Marshall, a Nevada Democrat who ran in a September 2011 special election to fill a vacant congressional seat. She lost to Republican Mark Amodei, who compared the effects of illegal immigration in Nevada to Hurricane Katrina and promised to block efforts to override Arizona's "show us your papers" law, SB 1070. Crossroads dumped $87,031 into pro-Amodei ads.
Perenchio's donation also bolstered Sen. Dean Heller (R-Nevada), who supports strict border enforcement and an end to birthright citizenship guaranteed by the 14th Amendment. He said it serves as an immigration incentive and helps to create so-called "anchor babies." American Crossroads has also poured money into at least one race in Virginia and one in Nebraska on behalf of strict immigration enforcement proponents.
"That's the line-up the Univision fortune is backing?" said Sharry. "It's really utterly objectionable. I mean if someone set up a store, say a bodega, in a neighborhood, then used the money they earned there to do harm to the neighborhood, wouldn't that be wrong? Well, just because this is happening in a boardroom and not a bodega doesn't make this less deplorable."
Support HuffPost
Every Voice Matters
Before You Go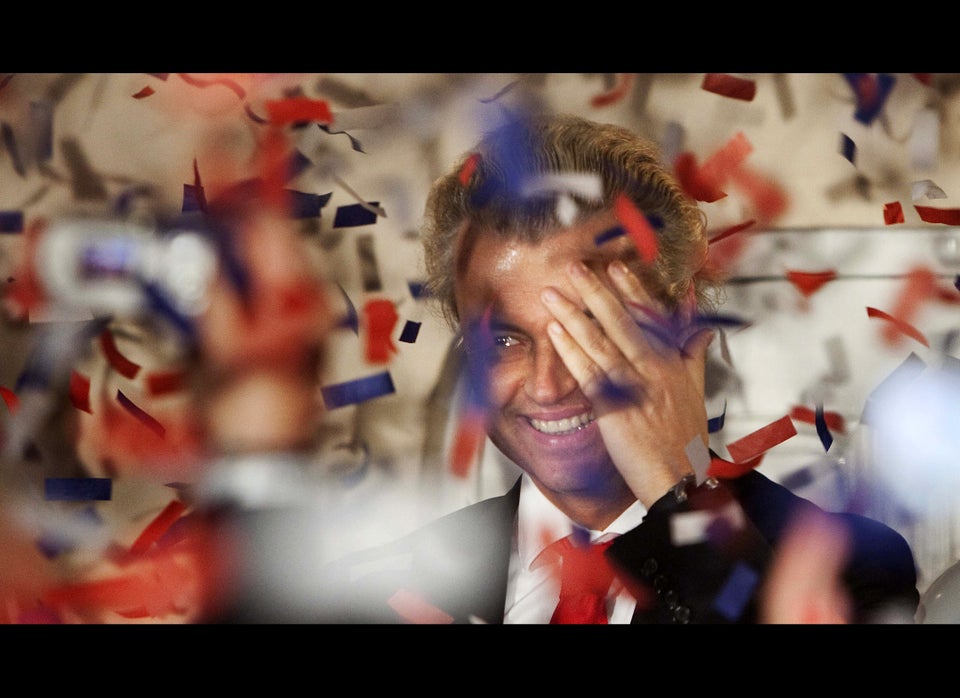 Anti- And Pro-Immigrant Politics Around The World
Popular in the Community