 BELLEFONTE, Pa. -- Jerry Sandusky entered the Centre County Courthouse Friday as one of the most celebrated figures in the history of Penn State sports. He left a convicted child molester.
Following two days of jury deliberations, Sandusky was found guilty Friday of molesting several young boys.

The 68-year-old could spend the rest of his life in prison.

Sandusky was convicted of 45 of 48 criminal counts related to the alleged assault of 10 boys over a 15-year period. The allegations led to the ouster of the late Penn State University president and long-time coach Joe Paterno, who died in January.
[Click here for latest updates.]
Prosecutors said Sandusky was a "predatory pedophile" and a "sick, disturbed man," who targeted "the most vulnerable kids, kids in need."

Defense lawyer Joe Amendola said Sandusky was the victim of a grand conspiracy and that prosecutors provided no physical evidence to prove he had molested anyone. Because of the allegations, "everything [Jerry Sandusky] ever loved, everything he's ever built, and everything he's ever stood for -- it's gone," Amendola said.
PHOTOS: Story continues below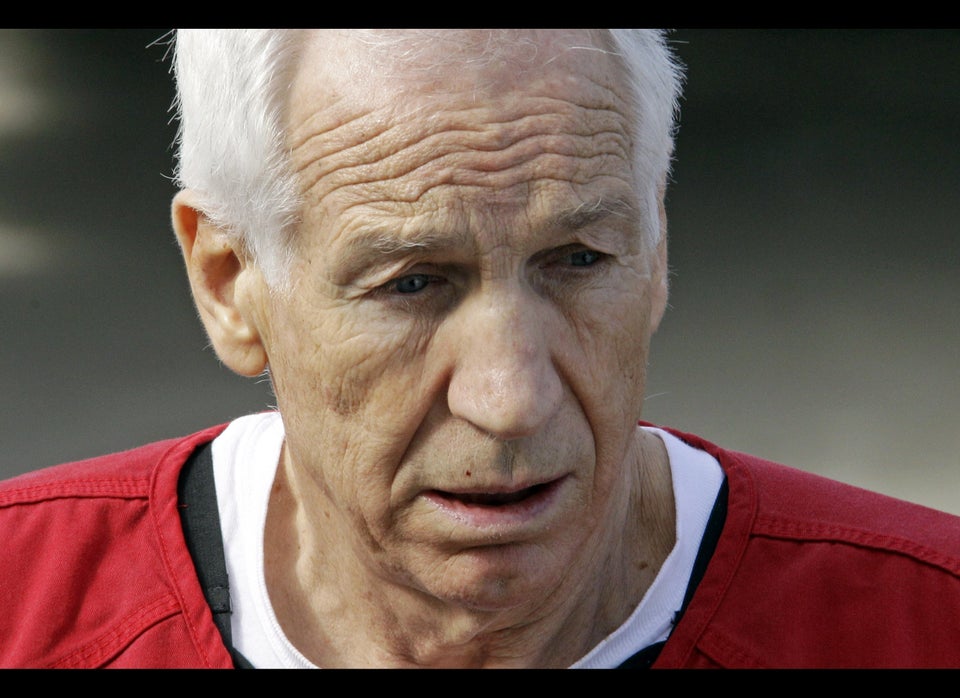 Jerry Sandusky Trial
Sandusky did not testify on his own behalf, but his wife, Dottie Sandusky, did take the stand. She said she never witnessed any inappropriate contact between her husband and the young boys.

The case has attracted widespread media coverage, as Sandusky was one of the most notable assistant football coaches in the country and the founder of The Second Mile, a nonprofit charity for underprivileged and at-risk youth.
People reacted with unrestrained joy when word of the verdict reached the crowd outside the courthouse. Some were chanting "Justice," while others sat on the sidewalk in lawn chairs to enjoy the spectacle.
"Our grandson was best friends with Victim No. 1," Bill Andrus told The Huffinton Post. "They were on the junior high wrestling team together. So knowing Victim No. 1, we had a personal interest and were hopeful it would come out this way."
Kelly Houp, who lives in Bellefonte, had harsh words for the Sandusky family.
"I knew he was guilty," she said. "All those kids would not lie. Everyone knew he did it. Dottie knew too and she should be hung."
Crime expert Scott A. Bonn, an assistant professor of sociology at Drew University, called the decision "a certainty."
"This case shocked the nation, violated our collective sense of morality and demonstrated that our children may not be safe from sexual predators after all," Bonn said. "The jury had a moral obligation to society to convict Sandusky, and the only verdict that could restore public trust and equilibrium is guilty. I would have been shocked by any other verdict."
Sentencing is expected to take place within 90 days.
SCROLL DOWN FOR LIVE UPDATES:
Related
Popular in the Community