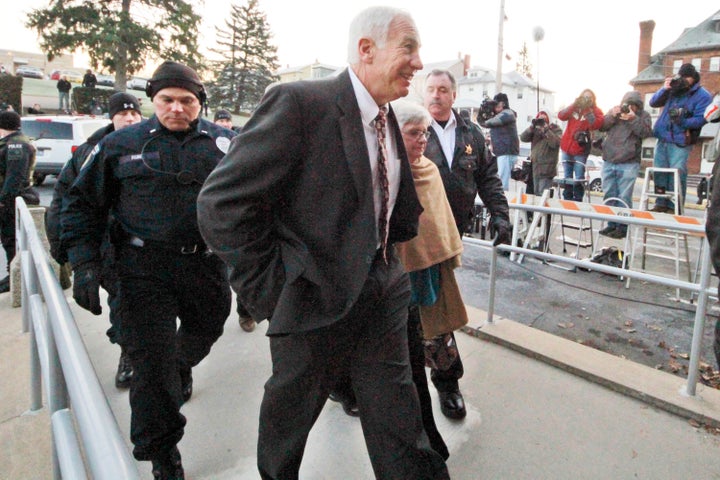 By MARK SCOLFORO and MARYCLAIRE DALE, The Associated Press

BELLEFONTE, Pa. -- Jerry Sandusky's lawyer says he will not negotiate a plea deal in his client's child sex-abuse case.
Joseph Amendola spoke on the courthouse steps Tuesday after his client waived his preliminary hearing. Amendola says: "There will be no plea negotiations. This is a fight to the death."
He also calls the decision to waive the hearing a "tactical measure."
The decision moves Sandusky toward a trial on child sex-abuse charges. At least some of his 10 accusers had been expected to testify at Tuesday's hearing.
The move was unexpected but not unusual.
At the hearings, prosecutors must show that they have probable cause to bring the case to trial. Prosecutors in this case were expected to meet that relatively low bar, in part because the case been through a grand jury.
THIS IS A BREAKING NEWS UPDATE. Check back soon for further information. AP's earlier story is below.
Former Penn State assistant football coach Jerry Sandusky opted against a preliminary hearing in his child molestation case, sparing his accusers from making their claims in a packed courtroom Tuesday but still vowing "to fight for four quarters" as he defends himself.
His decision to waive the hearing, though unexpected, is not unusual in Pennsylvania.
At the hearings, prosecutors must show that they have probable cause to bring the case to trial. Prosecutors in this case were expected to meet that relatively low bar, in part because the case been through a grand jury.
Sandusky has denied the allegations, which led to the departures of longtime Penn State football coach Joe Paterno and the university president. He is charged with more than 50 counts that accuse him of sexually abusing 10 boys over the span of 12 years.
Sandusky told reporters as he left the courthouse that he would "stay the course, to fight for four quarters" and "wait for the opportunity to present our side."
Sandusky's lawyer, Joseph Amendola, called the decision a "tactical measure" to head off a repeat of the child sex-abuse allegations. He said having the allegations aired anew "really would have left us with the worst of all worlds."
He said the decision had nothing to do with "cowardice or gamesmanship" and that the defense was not conceding guilt.
Senior Deputy Attorney General E. Marc Costanzo said: "This development we believe provides maximum protection to most importantly the victims in this case. It avoids their having to testify for a second time. They will of course testify at a trial in the case."
Costanzo said the amount of publicity generated by Amendola made the move unexpected, but said the decision to waive was not unusual given the strength of the state's case.
There have been no discussions about a plea bargain, Costanzo said, echoing statements from Amendola. Sandusky's next court appearance, an arraignment, is scheduled for Jan. 11. He remains under house arrest.
Michael Boni, a lawyer for one of the accusers, said he was encouraged by the development. The accusers "do not have to relive the horrors they experience up on the witness stand" by having to testify at the hearing and at trial.
A lawyer for another victim, a boy whose mother contacted police in 1998 after her son allegedly showered with Sandusky, said waiving the hearing amounted to more abuse of the accusers, who had steeled themselves to testify.
"It would have been apparent from watching those boys and their demeanor that they were telling the truth," lawyer Howard Janet said.
Sandusky, in a dark suit, entered the county courthouse through the back door Tuesday morning with his wife, Dottie, at his side. About 50 members of the media and 10 local residents, a few of them waiting with cameras to take pictures, awaited his arrival.
Witnesses have contended before the grand jury that Sandusky committed a range of sexual offenses against boys as young as 10, assaulting them in hotel swimming pools, the basement of his home in State College and in the locker room showers at Penn State, where the 67-year-old former assistant football coach once built a national reputation as a defensive mastermind.
Sandusky has told NBC and The New York Times that his relationship to the boys who said he abused them was like that of an extended family. Sandusky characterized his experiences with the children as "precious times" and said the physical aspect of the relationships "just happened that way" and didn't involve abuse.
Sandusky retired from Penn State in 1999, a year after the first known abuse allegation reached police when a mother told investigators Sandusky had showered with her son during a visit to the Penn State football facilities. Accusations surfaced again in 2002, when graduate assistant Michael McQueary reported another alleged incident of abuse to Paterno and other university officials.
The grand jury probe began only in 2009, after a teen complained that Sandusky, then a volunteer coach at his high school, had abused him.
Sandusky first groomed him with gifts and trips in 2006 and 2007, then sexually assaulted him more than 20 times in 2008 through early 2009, the teen told the grand jury.
Sandusky founded The Second Mile, an organization to help struggling children, in 1977, and built it into a major charitable organization, headquartered in State College with offices in other parts of Pennsylvania.
Two university officials have been charged with perjury and failure to report suspected abuse - athletic director Tim Curley and former university vice president Gary Schultz. Their preliminary hearing is scheduled for Friday in Harrisburg.
Curley has been placed on leave and Schultz has returned to retirement in the wake of their arrests. The scandal brought down university president Graham Spanier and longtime coach Paterno, who was fired last month.
Associated Press writers Genaro C. Armas in Bellefonte, Marc Levy in Harrisburg and Kevin Begos in Pittsburgh contributed to this story.
Calling all HuffPost superfans!
Sign up for membership to become a founding member and help shape HuffPost's next chapter
BEFORE YOU GO
PHOTO GALLERY
Jerry Sandusky Hearing