Episodes of "Seinfeld" may continue to air in syndication for eternity due to the apparent timelessness of the writing, but even before that sitcom, debuted Jerry Seinfeld was bizarrely prescient to what would be darkly funny in the future.
Back in April 1990 ― when Seinfeld's upcoming show with Larry David was still being called "The Seinfeld Chronicles" internally at NBC ― the comedian took on a hosting role of a satirical show called "How to be Famous." The now-defunct but beloved satirical publication Spy Magazine presented, wrote and filmed the show in partnership with NBC.
Rick Ludwin, then-NBC executive vice president in charge of specials, variety and late-night, tapped Seinfeld to be the face of the program to increase his celebrity before the new sitcom was set to air later that year. Ludwin told USA Today at the time that he hoped Seinfeld hosting this program would boost the ratings for the upcoming "Chronicles" project.
Of course, the joke ended up being on us, and on Western Civilization.

Sketch co-creator Bruce Handy
At the tail end of a "How to be Famous" episode, Seinfeld sets up a "What if?" segment that features an animated cartoon of business mogul Donald Trump. In the clip, Trump ruins world landmarks with his moniker and destroys protestors using a super-beam created by a wave of his finger.
The song that soundtracks this take on a Saturday morning cartoon also includes the incredibly prescient line, "With his power finger / Losers don't linger," sung over a scene where protestors vanish in an explosion.
Watch the Trump clip ― recently found by The Huffington Post ― at the top of this article.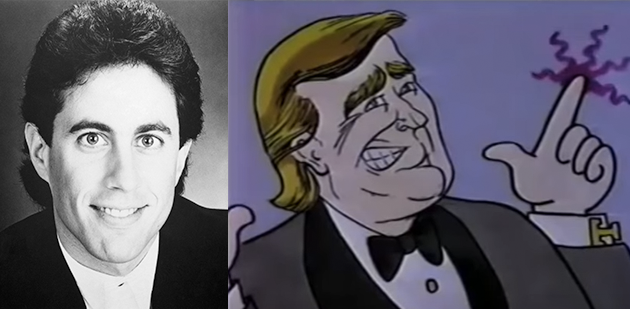 Author and current Vanity Fair contributing editor Bruce Handy wrote the sketch, along with Kurt Andersen, Paul Simms and Graydon Carter. Carter has been jokingly feuding with Trump for decades, recently recounting the time he invited the current president to Vanity Fair's table at the 1993 White House Correspondents' Dinner. As HuffPost further reported, Trump made various lewd remarks to and about women that evening.
Handy spoke to HuffPost about creating this sketch, providing the following comment about the initial genesis:
To the extent there was an idea behind the cartoon ― beyond just wanting to have a cartoon in the show and always wanting to make fun of Trump ― I suppose it's that we wanted to highlight the way fame in the '80s and early '90s had become vaporous and unattached to any kind of real achievement. Trump had already leveraged his fame so far beyond his actual status as a second ― or third-tier ― New York real estate developer and soon-to-be-bankrupt casino operator, that the idea of basing a Saturday morning cartoon on his public persona must have seemed like the absurd end point. (If only.) But I'm kind of backfilling here. Mostly, I think, we just thought it would be funny. And of course, the joke ended up being on us, and on Western Civilization.
Speaking about the filming process, Handy recalled Seinfeld being a "total trooper." Spy filmed the show in its actual offices at the time, making lighting and setup difficult.
"I can't remember if the shoot took place over two days or one, but I know a lot of it ended up being shot very late at night, like 3 or 4 in the morning," said Handy. "If Jerry looks exhausted in the clip here, that's why."
In any case, the Spy staff apparently "really admired" the still-rising comedian. Handy also apologized for not recalling any discussion of this sketch with Seinfeld, humorously saying over an email, "sorry, no great vintage 1990 Seinfeld Trump jokes."
The Trump sketch that aired on "How to be Famous" is also a bit bizarre for the other pop culture references that immediately precede the cartoon. Seinfeld jokes about other "What if?" scenarios, asking the viewer, "What if Arnold Schwarzenegger decides to write and publish his own poetry? What if Stephen King gets a cabinet post?"
If only those supposedly absurd scenarios didn't seem so benign in retrospect.
BEFORE YOU GO