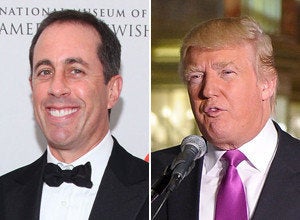 Safe to say, Jerry Seinfeld won't be voting for Donald Trump.
The New York Post reports that the comedian pulled out of an event benefitting the St. Jude's Children's Research Hospital that Trump's son Eric is hosting in September because of his distaste for the billionaire businessman/TV host's aggressive questioning of President Obama's birth certificate and citizenship.
"I just learned you canceled a show for my son's charity," Trump wrote to Seinfeld in a letter obtained by the Post, "because of the fact that I am being very aggressive with respect to President Obama, who is doing an absolutely terrible job as our leader."
"We don't care that you broke your commitment," he wrote, "even though the children of St. Jude are very disappointed, and despite the fact that your manager clearly stated you are 'truly a man of his word.'"
Trump also said he regretted going on Seinfeld's less than successful reality show "The Marriage Ref," calling it a failure.
In a statement to the Post, a Seinfeld rep said, "Jerry... feels this kind of demagoguery has no place in public discourse... He has respectfully withdrawn from the event, and is making a contribution both to the Eric Trump Foundation and to [St. Jude]."
Trump has been aggressive in his questioning of Obama's legitimacy as President, sending staffers to Hawaii to investigate Obama's birth certificate.
"I want to see the birth certificate," said Trump told the "Today Show" earlier in April. "How come his own family doesn't know which hospital he was born in? How come-- forget about birth certificates. Let's say there's no birth certificate. How come in the hospital itself, okay? This is one of the... in the hospital itself, there's no records of his birth. In other words, it doesn't say how much they paid, where is the doctor, here's your room bill."
"And that's what the royal family is -- it's a huge game of pretend. These aren't special people -- its fake outfits, fake phoney hats and gowns," he said on ITV's "Daybreak."
Popular in the Community