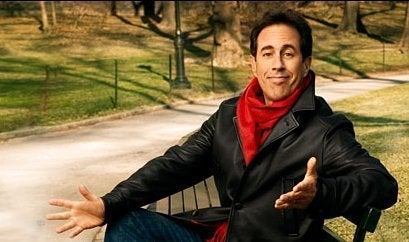 Jerry Seinfeld is producing the new NBC show 'The Marriage Ref,' premiering March 4, and in this weekend's Parade magazine he gives a funny interview about how his life in New York has changed since his bachelor days of 'Seinfeld.'
"It's definitely a talk show, definitely a comedy show, definitely has stand-up, definitely has a reality element. Put them all in a blender... It's like I found some bizarre precious gem and want to show it to people and say, 'Look at this thing I found in the dirt!'"
On seeing two teens standing on a frozen lake in Central Park:
"Look at these guys. They're going out there to test the ice. How do you test it? Let's see if it cracks?"
On being a dad to three kids (Sascha, 9, Julian, 6, and Shepherd, 4):
"If I was younger, I'd have six kids by now. I love it. I love having a family and kids and all the madness. There is no aspect of it I don't like. Even when it's horrible, I love it. I didn't realize how tired of single life I was and how ready I was for married life."
On the three "poison Ps" of parenting:
The first is Praise--"We tell our kids, 'Great job!' too much," he says. The second is Problem-solving--"We refuse to let our children have problems. Problem-solving is the most important skill to develop for success in life, and we for some reason can't stand it if our kids have a situation that they need to 'fix.' Let them struggle--it's a gift." Just as he's explaining the third P--"Giving your child too much Pleasure"--a woman comes in the deli with her three young daughters and buys them all huge cookies. "Can you believe this?" Seinfeld says, gesturing like his TV counterpart used to. "It's 5:30 p.m.--when will they have dinner? At 8?"
You can read the whole interview here.
Calling all HuffPost superfans!
Sign up for membership to become a founding member and help shape HuffPost's next chapter