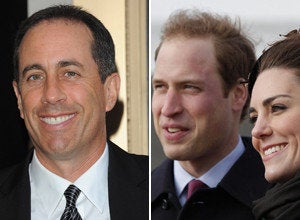 Jerry Seinfeld may want to change up a few bits of his stand up routine. At least while he's in the United Kingdom.
The comedian, out promoting his major June stand up concert in England, appeared on the morning show "Daybreak" on the country's ITV station on Thursday. When the interviewer, Adrian Chiles, brought up the upcoming nuptials of Prince William and Kate Middleton, Seinfeld gave Britain perhaps the biggest American shakeup since Thomas Jefferson's 1776 declaration.
"Well it's a circus act, it's an absurd act," Seinfeld said (via the Daily Mail). "You know, it's a dress-up. It's a classic English thing of let's play dress-up. Let's pretend that these are special people. OK, we'll all pretend that -- that's what theater is."
After a few backhandedly kind words about British theater, Seinfeld said, "And that's what the royal family is -- it's a huge game of pretend. These aren't special people -- its fake outfits, fake phoney hats and gowns."
It's safe to assume that Seinfeld isn't on the invite list for the wedding, which takes place in two weeks. To see who did make the cut -- including William's co-pilots and ex-girlfriends -- view the list here.
Popular in the Community