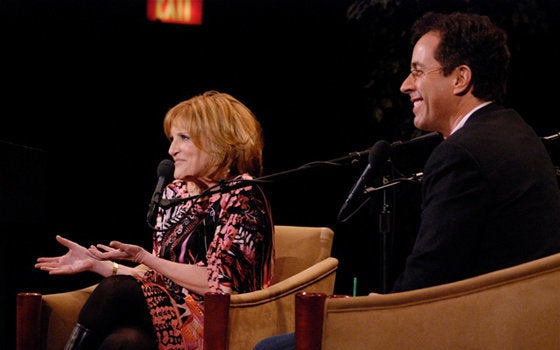 Although stand-up comedians Carol Leifer and Jerry Seinfeld have been perfecting their routines since their start at New York comedy clubs some 30 years ago, both found their original professional inspiration at home, from their fathers.
Speaking at the 92nd St. Y in New York last night, Leifer said that although her father was an optometrist, he was also "the king of the joke tellers, always with parties, gatherings. I really looked up to my father and he influenced me a lot to want to be a comedian."
"I remember asking my father why he never pursued being a comedian, and he was like, 'Someone had to make a living.' It wasn't something in our fathers' generation that you would pursue, it was like really crazy to go off and do that, and it wasn't for our generation."
Seinfeld said that when his father was serving in the Army in the Pacific during World War II, he kept jokes on cards and "had a file that he would carry with him. He loved jokes so much he didn't want to forget them."
"My father told jokes every single day of his life, at dinner he was always telling us jokes," Seinfeld said. Does being a comedian "come through the DNA or is it just cause you're around someone who's always trying to be funny, and you try and do it, too?" he asked.
Seinfeld admitted his comedy gene has been inherited by at least one of his three children, his eight-year-old daughter, Sascha. "The other day, I was looking at her homework, and she kind of does me, and it's a very funny situation. I said, 'There's a misspelled word.' And she goes, 'Oh, I'm so sorry.' Are you kidding me? Sarcasm at eight?" he said.
Describing Seinfeld's work ethic, Leifer said, "You always worked harder than all the other comedians. I remember when we were starting out, you were always, like, 'I have to write an hour every day,' it was really always impressive."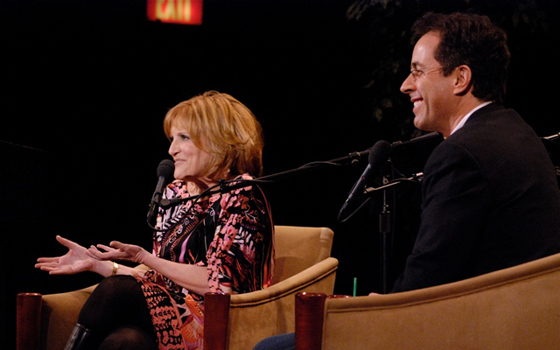 Photo courtesy 92nd Street Y
According to Seinfeld, "all the great comedians you see are deadly serious about what they do. They're not joking when they're working. Sacha Baron Cohen is one of the most serious people about his craft of anybody I've met. All the great ones, Jay, Letterman, it's taking it extremely seriously, realizing it seems like fun and games, but there's a precision to it that's very unforgiving and kind of treacherous. It took years for us to kind of learn that."
Asked what advice he would offer an aspiring comedian, Seinfeld suggested that being a comedian is "kind of like being a murderer. No matter what people tell you, you're gonna do it anyway. It has to be, 'I'm doing this, I don't care.' If you have that kind of attitude, that you really don't care what the consequences are, then you have a chance. Because it's just plain difficult. There's no comedian that does not have nights that make you feel like a completely worthless human being, and then you have to go back the next night and pretend that didn't happen. It stings a little."
Seinfeld also discussed his new primetime reality TV show, "The Marriage Refs," announced by NBC in February.
He got the idea for the show when a friend visited him and his wife and the couple had a disagreement.
"My friend says, 'Maybe I should leave,' I said, 'You know what, I'm glad you're here. I don't want to talk about this for two hours with her, I want you to settle it right now, just call it like a baseball game, safe, out, right or wrong.' We each made our case, we talked for a couple of minutes, he listened to both sides, he made his decision and we were done."
"I thought this was fantastic, this is what marriage should be. You don't go around the bend for two hours on something, you just go, 'Who's right?'"
Seinfeld said the program, which he is producing and which NBC said could run as early as this fall, would feature three celebrities watching a "real married couple get into a real fight that they'll tape in their home." The celebrities will decide "who do you think is right and who do you think is wrong. And we're going to award a prize to the winner."
The show, he added, will not "be a serious show, it's not going to be a helping show, as is my tradition. It's gonna really be about the fights that married couples have that are actually quite funny when it's not your marriage."

Popular in the Community