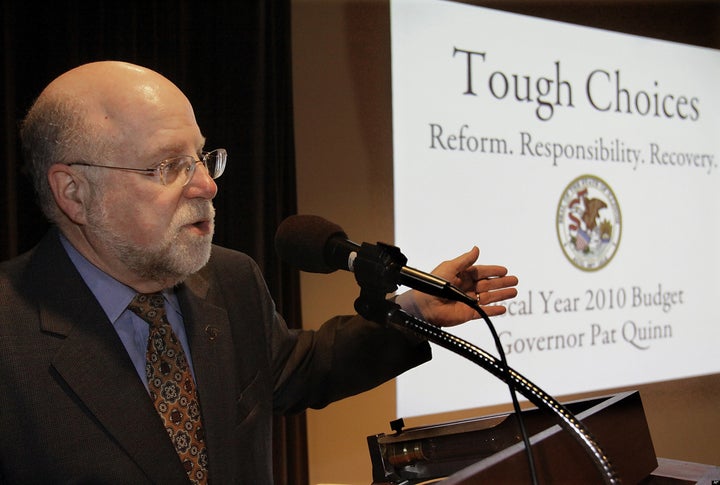 With 23 percent approval ratings, a crippling state deficit and a 9-point lag in the race for governor, Pat Quinn has had a rough few months. And on Sunday, his chief of staff stepped down amid an ethics probe.
The Chicago Sun-Times reports that Jerry Stermer resigned Sunday after the paper asked the Quinn administration about "three politically oriented correspondences sent from his government e-mail account in possible violation of a state ethics law."
Stermer reportedly brought the ethics violations in question to the Executive Inspector General's office in January. Inspector General James A. Wright looked into the matter, and on August 13 told Quinn staffers that Stermer "engaged in prohibited political activity," the Sun-Times reports. In a confidential report written by Wright and obtained by the Sun-Times, he also suggested that Attorney General Lisa Madigan file a complaint against Stermer before the state Executive Ethics Commission.
Quinn removed Wright--not Stermer-- the same day these violations were brought to his attention.
"Normally, one would say that this firing of Wright is a blatant attempt at a cover-up," writes Rich Miller of the Capitol Fax blog, "But Stermer actually reported himself to the OEIG..."
Stermer, Quinn's chief of staff since February 2009, actually initiated a complaint with Wright's office Jan. 12 to report that campaign-related e-mails he sent "inadvertently" last October and December from his state-issued BlackBerry or personal computer may have broken state ethics laws.

"While my intention was not to do anything wrong, I recognized that a mistake was made and quickly disclosed this information to the governor's ethics officer -- a former assistant U.S. attorney -- who recommended that I provide the information to the OEIG for appropriate investigation," Stermer said. "I voluntarily provided the information to the OEIG for investigation, and made it clear that I was prepared to accept the consequences for my mistakes."
Wright concluded that an email Stermer wrote to the Quinn campaign's media consultant John Kupper regarding a premeditated response to a Dan Hynes campaign attack mail was unethical. Also, Wright wrote that Stermer "intended to use . . . budget figures for campaign purposes and merely wanted to ensure that the campaign was not embarrassed by providing inaccurate numbers to the press."
Quinn has insisted that his firing of Wright had nothing to do with Stermer, mentioning that Wright worked under Rod Blagojevich and that his ouster was in the works for more than a year.
"The people of Illinois must have full confidence in the leadership of their state, and I will not be a distraction in achieving that goal," Stermer said in a statement regarding his resignation. "Gov. Quinn has built his career on the belief that government must be honest and accountable. Today, I am holding myself accountable for a mistake I alone made."
The firm issued a statement:
"We and the Quinn campaign agreed that our divergent approaches to disciplined, professional communications are incompatible. We wish Pat well."
Related
Popular in the Community