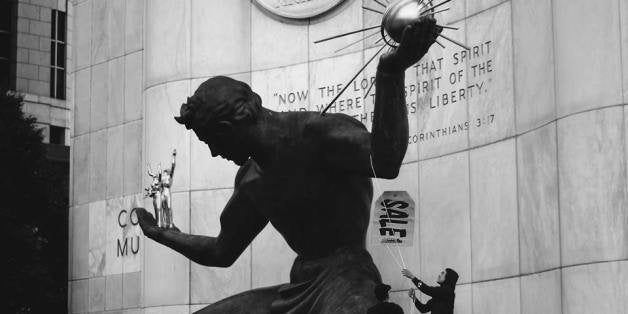 With Detroit on the brink of bankruptcy and assets like its world-class art collection threatened, some artists are taking the grim political landscape as an opportunity to offer messages of hope, or provoke discussion. There's none more creative -- or outlandish -- among them than Jerry Vile.
A fixture in the Detroit art scene known for founding the annual "Dirty Show" (a gallery exhibit of erotic art), Vile has turned the city's financial woes into fodder for art installations. First he gave vulgar implications to an iconic sculpture of a bronze fist when he installed a giant, pop art-style Crisco can underneath it, complete with knuckle marks, to "ease the city's pain."
The piece was removed by the city but later auctioned off for $1,300, which Vile said will go to a charity. Last week Vile hung "For Sale" tags on statues and landmarks around Detroit. Not everyone appreciated the idea.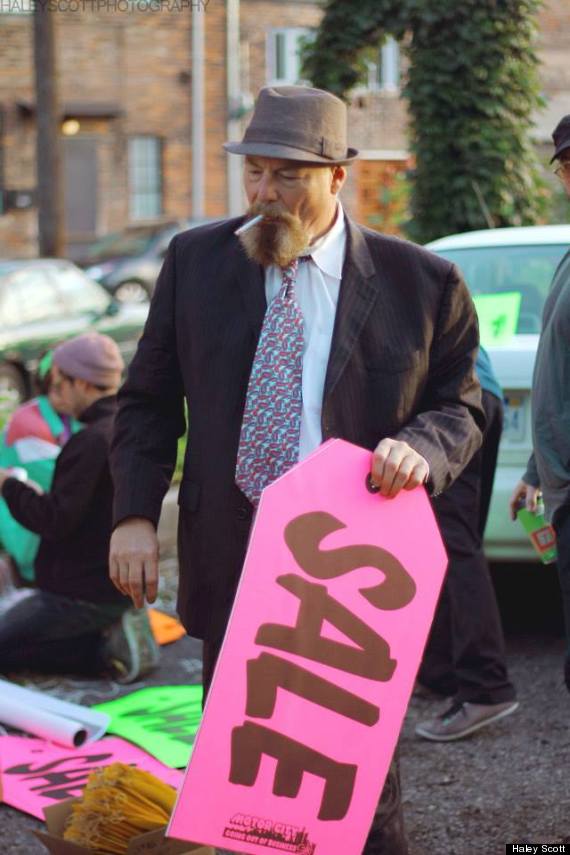 He appeared on the WJBK-TV political show "Off the Chain" Sunday, which gave a taste of some of the negative reactions to the pieces. Host Charlie Langton goaded Vile, asking if it was a publicity stunt, wondering whether he'd be doing any more pranks, calling one of his works "pornography" and suggesting the work was counter to a comeback for the city.
"I think it's a great message in an adorable pop art format that anyone can get on board with," Scott told The Huffington Post in an email. "Art needs to be approached in a way that invites discovery, because then it is impacting. Not only was this 'Sale' visually exciting, it made everyone curious. And really, that's what it's all about."
"I'm just having a lot of fun with the bankruptcy, and it's time people got a laugh," Vile told Langton.
"I know its not really a laughing matter," he added.
While some might question if a lighthearted view is appropriate, Vile's "For Sale" signs aren't too far from reality. One of the most publicly contentious aspects of the city's bankruptcy proceedings is the fate of the Detroit Institute of Arts collection. As it belongs to the city, works could potentially be sold.
Kevyn Orr, Detroit's emergency manager, has said there are no plans to start selling off paintings, but it remains a possibility. The city contracted with the New York auction house Christie's to appraise the works in the collection, some which have previously been independently valued at $100 million.
The museum, one of the city's most revered cultural attractions, would suffer further if the collection were to be sold off. Three counties support the operations of the museum with a property tax; the Oakland County Art Institute Authority voted Tuesday to terminate the funding agreement with the DIA, which raises nearly $10 million annually, were the city to sell pieces from the museum's collection.
Vile's work gives a view of what would happen if you sold Detroit piece-by-piece. In last week's edition of alternative weekly the Metro Times, he created tongue-in-cheek classifieds that advertised sales on the city's garbage trucks, zoo animals, parking meters and City Council members.
"Detroit needs a wake up call and Jerry is doing that," Scott said. "I love Detroit, we all do. You don't want to see something you love suffer, but there is only so much a civilian can do. While the fight can seem bleak, thankfully art is the most powerful language. What better way to get people talking and feeling the way we should be feeling?"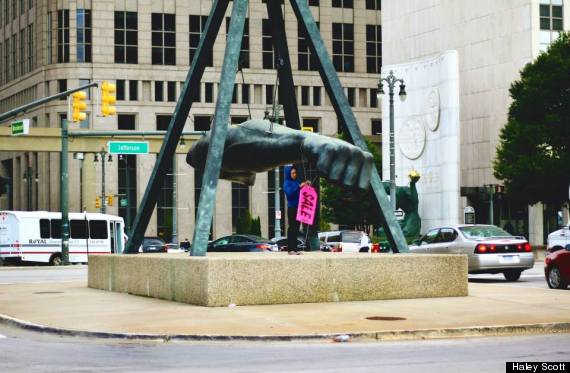 Photo by Haley Scott.
BEFORE YOU GO
PHOTO GALLERY
Detroiters Share Their Photos Of The City