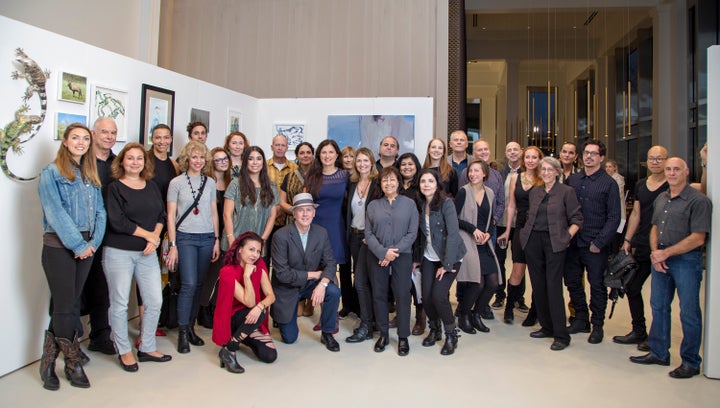 The more than 70 extraordinary works of art showcased in this group exhibition explore the theme of an artist's perception of contemporary life, while illustrating the vast diversity of today's art world simultaneously.
"Thrilled" to have one of her photograms featured in the Powerhouse Arts District gallery founded by Stefania Panepinto, visual artist Ann Giordano was one of many that expressed gratitude to Panepinto for the opportunity to showcase their work.
Founded by Panepinto as a collective space to host art exhibitions, film screenings, and photo shoots, since 2011 Panepinto Galleries has cultivated a vibrant community of artists by merging her passion for art, business savvy and servant leadership skills.
Tapping into the experience she gained working with her family's business, Panepinto Properties, the Rutgers University and New York Academy of Art alumnae uses the Gallery to transform unique locations into pop-up art exhibitions in venues such as luxury hi-rise penthouse homes, hotel retail spaces, and office building lobbies.
Working with some of the artists featured in THROUGH THE EYES OF AN ARTIST, Panepinto also manages Panepinto Fine Art, which offers personalized service focused on providing contemporary art for luxury hotels, residential and office buildings.
The fifth generation Jersey City native has led the completion of several projects for clients including The Study at University City, The Element Hotel by Starwood, the luxury residences at Harrison Station by Ironstate Development, the Residence in by Marriot Hotel in Jersey City, 3 Journal Square Plaza luxury residencies and Jersey City Medical Center.
Recognizing a need for personalized service among development communities and businesses, as a seasoned art dealer and consultant, Panepinto works with a development team and interior designers while sourcing and commissioning first-class contemporary artwork to fulfill the vision designed.
Panepinto collaborates often with many of the artists participating in THROUGH THE EYES OF AN ARTIST, curating, customizing and tailoring her client's specific needs with their art work.
Running through May 1, 2018, the THROUGH THE EYES OF AN ARTIST exhibition is available for viewing from Monday through Friday, 9am – 6pm, or by appointment.
THROUGH THE EYES OF AN ARTIST | PARTICIPATING ARTISTS
Support HuffPost
The Stakes Have Never Been Higher
Related
Popular in the Community